East Sussex Finescale  
(Running Sessions)
by 'Caiptean'
Fellow Finescale Modellers,
As my current layout (Ewhurst Green) progressing there has been a significant number of running sessions thereon as friends bring their models to run. Some of these friends are still building their layouts; others want the opportunity to run full-length trains on somebody else's metals (i.e. mine).
Typically, these sessions start with an excellent lunch at our nearby beachfront café!
These running sessions are recorded here although past sessions will be dropped off the list as time progresses.
Running Session 17th November 2018
During our seafront luncheon a deal was also struck but more of that later.
Perhaps the starting point should be with a couple of GW locomotives, the first being a 57xx class pannier tank no.5775. With a total of 862 constructed between 1929 and 1950 this was the largest class of engine designed and built by the GWR.
No. 5775 was built at Swindon in 1929 and withdrawn from Pontypool Road in January 1963 and sold to London Transport taking the number L89. It entered into preservation on the Keighley & Worth Valley railway in January 1970.
<![if !vml]>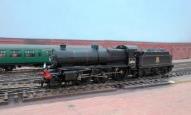 <![endif]>
No.6818 Hardwick Grange was one of eighty 68xx / Grange Class mixed traffic locomotives built at Swindon to replace the 43xx class. They were essentially a Hall-class with smaller driving wheels.
Hardwick Grange was one of the first batch of locomotives built between August 1936 and December 1937; a second batch were batch were built between February and May 1939. It was withdrawn in 1964; none of the class survived into preservation.
<![if !vml]>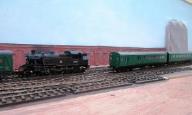 <![endif]>
Resident visitor SLW 24 081 has appeared on the layout many times; its excellent stereo sound (even on DC) make it a popular locomotive!
<![if !vml]>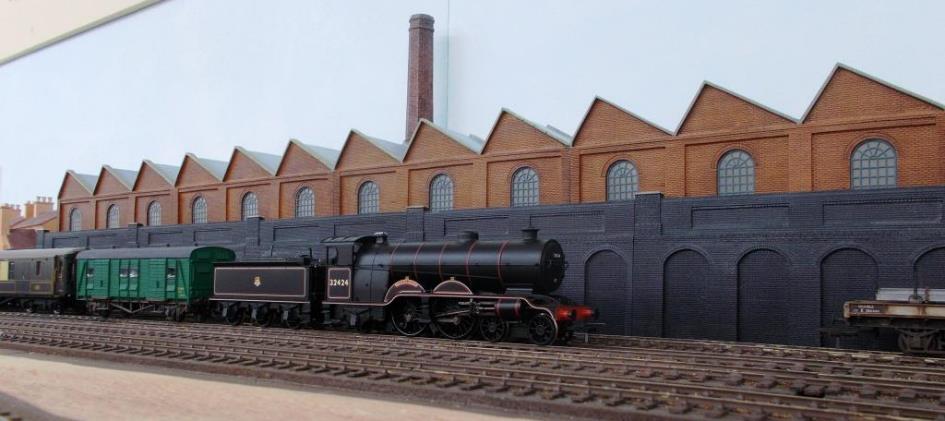 <![endif]>
37 501 'Teeside Steelmaster' and 37 'British Steel Teeside' are a boxed pair of locomotives (by Rail Express) that attracted much interest. Based at Thornaby in real-life both locomotives being regularly paired.
<![if !vml]>

<![endif]>
<![if !vml]>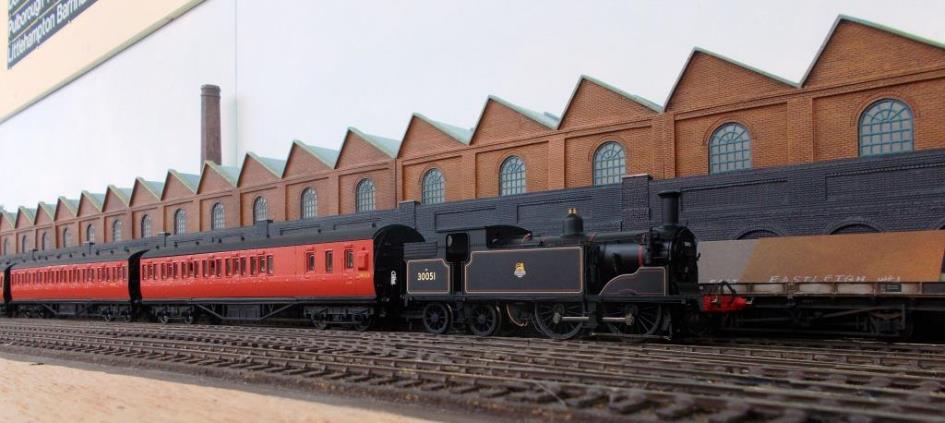 <![endif]>
37 501 'Teeside Steelmaster' is in British Steel light blue livery.
<![if !vml]>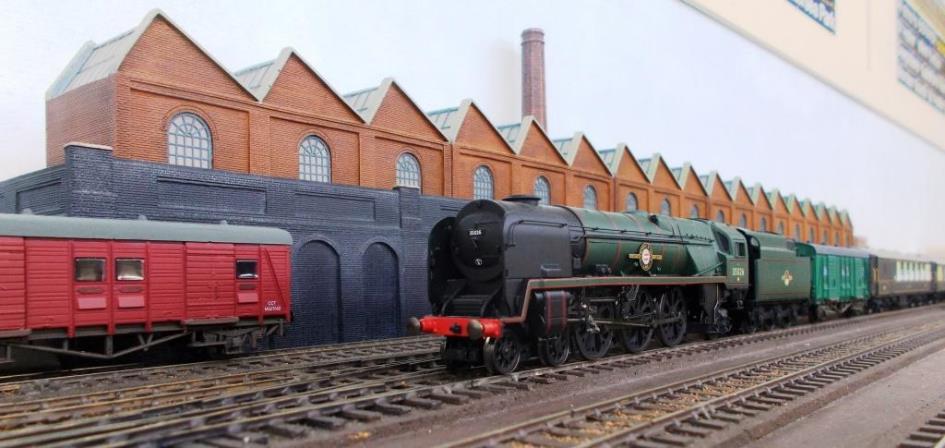 <![endif]>
37 502 'British Steel Teeside' carries Teesside depot's interpretation of Railfreight red strip complete with colour Kingfisher emblem.
<![if !vml]>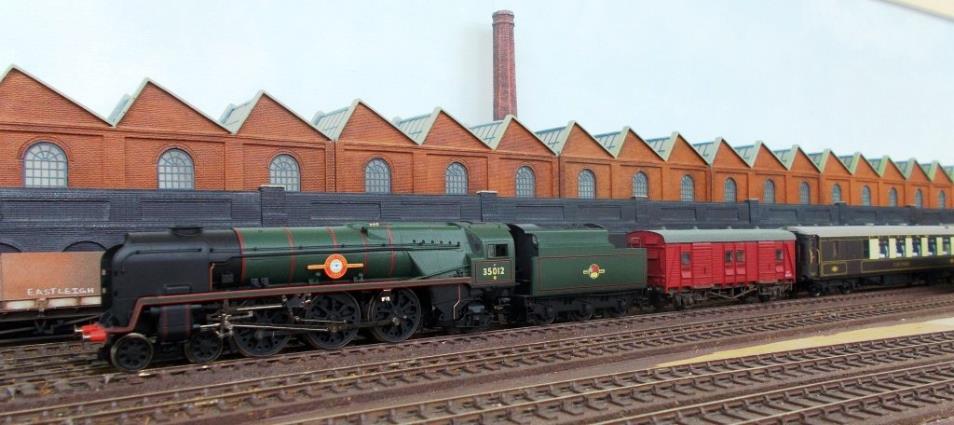 <![endif]>
Scotrail 47 637 entered traffic 24th November 1965 as D1976 before renumbering to 47 274 (September 1974) thence 47 637 (January 1986 in Inter-City livery) and finally 47 826 (May 1989). Whilst in Scotrail livery it was named 'Springburn' at BRML Springburn on 16th June 1987.
<![if !vml]>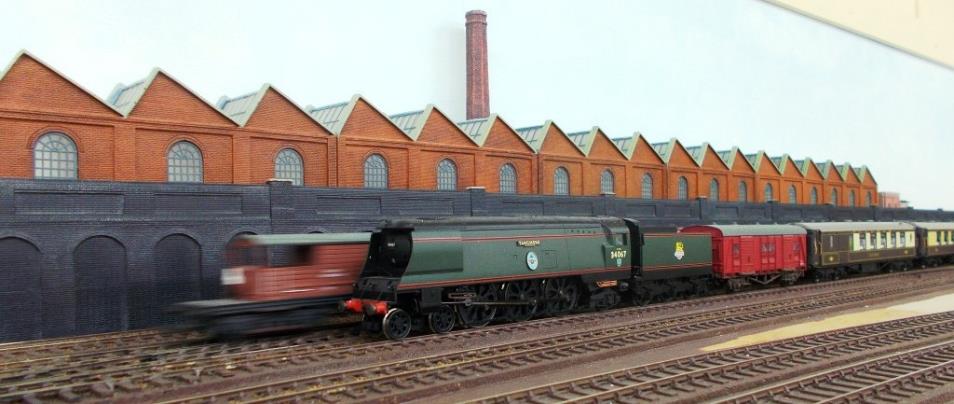 <![endif]>
BREL-built Loadhaul 56 083 was one of the class that entered into EWS ownership when that company purchased Loadhaul, Mainline freight and Transrail Freight. I believe it was scrapped in the 1990s.
<![if !vml]>

<![endif]>
On the Up Line Battle of Britain 34062 '17 Squadron' made a welcome appearance presented in its post 1959 rebuilt guise hauling the 8-car Metro-Cammell Pullman set with ease.
<![if !vml]>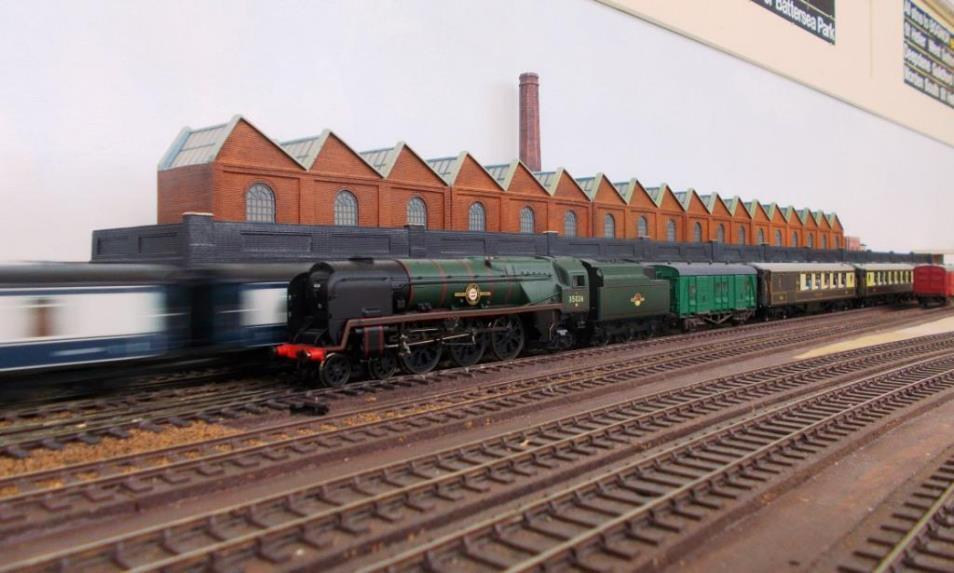 <![endif]>
The C-class were built between 1900 and 1908 (mostly by Ashford works) and no.31579 took charge of the BR(S) set on the Down Line; all but one of these locomotives made it into BR days with many being withdrawn with the Kent-coast electrification.
<![if !vml]>

<![endif]>
Next was Merchant Navy 35011 'General Steam Navigation' in its post 1962 condition.
<![if !vml]>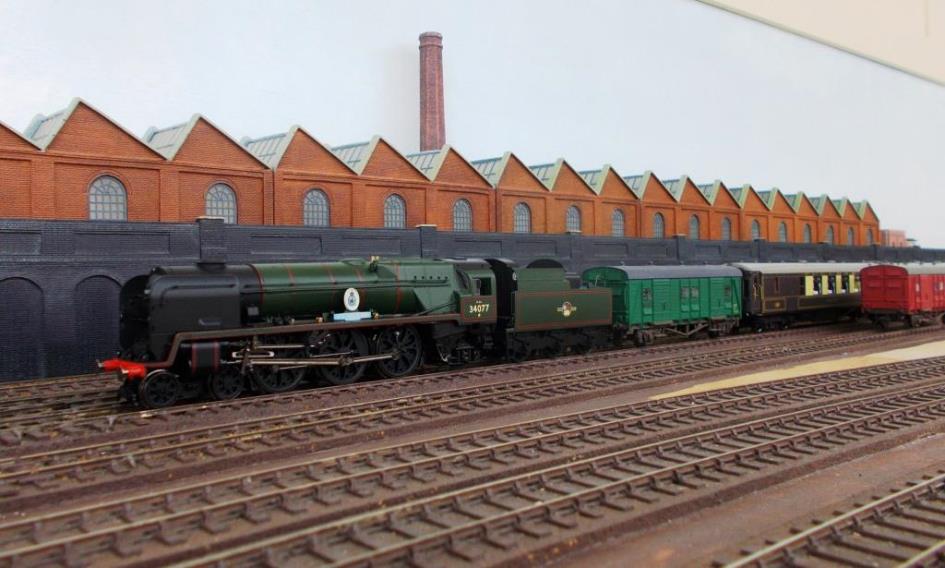 <![endif]>
At this point the afternoon became interesting as two of my locomotives 35028 'Clan Line' and 35027 'Port Line' appeared on the visiting Blue /Grey Mk1 set. Except one of our modelling circle had been tactfully lobbying me to part with them and I'd agreed to sell both at lunchtime!
<![if !vml]>

<![endif]>
So, they were mine no longer but this was not a difficult decision. Not only did both models sport post-1962 red-ground nameplates they also carried electrification flashes which placed Clan Line as 1966-on and Port Line in the current preservation era.
Yes, electrification flashes can be removed but I still have too many Merchant Navy locomotives as it is and somebody else was keen to enjoy this pair. <![if !vml]>

<![endif]>
<![if !vml]>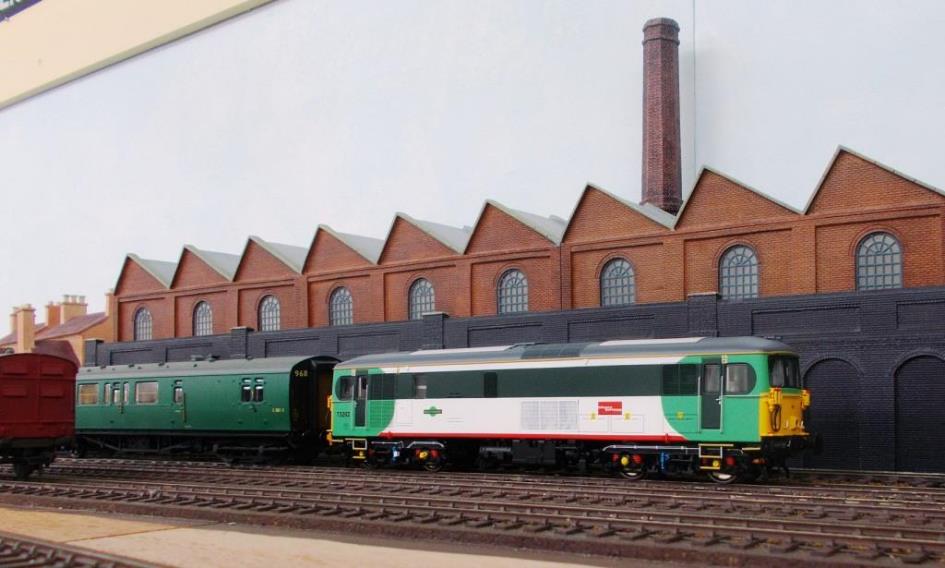 <![endif]>
But the day finished with one last twist as I also have 35026 'Lamport & Holt Line' (with black-ground nameplates) so this was placed at the very head of the formation……….
<![if !vml]>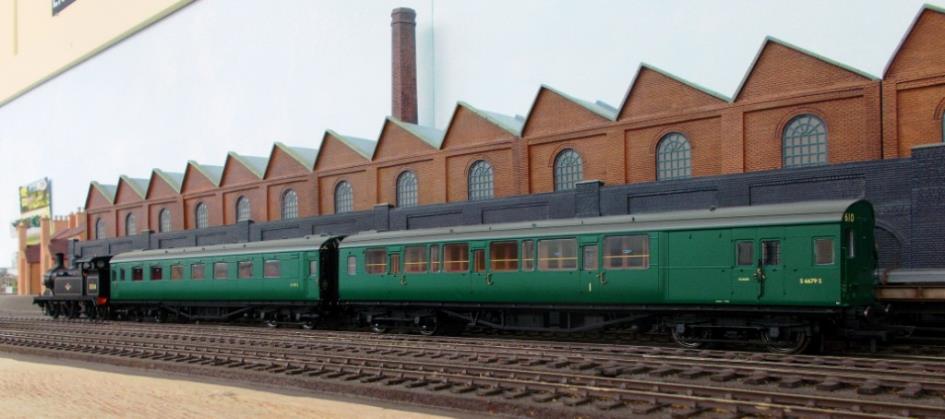 <![endif]>
I hope these will have been of interest!
Kind regards,
Caiptean
All photographs are copyright of 'Caiptean' at BloodandCustard.
<![if !vml]>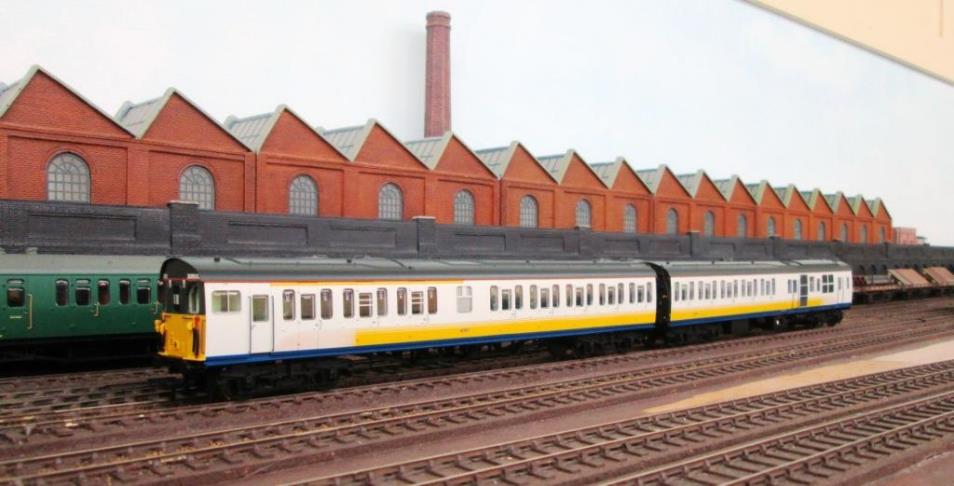 <![endif]>
In memory of Moser
A companion dearly missed
1999-2016
This webpage is kindly hosted by www.BloodandCustard.net
ALL PHOTOGRAPHS ARE COPYRIGHT
<![if !vml]>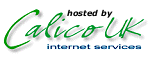 <![endif]>