Removing the bodies on
Hornby's Brighton Belle (5 BEL)
and other
Hornby Pullman Cars
This article actually came about from working on a Hornby 5 BEL 'Brighton Belle' set and could be of interest to those wishing to add passengers or insert a DCC decoder. However, it equally applies to Hornby's current builds of Pullman car (excluding the Railroad range). Hornby provide an exploded view of its 5 BEL coaches.
Basically, this answers the question of how do you take the coach bodies off?
<![if !vml]>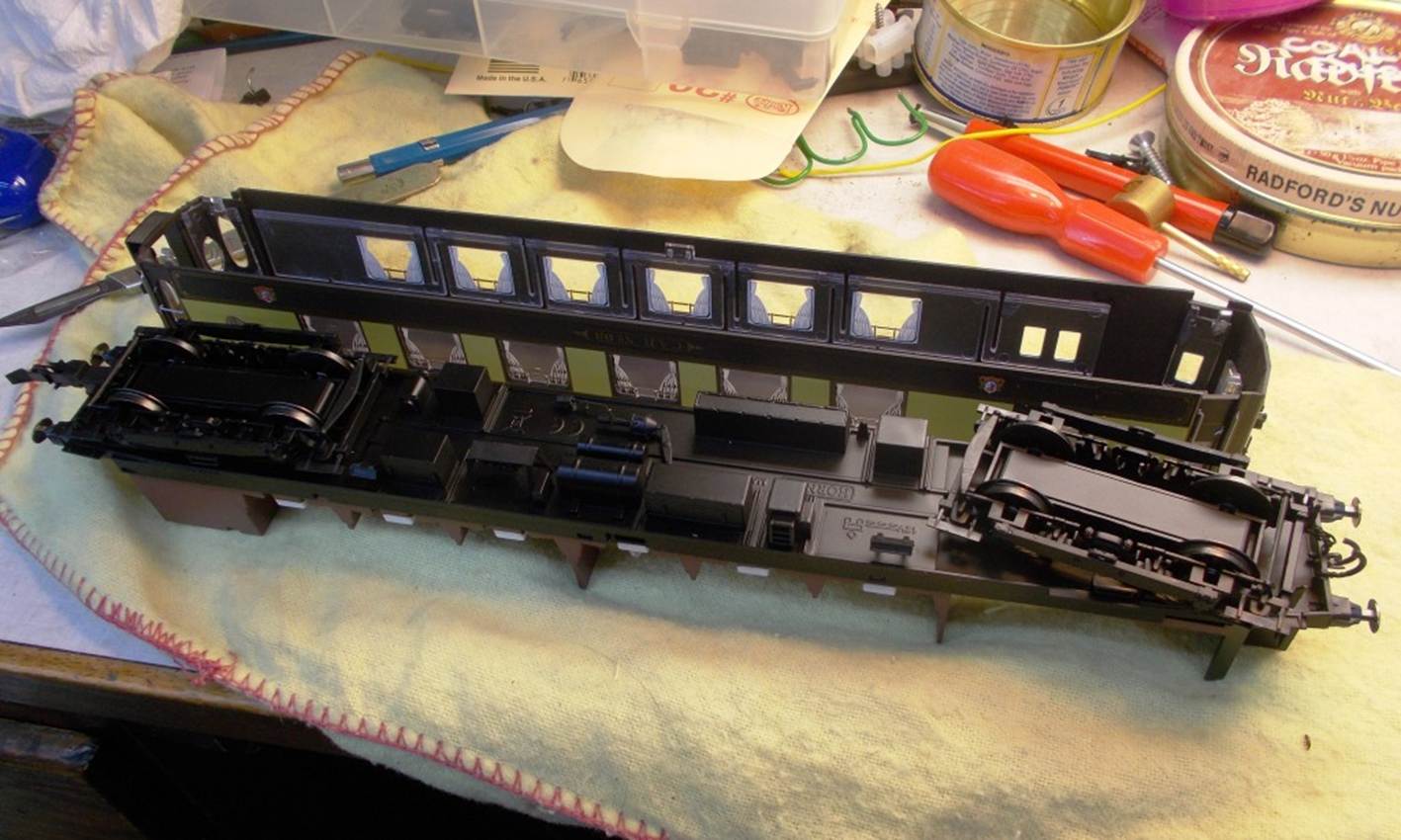 <![endif]>
Motor coach body (car no.93 /unit no.3053) separated from its underframe /interior.
© BloodandCustard
Arguably the first credible 5 BEL model was an Umber /Cream Wrenn model (improved with South Eastern Finecast flushglazing) but mine was sold on in preparation for Hornby's offerings. The initial Hornby models were unit no.2051 in Umber /Cream (from 29th June 1934  to January 1937), unit no.3053 in BR 'Pullman' Blue /Grey (from 30th May 1969 to withdrawal) followed by '1960s' unit no.3052 (Umber /Cream with late Pullman crests August 1961 to 20th April 1966 when it received a yellow warning panel (although the grey roof was painted silver in 1961). There was then a further release of '1967' unit no.3053 in Umber /Cream with yellow warning panels (from 6th January 1967 to 3rd April 1969). Whilst unit no.3052 was the first to receive the later style of crest unit no.3053 never carried these later style Pullman crests.
<![if !vml]>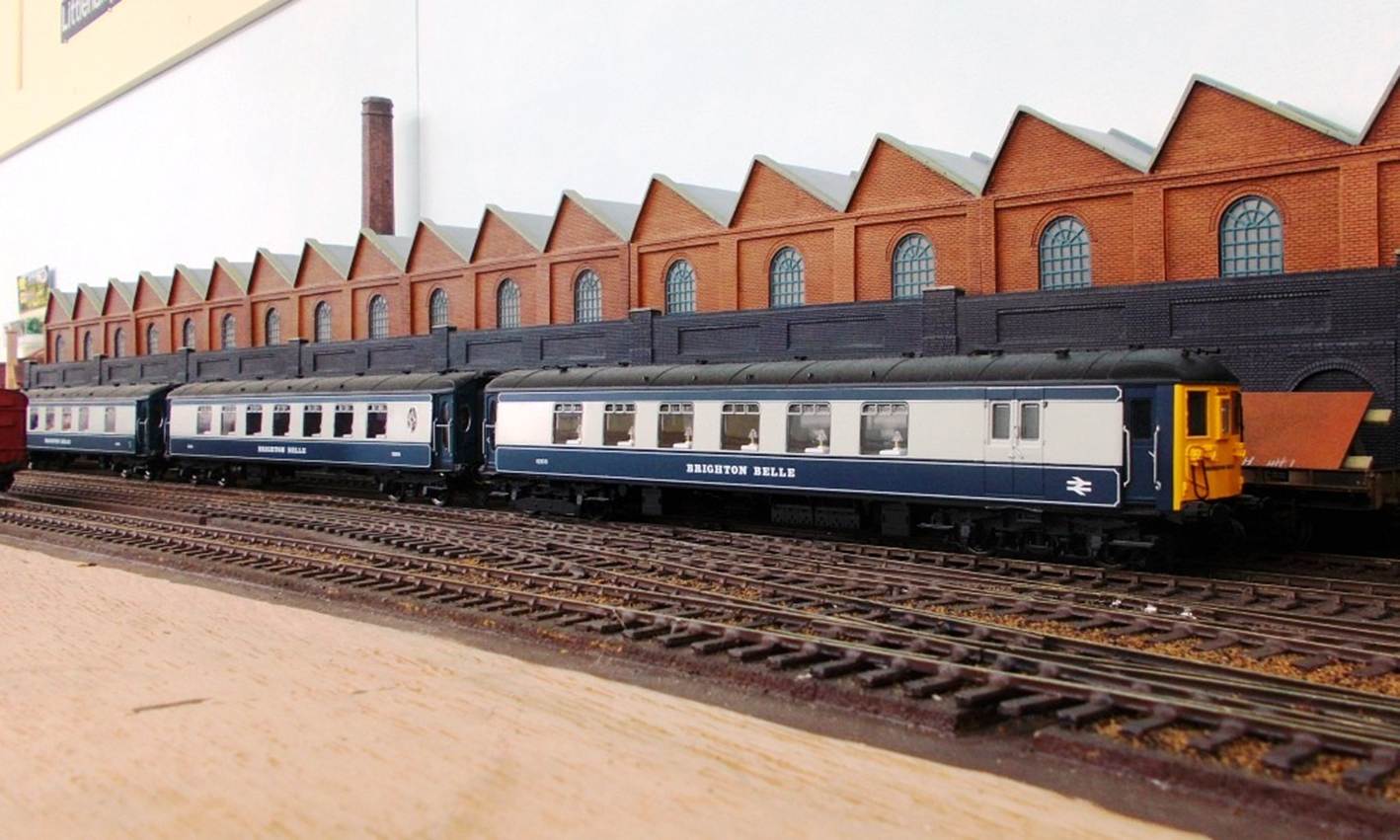 <![endif]> 
Hornby 5 BEL unit no.3053
© BloodandCustard
This was arguably a slightly strange selection by Hornby as none of these units ever ran together in these precise liveries. Unit no.3052 gained its yellow warning panel before unit no.3053 received its own yellow warning panels (let alone unit no.3053 receiving BR 'Pullman' Blue /Grey livery). However, this can be remedied by painting out the yellow warning panel in favour of a Pullman crest on unit no.3053 or providing unit no.3052 with a yellow warning panel and air-horns. Opting for the early sixties livery, painting out yellow warning panel on unit no.3053 and replacing its 1964-fitted air-horns with a whistle would be the route to follow.
However, the couplings differ for the first three model-releases using an electrical coupling to power the lighting from the powered coach through the DCC chip (where fitted) whilst Umber /Cream '1967' unit no.3053 has NEM pockets and lighting pick-ups on each coach (it also has curtains). As I don't use DCC and choose to close couple my coaches this left a slight dilemma with respect to close coupling unit no.3052.
So, the decision was made to purchase a second '1967' unit no.3053 and swap the bodies over. Not as drastic as you may think for a friend in our circle of finescale modellers wanted unit no. 3053 but with electrical couplings for his DCC layout!
The question was then how to remove the bodies, as they are clipped together at five locations along each coach side (ten fixing lugs in total). The solution and mechanism for doing this is relatively simple and called upon a selection of six business /credit-card sized cards and a small flat-bladed screwdriver. In undertaking the body swap, I considered others may find it useful to learn how.
Since then my son donated a box full of guitar plectrums which come in several thicknesses; providing a smaller alternative to credit cards. However, these can slip inside the bodies so aren't necessary a complete solution.
Removing the coach body
On each side of each coach there are three side-tabs (middle and each end) which need to be released. This is best undertaking by gently easing out the body from the underframe (fingernails or a small blade) and sliding in a strip of card before moving the card along to release (and keep released) the side-tab. Two more strips of cards are used to release the other two side-tabs on that side. Three more strips of card are used to release the three side-tabs on the opposite side of the coach. I found it easiest to start at one end with a plastic card before inserting a second and gently sliding along to the other end. Once these were in place a thinner cardboard (business) card easily slipped in the middle.
<![if !vml]>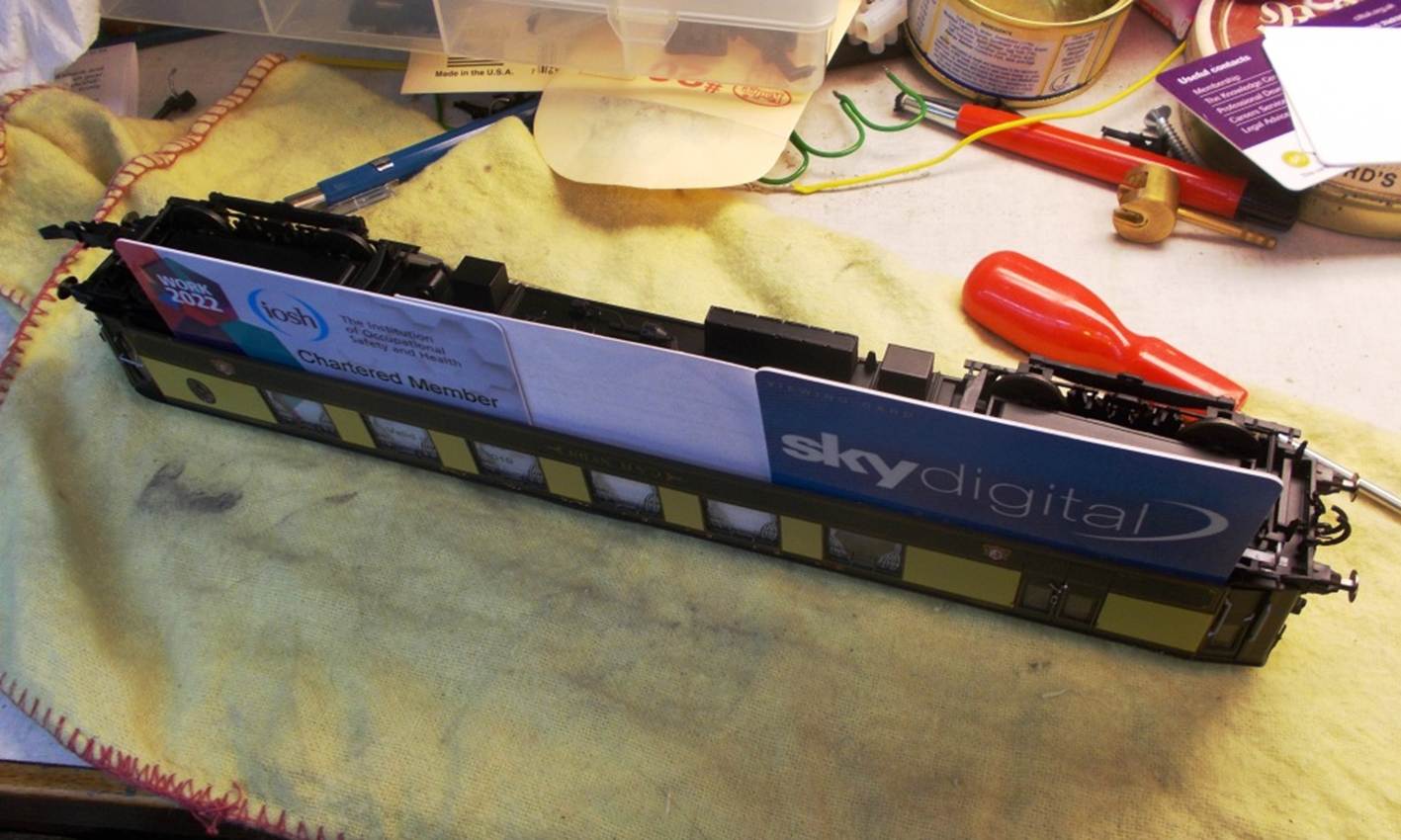 <![endif]>
Cards inserted along one of the car's sides to unclip three of the five tabs on each body side.
This needs to be undertaken along both sides of the coach before the glazing tabs (two at
each end) underneath each of the vestibules /motorman's compartment can be released.
© BloodandCustard
Once these are in place there are four 'glazing' tabs (two underneath each vestibule /the motorman's compartment) that need to be carefully released. These clear tabs protrude through slots in the underframe and need to be gently squeezed inward towards each other. These glazing tabs are the bottom part of the door's moulded windows /driver's droplights. Using a flat bladed screwdriver and great care, this was undertaken one glazing-tab at a time, partially releasing each corner of the body from the underframe. The glazing tabs should not be forced; I found gentle easing holding the plastic cards to slowly prise the underframe out appeared to work best.
<![if !vml]>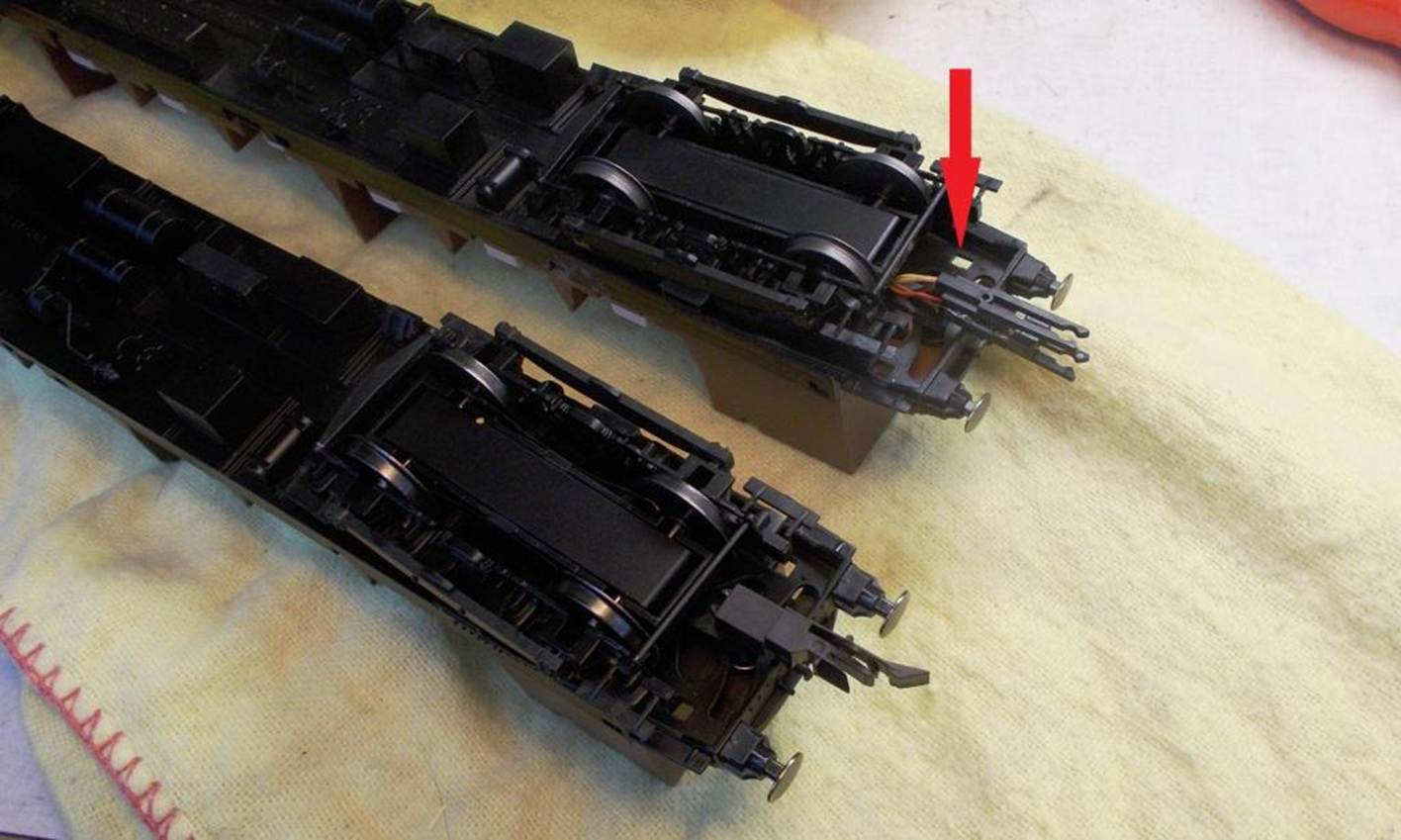 <![endif]>
Motor coach inner ends shewing the two different coupling types (newer type in the foreground).
The red arrow indicates the position of one of the four slots through which the glazing tabs protrude.
© BloodandCustard
Once separated the 5 BEL bodies simply swap over. As the curtains form part of the glazing it was decided not to try and change these (certainly on Bachmann Mk1 coaching stock white spirit quickly releases the glue). Something for another day (if at all) else simply fit curtains.
Currently only Hornby's BR Pullman Blue /Grey liveried unit no.3053 is equipped with LED lights for the headcode boxes; these being roller blinds on the real unit no.3053 with red roller blinds used at the rear. As modelled, the other units have white-opaque stencil route indicators although these were still illuminated at the front of the train (an oil tail lamp was used at the rear). Hornby only includes headcode stencil stickers '4' in with these sets (Victoria – Brighton fast) although the units did work elsewhere including headcode '3' (London Bridge) on several occasions. However, Roxey Mouldings produce etched stencil indicators which are rather fine.
In terms of the Brighton Belle, most services normally operated as ten-car (two units) except Hornby hasn't equipped its model with end couplings or even the provision for them. However, fitting these should be relatively straightforward to undertake. Another article perhaps……
ALL PHOTOGRAPHS ARE COPYRIGHT
<![if !vml]>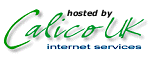 <![endif]>
Blood and Custard Blood & Custard Crimson & Cream Crimson and Cream Plum and Spilt Milk Blood and Custard Blood & Custard Crimson & Cream Crimson and Cream Plum and Spilt Milk Blood and Custard Blood & Custard Crimson & Cream Crimson and Cream Plum and Spilt Milk Blood and Custard Blood & Custard Crimson & Cream Crimson and Cream Plum and Spilt Milk Blood and Custard Blood & Custard Crimson & Cream Crimson and Cream Plum and Spilt Milk Blood and Custard Blood & Custard Crimson & Cream Crimson and Cream Plum and Spilt Milk Blood and Custard Blood & Custard Crimson & Cream Crimson and Cream Plum and Spilt Milk Blood and Custard Blood & Custard Crimson & Cream Crimson and Cream Plum and Spilt Milk Blood and Custard Blood & Custard Crimson & Cream Crimson and Cream Plum and Spilt Milk Blood and Custard Blood & Custard Crimson & Cream Crimson and Cream Plum and Spilt Milk Blood and Custard Blood & Custard Crimson & Cream Crimson and Cream Plum and Spilt Milk Blood and Custard Blood & Custard Crimson & Cream Crimson and Cream Plum and Spilt Milk Blood and Custard Blood & Custard Crimson & Cream Crimson and Cream Plum and Spilt Milk Blood and Custard Blood & Custard Crimson & Cream Crimson and Cream Plum and Spilt Milk Blood and Custard Blood & Custard Crimson & Cream Crimson and Cream Plum and Spilt Milk Blood and Custard Blood & Custard Crimson & Cream Crimson and Cream Plum and Spilt Milk Blood and Custard Blood & Custard Crimson & Cream Crimson and Cream Plum and Spilt Milk Blood and Custard Blood & Custard Crimson & Cream Crimson and Cream Plum and Spilt Milk Blood and Custard Blood & Custard Crimson & Cream Crimson and Cream Plum and Spilt Milk Blood and Custard Blood & Custard Crimson & Cream Crimson and Cream Plum and Spilt Milk Blood and Custard Blood & Custard Crimson & Cream Crimson and Cream Plum and Spilt Milk Blood and Custard Blood & Custard Crimson & Cream Crimson and Cream Plum and Spilt Milk Blood and Custard Blood & Custard Crimson & Cream Crimson and Cream Plum and Spilt Milk Blood and Custard Blood & Custard Crimson & Cream Crimson and Cream Plum and Spilt Milk Blood and Custard Blood & Custard Crimson & Cream Crimson and Cream Plum and Spilt Milk Blood and Custard Blood & Custard Crimson & Cream Crimson and Cream Plum and Spilt Milk Blood and Custard Blood & Custard Crimson & Cream Crimson and Cream Plum and Spilt Milk Blood and Custard Blood & Custard Crimson & Cream Crimson and Cream Plum and Spilt Milk Blood and Custard Blood & Custard Crimson & Cream Crimson and Cream Plum and Spilt Milk Blood and Custard Blood & Custard Crimson & Cream Crimson and Cream Plum and Spilt Milk Blood and Custard Blood & Custard Crimson & Cream Crimson and Cream Plum and Spilt Milk Blood and Custard Blood & Custard Crimson & Cream Crimson and Cream Plum and Spilt Milk Blood and Custard Blood & Custard Crimson & Cream Crimson and Cream Plum and Spilt Milk Blood and Custard Blood & Custard Crimson & Cream Crimson and Cream Plum and Spilt Milk Blood and Custard Blood & Custard Crimson & Cream Crimson and Cream Plum and Spilt Milk Blood and Custard Blood & Custard Crimson & Cream Crimson and Cream Plum and Spilt Milk Blood and Custard Blood & Custard Crimson & Cream Crimson and Cream Plum and Spilt Milk Blood and Custard Blood & Custard Crimson & Cream Crimson and Cream Plum and Spilt Milk Blood and Custard Blood & Custard Crimson & Cream Crimson and Cream Plum and Spilt Milk Blood and Custard Blood & Custard Crimson & Cream Crimson and Cream Plum and Spilt Milk Blood and Custard Blood & Custard Crimson & Cream Crimson and Cream Plum and Spilt Milk Blood and Custard Blood & Custard Crimson & Cream Crimson and Cream Plum and Spilt Milk Blood and Custard Blood & Custard Crimson & Cream Crimson and Cream Plum and Spilt Milk Blood and Custard Blood & Custard Crimson & Cream Crimson and Cream Plum and Spilt Milk Blood and Custard Blood & Custard Crimson & Cream Crimson and Cream Plum and Spilt Milk Blood and Custard Blood & Custard Crimson & Cream Crimson and Cream Plum and Spilt Milk Blood and Custard Blood & Custard Crimson & Cream Crimson and Cream Plum and Spilt Milk Blood and Custard Blood & Custard Crimson & Cream Crimson and Cream Plum and Spilt Milk Blood and Custard Blood & Custard Crimson & Cream Crimson and Cream Plum and Spilt Milk Blood and Custard Blood & Custard Crimson & Cream Crimson and Cream Plum and Spilt Milk Blood and Custard Blood & Custard Crimson & Cream Crimson and Cream Plum and Spilt Milk Blood and Custard Blood & Custard Crimson & Cream Crimson and Cream Plum and Spilt Milk Blood and Custard Blood & Custard Crimson & Cream Crimson and Cream Plum and Spilt Milk Blood and Custard Blood & Custard Crimson & Cream Crimson and Cream Plum and Spilt Milk Blood and Custard Blood & Custard Crimson & Cream Crimson and Cream Plum and Spilt Milk Blood and Custard Blood & Custard Crimson & Cream Crimson and Cream Plum and Spilt Milk Blood and Custard Blood & Custard Crimson & Cream Crimson and Cream Plum and Spilt Milk Blood and Custard Blood & Custard Crimson & Cream Crimson and Cream Plum and Spilt Milk Blood and Custard Blood & Custard Crimson & Cream Crimson and Cream Plum and Spilt Milk Blood and Custard Blood & Custard Crimson & Cream Crimson and Cream Plum and Spilt Milk Blood and Custard Blood & Custard Crimson & Cream Crimson and Cream Plum and Spilt Milk Blood and Custard Blood & Custard Crimson & Cream Crimson and Cream Plum and Spilt Milk Blood and Custard Blood & Custard Crimson & Cream Crimson and Cream Plum and Spilt Milk Blood and Custard Blood & Custard Crimson & Cream Crimson and Cream Plum and Spilt Milk Blood and Custard Blood & Custard Crimson & Cream Crimson and Cream Plum and Spilt Milk Blood and Custard Blood & Custard Crimson & Cream Crimson and Cream Plum and Spilt Milk Blood and Custard Blood & Custard Crimson & Cream Crimson and Cream Plum and Spilt Milk Blood and Custard Blood & Custard Crimson & Cream Crimson and Cream Plum and Spilt Milk Blood and Custard Blood & Custard Crimson & Cream Crimson and Cream Plum and Spilt Milk Blood and Custard Blood & Custard Crimson & Cream Crimson and Cream Plum and Spilt Milk Blood and Custard Blood & Custard Crimson & Cream Crimson and Cream Plum and Spilt Milk Blood and Custard Blood & Custard Crimson & Cream Crimson and Cream Plum and Spilt Milk Blood and Custard Blood & Custard Crimson & Cream Crimson and Cream Plum and Spilt Milk Blood and Custard Blood & Custard Crimson & Cream Crimson and Cream Plum and Spilt Milk Blood and Custard Blood & Custard Crimson & Cream Crimson and Cream Plum and Spilt Milk Blood and Custard Blood & Custard Crimson & Cream Crimson and Cream Plum and Spilt Milk Blood and Custard Blood & Custard Crimson & Cream Crimson and Cream Plum and Spilt Milk Blood and Custard Blood & Custard Crimson & Cream Crimson and Cream Plum and Spilt Milk Blood and Custard Blood & Custard Crimson & Cream Crimson and Cream Plum and Spilt Milk Blood and Custard Blood & Custard Crimson & Cream Crimson and Cream Plum and Spilt Milk Blood and Custard Blood & Custard Crimson & Cream Crimson and Cream Plum and Spilt Milk Blood and Custard Blood & Custard Crimson & Cream Crimson and Cream Plum and Spilt Milk Blood and Custard Blood & Custard Crimson & Cream Crimson and Cream Plum and Spilt Milk Blood and Custard Blood & Custard Crimson & Cream Crimson and Cream Plum and Spilt Milk Blood and Custard Blood & Custard Crimson & Cream Crimson and Cream Plum and Spilt Milk Blood and Custard Blood & Custard Crimson & Cream Crimson and Cream Plum and Spilt Milk Blood and Custard Blood & Custard Crimson & Cream Crimson and Cream Plum and Spilt Milk Blood and Custard Blood & Custard Crimson & Cream Crimson and Cream Plum and Spilt Milk Blood and Custard Blood & Custard Crimson & Cream Crimson and Cream Plum and Spilt Milk Blood and Custard Blood & Custard Crimson & Cream Crimson and Cream Plum and Spilt Milk Blood and Custard Blood & Custard Crimson & Cream Crimson and Cream Plum and Spilt Milk Blood and Custard Blood & Custard Crimson & Cream Crimson and Cream Plum and Spilt Milk Blood and Custard Blood & Custard Crimson & Cream Crimson and Cream Plum and Spilt Milk Blood and Custard Blood & Custard Crimson & Cream Crimson and Cream Plum and Spilt Milk Blood and Custard Blood & Custard Crimson & Cream Crimson and Cream Plum and Spilt Milk Blood and Custard Blood & Custard Crimson & Cream Crimson and Cream Plum and Spilt Milk Blood and Custard Blood & Custard Crimson & Cream Crimson and Cream Plum and Spilt Milk Blood and Custard Blood & Custard Crimson & Cream Crimson and Cream Plum and Spilt Milk Blood and Custard Blood & Custard Crimson & Cream Crimson and Cream Plum and Spilt Milk Blood and Custard Blood & Custard Crimson & Cream Crimson and Cream Plum and Spilt Milk Blood and Custard Blood & Custard Crimson & Cream Crimson and Cream Plum and Spilt Milk Blood and Custard Blood & Custard Crimson & Cream Crimson and Cream Plum and Spilt Milk Blood and Custard Blood & Custard Crimson & Cream Crimson and Cream Plum and Spilt Milk Blood and Custard Blood & Custard Crimson & Cream Crimson and Cream Plum and Spilt Milk Blood and Custard Blood & Custard Crimson & Cream Crimson and Cream Plum and Spilt Milk Blood and Custard Blood & Custard Crimson & Cream Crimson and Cream Plum and Spilt Milk Blood and Custard Blood & Custard Crimson & Cream Crimson and Cream Plum and Spilt Milk Blood and Custard Blood & Custard Crimson & Cream Crimson and Cream Plum and Spilt Milk Blood and Custard Blood & Custard Crimson & Cream Crimson and Cream Plum and Spilt Milk Blood and Custard Blood & Custard Crimson & Cream Crimson and Cream Plum and Spilt Milk Blood and Custard Blood & Custard Crimson & Cream Crimson and Cream Plum and Spilt Milk Blood and Custard Blood & Custard Crimson & Cream Crimson and Cream Plum and Spilt Milk Blood and Custard Blood & Custard Crimson & Cream Crimson and Cream Plum and Spilt Milk Blood and Custard Blood & Custard Crimson & Cream Crimson and Cream Plum and Spilt Milk Blood and Custard Blood & Custard Crimson & Cream Crimson and Cream Plum and Spilt Milk Blood and Custard Blood & Custard Crimson & Cream Crimson and Cream Plum and Spilt Milk Blood and Custard Blood & Custard Crimson & Cream Crimson and Cream Plum and Spilt Milk Blood and Custard Blood & Custard Crimson & Cream Crimson and Cream Plum and Spilt Milk Blood and Custard Blood & Custard Crimson & Cream Crimson and Cream Plum and Spilt Milk Blood and Custard Blood & Custard Crimson & Cream Crimson and Cream Plum and Spilt Milk Blood and Custard Blood & Custard Crimson & Cream Crimson and Cream Plum and Spilt Milk Blood and Custard Blood & Custard Crimson & Cream Crimson and Cream Plum and Spilt Milk Blood and Custard Blood & Custard Crimson & Cream Crimson and Cream Plum and Spilt Milk Blood and Custard Blood & Custard Crimson & Cream Crimson and Cream Plum and Spilt Milk Hornby Brighton Belle 5 BEL Removing the body Pullman DCC installation Taking the body off Brighton Belle Pullman car Crimson & Cream Crimson and Cream Plum and Spilt Milk Hornby Brighton Belle 5 BEL Removing the body Pullman DCC installation Taking the body off Brighton Belle Pullman car Crimson & Cream Crimson and Cream Plum and Spilt Milk Hornby Brighton Belle 5 BEL Removing the body Pullman DCC installation Taking the body off Brighton Belle Pullman car Crimson & Cream Crimson and Cream Plum and Spilt Milk Hornby Brighton Belle 5 BEL Removing the body Pullman DCC installation Taking the body off Brighton Belle Pullman car Crimson & Cream Crimson and Cream Plum and Spilt Milk Hornby Brighton Belle 5 BEL Removing the body Pullman DCC installation Taking the body off Brighton Belle Pullman car Crimson & Cream Crimson and Cream Plum and Spilt Milk Hornby Brighton Belle 5 BEL Removing the body Pullman DCC installation Taking the body off Brighton Belle Pullman car Crimson & Cream Crimson and Cream Plum and Spilt Milk Hornby Brighton Belle 5 BEL Removing the body Pullman DCC installation Taking the body off Brighton Belle Pullman car Crimson & Cream Crimson and Cream Plum and Spilt Milk Hornby Brighton Belle 5 BEL Removing the body Pullman DCC installation Taking the body off Brighton Belle Pullman car Crimson & Cream Crimson and Cream Plum and Spilt Milk Hornby Brighton Belle 5 BEL Removing the body Pullman DCC installation Taking the body off Brighton Belle Pullman car Crimson & Cream Crimson and Cream Plum and Spilt Milk Hornby Brighton Belle 5 BEL Removing the body Pullman DCC installation Taking the body off Brighton Belle Pullman car Crimson & Cream Crimson and Cream Plum and Spilt Milk Hornby Brighton Belle 5 BEL Removing the body Pullman DCC installation Taking the body off Brighton Belle Pullman car Crimson & Cream Crimson and Cream Plum and Spilt Milk Hornby Brighton Belle 5 BEL Removing the body Pullman DCC installation Taking the body off Brighton Belle Pullman car Crimson & Cream Crimson and Cream Plum and Spilt Milk Hornby Brighton Belle 5 BEL Removing the body Pullman DCC installation Taking the body off Brighton Belle Pullman car Crimson & Cream Crimson and Cream Plum and Spilt Milk Hornby Brighton Belle 5 BEL Removing the body Pullman DCC installation Taking the body off Brighton Belle Pullman car Crimson & Cream Crimson and Cream Plum and Spilt Milk Hornby Brighton Belle 5 BEL Removing the body Pullman DCC installation Taking the body off Brighton Belle Pullman car Crimson & Cream Crimson and Cream Plum and Spilt Milk Hornby Brighton Belle 5 BEL Removing the body Pullman DCC installation Taking the body off Brighton Belle Pullman car Crimson & Cream Crimson and Cream Plum and Spilt Milk Hornby Brighton Belle 5 BEL Removing the body Pullman DCC installation Taking the body off Brighton Belle Pullman car Crimson & Cream Crimson and Cream Plum and Spilt Milk Hornby Brighton Belle 5 BEL Removing the body Pullman DCC installation Taking the body off Brighton Belle Pullman car Crimson & Cream Crimson and Cream Plum and Spilt Milk Hornby Brighton Belle 5 BEL Removing the body Pullman DCC installation Taking the body off Brighton Belle Pullman car Crimson & Cream Crimson and Cream Plum and Spilt Milk Hornby Brighton Belle 5 BEL Removing the body Pullman DCC installation Taking the body off Brighton Belle Pullman car Crimson & Cream Crimson and Cream Plum and Spilt Milk Hornby Brighton Belle 5 BEL Removing the body Pullman DCC installation Taking the body off Brighton Belle Pullman car Crimson & Cream Crimson and Cream Plum and Spilt Milk Hornby Brighton Belle 5 BEL Removing the body Pullman DCC installation Taking the body off Brighton Belle Pullman car Crimson & Cream Crimson and Cream Plum and Spilt Milk Hornby Brighton Belle 5 BEL Removing the body Pullman DCC installation Taking the body off Brighton Belle Pullman car Crimson & Cream Crimson and Cream Plum and Spilt Milk Hornby Brighton Belle 5 BEL Removing the body Pullman DCC installation Taking the body off Brighton Belle Pullman car Crimson & Cream Crimson and Cream Plum and Spilt Milk Hornby Brighton Belle 5 BEL Removing the body Pullman DCC installation Taking the body off Brighton Belle Pullman car Crimson & Cream Crimson and Cream Plum and Spilt Milk Hornby Brighton Belle 5 BEL Removing the body Pullman DCC installation Taking the body off Brighton Belle Pullman car Crimson & Cream Crimson and Cream Plum and Spilt Milk Hornby Brighton Belle 5 BEL Removing the body Pullman DCC installation Taking the body off Brighton Belle Pullman car Crimson & Cream Crimson and Cream Plum and Spilt Milk Hornby Brighton Belle 5 BEL Removing the body Pullman DCC installation Taking the body off Brighton Belle Pullman car Crimson & Cream Crimson and Cream Plum and Spilt Milk Hornby Brighton Belle 5 BEL Removing the body Pullman DCC installation Taking the body off Brighton Belle Pullman car Crimson & Cream Crimson and Cream Plum and Spilt Milk Hornby Brighton Belle 5 BEL Removing the body Pullman DCC installation Taking the body off Brighton Belle Pullman car Crimson & Cream Crimson and Cream Plum and Spilt Milk Hornby Brighton Belle 5 BEL Removing the body Pullman DCC installation Taking the body off Brighton Belle Pullman car Crimson & Cream Crimson and Cream Plum and Spilt Milk Hornby Brighton Belle 5 BEL Removing the body Pullman DCC installation Taking the body off Brighton Belle Pullman car Crimson & Cream Crimson and Cream Plum and Spilt Milk Hornby Brighton Belle 5 BEL Removing the body Pullman DCC installation Taking the body off Brighton Belle Pullman car Crimson & Cream Crimson and Cream Plum and Spilt Milk Hornby Brighton Belle 5 BEL Removing the body Pullman DCC installation Taking the body off Brighton Belle Pullman car Crimson & Cream Crimson and Cream Plum and Spilt Milk Hornby Brighton Belle 5 BEL Removing the body Pullman DCC installation Taking the body off Brighton Belle Pullman car Crimson & Cream Crimson and Cream Plum and Spilt Milk Hornby Brighton Belle 5 BEL Removing the body Pullman DCC installation Taking the body off Brighton Belle Pullman car Crimson & Cream Crimson and Cream Plum and Spilt Milk Hornby Brighton Belle 5 BEL Removing the body Pullman DCC installation Taking the body off Brighton Belle Pullman car Crimson & Cream Crimson and Cream Plum and Spilt Milk Hornby Brighton Belle 5 BEL Removing the body Pullman DCC installation Taking the body off Brighton Belle Pullman car Crimson & Cream Crimson and Cream Plum and Spilt Milk Hornby Brighton Belle 5 BEL Removing the body Pullman DCC installation Taking the body off Brighton Belle Pullman car Crimson & Cream Crimson and Cream Plum and Spilt Milk Hornby Brighton Belle 5 BEL Removing the body Pullman DCC installation Taking the body off Brighton Belle Pullman car Crimson & Cream Crimson and Cream Plum and Spilt Milk Hornby Brighton Belle 5 BEL Removing the body Pullman DCC installation Taking the body off Brighton Belle Pullman car Crimson & Cream Crimson and Cream Plum and Spilt Milk Hornby Brighton Belle 5 BEL Removing the body Pullman DCC installation Taking the body off Brighton Belle Pullman car Crimson & Cream Crimson and Cream Plum and Spilt Milk Hornby Brighton Belle 5 BEL Removing the body Pullman DCC installation Taking the body off Brighton Belle Pullman car Crimson & Cream Crimson and Cream Plum and Spilt Milk Hornby Brighton Belle 5 BEL Removing the body Pullman DCC installation Taking the body off Brighton Belle Pullman car Crimson & Cream Crimson and Cream Plum and Spilt Milk Hornby Brighton Belle 5 BEL Removing the body Pullman DCC installation Taking the body off Brighton Belle Pullman car Crimson & Cream Crimson and Cream Plum and Spilt Milk Hornby Brighton Belle 5 BEL Removing the body Pullman DCC installation Taking the body off Brighton Belle Pullman car Crimson & Cream Crimson and Cream Plum and Spilt Milk Hornby Brighton Belle 5 BEL Removing the body Pullman DCC installation Taking the body off Brighton Belle Pullman car Crimson & Cream Crimson and Cream Plum and Spilt Milk Hornby Brighton Belle 5 BEL Removing the body Pullman DCC installation Taking the body off Brighton Belle Pullman car Crimson & Cream Crimson and Cream Plum and Spilt Milk Hornby Brighton Belle 5 BEL Removing the body Pullman DCC installation Taking the body off Brighton Belle Pullman car Crimson & Cream Crimson and Cream Plum and Spilt Milk Hornby Brighton Belle 5 BEL Removing the body Pullman DCC installation Taking the body off Brighton Belle Pullman car Crimson & Cream Crimson and Cream Plum and Spilt Milk Hornby Brighton Belle 5 BEL Removing the body Pullman DCC installation Taking the body off Brighton Belle Pullman car Crimson & Cream Crimson and Cream Plum and Spilt Milk Hornby Brighton Belle 5 BEL Removing the body Pullman DCC installation Taking the body off Brighton Belle Pullman car Crimson & Cream Crimson and Cream Plum and Spilt Milk Hornby Brighton Belle 5 BEL Removing the body Pullman DCC installation Taking the body off Brighton Belle Pullman car Crimson & Cream Crimson and Cream Plum and Spilt Milk Hornby Brighton Belle 5 BEL Removing the body Pullman DCC installation Taking the body off Brighton Belle Pullman car Crimson & Cream Crimson and Cream Plum and Spilt Milk Hornby Brighton Belle 5 BEL Removing the body Pullman DCC installation Taking the body off Brighton Belle Pullman car Crimson & Cream Crimson and Cream Plum and Spilt Milk Hornby Brighton Belle 5 BEL Removing the body Pullman DCC installation Taking the body off Brighton Belle Pullman car Crimson & Cream Crimson and Cream Plum and Spilt Milk Hornby Brighton Belle 5 BEL Removing the body Pullman DCC installation Taking the body off Brighton Belle Pullman car Crimson & Cream Crimson and Cream Plum and Spilt Milk Hornby Brighton Belle 5 BEL Removing the body Pullman DCC installation Taking the body off Brighton Belle Pullman car Crimson & Cream Crimson and Cream Plum and Spilt Milk Hornby Brighton Belle 5 BEL Removing the body Pullman DCC installation Taking the body off Brighton Belle Pullman car Crimson & Cream Crimson and Cream Plum and Spilt Milk Hornby Brighton Belle 5 BEL Removing the body Pullman DCC installation Taking the body off Brighton Belle Pullman car Crimson & Cream Crimson and Cream Plum and Spilt Milk Hornby Brighton Belle 5 BEL Removing the body Pullman DCC installation Taking the body off Brighton Belle Pullman car Crimson & Cream Crimson and Cream Plum and Spilt Milk Hornby Brighton Belle 5 BEL Removing the body Pullman DCC installation Taking the body off Brighton Belle Pullman car Crimson & Cream Crimson and Cream Plum and Spilt Milk Hornby Brighton Belle 5 BEL Removing the body Pullman DCC installation Taking the body off Brighton Belle Pullman car Crimson & Cream Crimson and Cream Plum and Spilt Milk Hornby Brighton Belle 5 BEL Removing the body Pullman DCC installation Taking the body off Brighton Belle Pullman car Crimson & Cream Crimson and Cream Plum and Spilt Milk Hornby Brighton Belle 5 BEL Removing the body Pullman DCC installation Taking the body off Brighton Belle Pullman car Crimson & Cream Crimson and Cream Plum and Spilt Milk Hornby Brighton Belle 5 BEL Removing the body Pullman DCC installation Taking the body off Brighton Belle Pullman car Crimson & Cream Crimson and Cream Plum and Spilt Milk Hornby Brighton Belle 5 BEL Removing the body Pullman DCC installation Taking the body off Brighton Belle Pullman car Crimson & Cream Crimson and Cream Plum and Spilt Milk Hornby Brighton Belle 5 BEL Removing the body Pullman DCC installation Taking the body off Brighton Belle Pullman car Crimson & Cream Crimson and Cream Plum and Spilt Milk Hornby Brighton Belle 5 BEL Removing the body Pullman DCC installation Taking the body off Brighton Belle Pullman car Crimson & Cream Crimson and Cream Plum and Spilt Milk Hornby Brighton Belle 5 BEL Removing the body Pullman DCC installation Taking the body off Brighton Belle Pullman car Crimson & Cream Crimson and Cream Plum and Spilt Milk Hornby Brighton Belle 5 BEL Removing the body Pullman DCC installation Taking the body off Brighton Belle Pullman car Crimson & Cream Crimson and Cream Plum and Spilt Milk Hornby Brighton Belle 5 BEL Removing the body Pullman DCC installation Taking the body off Brighton Belle Pullman car Crimson & Cream Crimson and Cream Plum and Spilt Milk Hornby Brighton Belle 5 BEL Removing the body Pullman DCC installation Taking the body off Brighton Belle Pullman car Crimson & Cream Crimson and Cream Plum and Spilt Milk Hornby Brighton Belle 5 BEL Removing the body Pullman DCC installation Taking the body off Brighton Belle Pullman car Crimson & Cream Crimson and Cream Plum and Spilt Milk Hornby Brighton Belle 5 BEL Removing the body Pullman DCC installation Taking the body off Brighton Belle Pullman car Crimson & Cream Crimson and Cream Plum and Spilt Milk Hornby Brighton Belle 5 BEL Removing the body Pullman DCC installation Taking the body off Brighton Belle Pullman car Crimson & Cream Crimson and Cream Plum and Spilt Milk Hornby Brighton Belle 5 BEL Removing the body Pullman DCC installation Taking the body off Brighton Belle Pullman car Crimson & Cream Crimson and Cream Plum and Spilt Milk Hornby Brighton Belle 5 BEL Removing the body Pullman DCC installation Taking the body off Brighton Belle Pullman car Crimson & Cream Crimson and Cream Plum and Spilt Milk Hornby Brighton Belle 5 BEL Removing the body Pullman DCC installation Taking the body off Brighton Belle Pullman car Crimson & Cream Crimson and Cream Plum and Spilt Milk Hornby Brighton Belle 5 BEL Removing the body Pullman DCC installation Taking the body off Brighton Belle Pullman car Crimson & Cream Crimson and Cream Plum and Spilt Milk Hornby Brighton Belle 5 BEL Removing the body Pullman DCC installation Taking the body off Brighton Belle Pullman car Crimson & Cream Crimson and Cream Plum and Spilt Milk Hornby Brighton Belle 5 BEL Removing the body Pullman DCC installation Taking the body off Brighton Belle Pullman car Crimson & Cream Crimson and Cream Plum and Spilt Milk Hornby Brighton Belle 5 BEL Removing the body Pullman DCC installation Taking the body off Brighton Belle Pullman car Crimson & Cream Crimson and Cream Plum and Spilt Milk Hornby Brighton Belle 5 BEL Removing the body Pullman DCC installation Taking the body off Brighton Belle Pullman car Crimson & Cream Crimson and Cream Plum and Spilt Milk Hornby Brighton Belle 5 BEL Removing the body Pullman DCC installation Taking the body off Brighton Belle Pullman car Crimson & Cream Crimson and Cream Plum and Spilt Milk Hornby Brighton Belle 5 BEL Removing the body Pullman DCC installation Taking the body off Brighton Belle Pullman car Crimson & Cream Crimson and Cream Plum and Spilt Milk Hornby Brighton Belle 5 BEL Removing the body Pullman DCC installation Taking the body off Brighton Belle Pullman car Crimson & Cream Crimson and Cream Plum and Spilt Milk Hornby Brighton Belle 5 BEL Removing the body Pullman DCC installation Taking the body off Brighton Belle Pullman car Crimson & Cream Crimson and Cream Plum and Spilt Milk Hornby Brighton Belle 5 BEL Removing the body Pullman DCC installation Taking the body off Brighton Belle Pullman car Crimson & Cream Crimson and Cream Plum and Spilt Milk Hornby Brighton Belle 5 BEL Removing the body Pullman DCC installation Taking the body off Brighton Belle Pullman car Crimson & Cream Crimson and Cream Plum and Spilt Milk Hornby Brighton Belle 5 BEL Removing the body Pullman DCC installation Taking the body off Brighton Belle Pullman car Crimson & Cream Crimson and Cream Plum and Spilt Milk Hornby Brighton Belle 5 BEL Removing the body Pullman DCC installation Taking the body off Brighton Belle Pullman car Crimson & Cream Crimson and Cream Plum and Spilt Milk Hornby Brighton Belle 5 BEL Removing the body Pullman DCC installation Taking the body off Brighton Belle Pullman car Crimson & Cream Crimson and Cream Plum and Spilt Milk Hornby Brighton Belle 5 BEL Removing the body Pullman DCC installation Taking the body off Brighton Belle Pullman car Crimson & Cream Crimson and Cream Plum and Spilt Milk Hornby Brighton Belle 5 BEL Removing the body Pullman DCC installation Taking the body off Brighton Belle Pullman car Crimson & Cream Crimson and Cream Plum and Spilt Milk Hornby Brighton Belle 5 BEL Removing the body Pullman DCC installation Taking the body off Brighton Belle Pullman car Crimson & Cream Crimson and Cream Plum and Spilt Milk Hornby Brighton Belle 5 BEL Removing the body Pullman DCC installation Taking the body off Brighton Belle Pullman car Crimson & Cream Crimson and Cream Plum and Spilt Milk Hornby Brighton Belle 5 BEL Removing the body Pullman DCC installation Taking the body off Brighton Belle Pullman car Crimson & Cream Crimson and Cream Plum and Spilt Milk Hornby Brighton Belle 5 BEL Removing the body Pullman DCC installation Taking the body off Brighton Belle Pullman car Crimson & Cream Crimson and Cream Plum and Spilt Milk Hornby Brighton Belle 5 BEL Removing the body Pullman DCC installation Taking the body off Brighton Belle Pullman car Crimson & Cream Crimson and Cream Plum and Spilt Milk Hornby Brighton Belle 5 BEL Removing the body Pullman DCC installation Taking the body off Brighton Belle Pullman car Crimson & Cream Crimson and Cream Plum and Spilt Milk Hornby Brighton Belle 5 BEL Removing the body Pullman DCC installation Taking the body off Brighton Belle Pullman car Crimson & Cream Crimson and Cream Plum and Spilt Milk Hornby Brighton Belle 5 BEL Removing the body Pullman DCC installation Taking the body off Brighton Belle Pullman car Crimson & Cream Crimson and Cream Plum and Spilt Milk Hornby Brighton Belle 5 BEL Removing the body Pullman DCC installation Taking the body off Brighton Belle Pullman car Crimson & Cream Crimson and Cream Plum and Spilt Milk Hornby Brighton Belle 5 BEL Removing the body Pullman DCC installation Taking the body off Brighton Belle Pullman car Crimson & Cream Crimson and Cream Plum and Spilt Milk Hornby Brighton Belle 5 BEL Removing the body Pullman DCC installation Taking the body off Brighton Belle Pullman car Crimson & Cream Crimson and Cream Plum and Spilt Milk Hornby Brighton Belle 5 BEL Removing the body Pullman DCC installation Taking the body off Brighton Belle Pullman car Crimson & Cream Crimson and Cream Plum and Spilt Milk Hornby Brighton Belle 5 BEL Removing the body Pullman DCC installation Taking the body off Brighton Belle Pullman car Crimson & Cream Crimson and Cream Plum and Spilt Milk Hornby Brighton Belle 5 BEL Removing the body Pullman DCC installation Taking the body off Brighton Belle Pullman car Crimson & Cream Crimson and Cream Plum and Spilt Milk Hornby Brighton Belle 5 BEL Removing the body Pullman DCC installation Taking the body off Brighton Belle Pullman car Crimson & Cream Crimson and Cream Plum and Spilt Milk Blood and Custard Blood & Custard Crimson & Cream Crimson and Cream Plum and Spilt Milk Blood and Custard Blood & Custard Crimson & Cream Crimson and Cream Plum and Spilt Milk Blood and Custard Blood & Custard Crimson & Cream Crimson and Cream Plum and Spilt Milk Blood and Custard Blood & Custard Crimson & Cream Crimson and Cream Plum and Spilt Milk Blood and Custard Blood & Custard Crimson & Cream Crimson and Cream Plum and Spilt Milk Blood and Custard Blood & Custard Crimson & Cream Crimson and Cream Plum and Spilt Milk Blood and Custard Blood & Custard Crimson & Cream Crimson and Cream Plum and Spilt Milk Blood and Custard Blood & Custard Crimson & Cream Crimson and Cream Plum and Spilt Milk Blood and Custard Blood & Custard Crimson & Cream Crimson and Cream Plum and Spilt Milk Blood and Custard Blood & Custard Crimson & Cream Crimson and Cream Plum and Spilt Milk Blood and Custard Blood & Custard Crimson & Cream Crimson and Cream Plum and Spilt Milk Blood and Custard Blood & Custard Crimson & Cream Crimson and Cream Plum and Spilt Milk Blood and Custard Blood & Custard Crimson & Cream Crimson and Cream Plum and Spilt Milk Blood and Custard Blood & Custard Crimson & Cream Crimson and Cream Plum and Spilt Milk Blood and Custard Blood & Custard Crimson & Cream Crimson and Cream Plum and Spilt Milk Blood and Custard Blood & Custard Crimson & Cream Crimson and Cream Plum and Spilt Milk Blood and Custard Blood & Custard Crimson & Cream Crimson and Cream Plum and Spilt Milk Blood and Custard Blood & Custard Crimson & Cream Crimson and Cream Plum and Spilt Milk Blood and Custard Blood & Custard Crimson & Cream Crimson and Cream Plum and Spilt Milk Blood and Custard Blood & Custard Crimson & Cream Crimson and Cream Plum and Spilt Milk Blood and Custard Blood & Custard Crimson & Cream Crimson and Cream Plum and Spilt Milk Blood and Custard Blood & Custard Crimson & Cream Crimson and Cream Plum and Spilt Milk Blood and Custard Blood & Custard Crimson & Cream Crimson and Cream Plum and Spilt Milk Blood and Custard Blood & Custard Crimson & Cream Crimson and Cream Plum and Spilt Milk Blood and Custard Blood & Custard Crimson & Cream Crimson and Cream Plum and Spilt Milk Blood and Custard Blood & Custard Crimson & Cream Crimson and Cream Plum and Spilt Milk Blood and Custard Blood & Custard Crimson & Cream Crimson and Cream Plum and Spilt Milk Blood and Custard Blood & Custard Crimson & Cream Crimson and Cream Plum and Spilt Milk Blood and Custard Blood & Custard Crimson & Cream Crimson and Cream Plum and Spilt Milk Blood and Custard Blood & Custard Crimson & Cream Crimson and Cream Plum and Spilt Milk Blood and Custard Blood & Custard Crimson & Cream Crimson and Cream Plum and Spilt Milk Blood and Custard Blood & Custard Crimson & Cream Crimson and Cream Plum and Spilt Milk Blood and Custard Blood & Custard Crimson & Cream Crimson and Cream Plum and Spilt Milk Blood and Custard Blood & Custard Crimson & Cream Crimson and Cream Plum and Spilt Milk Blood and Custard Blood & Custard Crimson & Cream Crimson and Cream Plum and Spilt Milk Blood and Custard Blood & Custard Crimson & Cream Crimson and Cream Plum and Spilt Milk Blood and Custard Blood & Custard Crimson & Cream Crimson and Cream Plum and Spilt Milk Blood and Custard Blood & Custard Crimson & Cream Crimson and Cream Plum and Spilt Milk Blood and Custard Blood & Custard Crimson & Cream Crimson and Cream Plum and Spilt Milk Blood and Custard Blood & Custard Crimson & Cream Crimson and Cream Plum and Spilt Milk Blood and Custard Blood & Custard Crimson & Cream Crimson and Cream Plum and Spilt Milk Blood and Custard Blood & Custard Crimson & Cream Crimson and Cream Plum and Spilt Milk Blood and Custard Blood & Custard Crimson & Cream Crimson and Cream Plum and Spilt Milk Blood and Custard Blood & Custard Crimson & Cream Crimson and Cream Plum and Spilt Milk Blood and Custard Blood & Custard Crimson & Cream Crimson and Cream Plum and Spilt Milk Blood and Custard Blood & Custard Crimson & Cream Crimson and Cream Plum and Spilt Milk Blood and Custard Blood & Custard Crimson & Cream Crimson and Cream Plum and Spilt Milk Blood and Custard Blood & Custard Crimson & Cream Crimson and Cream Plum and Spilt Milk Blood and Custard Blood & Custard Crimson & Cream Crimson and Cream Plum and Spilt Milk Blood and Custard Blood & Custard Crimson & Cream Crimson and Cream Plum and Spilt Milk Blood and Custard Blood & Custard Crimson & Cream Crimson and Cream Plum and Spilt Milk Blood and Custard Blood & Custard Crimson & Cream Crimson and Cream Plum and Spilt Milk Blood and Custard Blood & Custard Crimson & Cream Crimson and Cream Plum and Spilt Milk Blood and Custard Blood & Custard Crimson & Cream Crimson and Cream Plum and Spilt Milk Blood and Custard Blood & Custard Crimson & Cream Crimson and Cream Plum and Spilt Milk Blood and Custard Blood & Custard Crimson & Cream Crimson and Cream Plum and Spilt Milk Blood and Custard Blood & Custard Crimson & Cream Crimson and Cream Plum and Spilt Milk Blood and Custard Blood & Custard Crimson & Cream Crimson and Cream Plum and Spilt Milk Blood and Custard Blood & Custard Crimson & Cream Crimson and Cream Plum and Spilt Milk Blood and Custard Blood & Custard Crimson & Cream Crimson and Cream Plum and Spilt Milk Blood and Custard Blood & Custard Crimson & Cream Crimson and Cream Plum and Spilt Milk Blood and Custard Blood & Custard Crimson & Cream Crimson and Cream Plum and Spilt Milk Blood and Custard Blood & Custard Crimson & Cream Crimson and Cream Plum and Spilt Milk Blood and Custard Blood & Custard Crimson & Cream Crimson and Cream Plum and Spilt Milk Blood and Custard Blood & Custard Crimson & Cream Crimson and Cream Plum and Spilt Milk Blood and Custard Blood & Custard Crimson & Cream Crimson and Cream Plum and Spilt Milk Blood and Custard Blood & Custard Crimson & Cream Crimson and Cream Plum and Spilt Milk Blood and Custard Blood & Custard Crimson & Cream Crimson and Cream Plum and Spilt Milk Blood and Custard Blood & Custard Crimson & Cream Crimson and Cream Plum and Spilt Milk Blood and Custard Blood & Custard Crimson & Cream Crimson and Cream Plum and Spilt Milk Blood and Custard Blood & Custard Crimson & Cream Crimson and Cream Plum and Spilt Milk Blood and Custard Blood & Custard Crimson & Cream Crimson and Cream Plum and Spilt Milk Blood and Custard Blood & Custard Crimson & Cream Crimson and Cream Plum and Spilt Milk Blood and Custard Blood & Custard Crimson & Cream Crimson and Cream Plum and Spilt Milk Blood and Custard Blood & Custard Crimson & Cream Crimson and Cream Plum and Spilt Milk Blood and Custard Blood & Custard Crimson & Cream Crimson and Cream Plum and Spilt Milk Blood and Custard Blood & Custard Crimson & Cream Crimson and Cream Plum and Spilt Milk Blood and Custard Blood & Custard Crimson & Cream Crimson and Cream Plum and Spilt Milk Blood and Custard Blood & Custard Crimson & Cream Crimson and Cream Plum and Spilt Milk Blood and Custard Blood & Custard Crimson & Cream Crimson and Cream Plum and Spilt Milk Blood and Custard Blood & Custard Crimson & Cream Crimson and Cream Plum and Spilt Milk Blood and Custard Blood & Custard Crimson & Cream Crimson and Cream Plum and Spilt Milk Blood and Custard Blood & Custard Crimson & Cream Crimson and Cream Plum and Spilt Milk Blood and Custard Blood & Custard Crimson & Cream Crimson and Cream Plum and Spilt Milk Blood and Custard Blood & Custard Crimson & Cream Crimson and Cream Plum and Spilt Milk Blood and Custard Blood & Custard Crimson & Cream Crimson and Cream Plum and Spilt Milk Blood and Custard Blood & Custard Crimson & Cream Crimson and Cream Plum and Spilt Milk Blood and Custard Blood & Custard Crimson & Cream Crimson and Cream Plum and Spilt Milk Blood and Custard Blood & Custard Crimson & Cream Crimson and Cream Plum and Spilt Milk Blood and Custard Blood & Custard Crimson & Cream Crimson and Cream Plum and Spilt Milk Blood and Custard Blood & Custard Crimson & Cream Crimson and Cream Plum and Spilt Milk Blood and Custard Blood & Custard Crimson & Cream Crimson and Cream Plum and Spilt Milk Blood and Custard Blood & Custard Crimson & Cream Crimson and Cream Plum and Spilt Milk Blood and Custard Blood & Custard Crimson & Cream Crimson and Cream Plum and Spilt Milk Blood and Custard Blood & Custard Crimson & Cream Crimson and Cream Plum and Spilt Milk Blood and Custard Blood & Custard Crimson & Cream Crimson and Cream Plum and Spilt Milk Blood and Custard Blood & Custard Crimson & Cream Crimson and Cream Plum and Spilt Milk Blood and Custard Blood & Custard Crimson & Cream Crimson and Cream Plum and Spilt Milk Blood and Custard Blood & Custard Crimson & Cream Crimson and Cream Plum and Spilt Milk Blood and Custard Blood & Custard Crimson & Cream Crimson and Cream Plum and Spilt Milk Blood and Custard Blood & Custard Crimson & Cream Crimson and Cream Plum and Spilt Milk Blood and Custard Blood & Custard Crimson & Cream Crimson and Cream Plum and Spilt Milk Blood and Custard Blood & Custard Crimson & Cream Crimson and Cream Plum and Spilt Milk Blood and Custard Blood & Custard Crimson & Cream Crimson and Cream Plum and Spilt Milk Blood and Custard Blood & Custard Crimson & Cream Crimson and Cream Plum and Spilt Milk Blood and Custard Blood & Custard Crimson & Cream Crimson and Cream Plum and Spilt Milk Blood and Custard Blood & Custard Crimson & Cream Crimson and Cream Plum and Spilt Milk Blood and Custard Blood & Custard Crimson & Cream Crimson and Cream Plum and Spilt Milk Blood and Custard Blood & Custard Crimson & Cream Crimson and Cream Plum and Spilt Milk Blood and Custard Blood & Custard Crimson & Cream Crimson and Cream Plum and Spilt Milk Blood and Custard Blood & Custard Crimson & Cream Crimson and Cream Plum and Spilt Milk Blood and Custard Blood & Custard Crimson & Cream Crimson and Cream Plum and Spilt Milk Blood and Custard Blood & Custard Crimson & Cream Crimson and Cream Plum and Spilt Milk Blood and Custard Blood & Custard Crimson & Cream Crimson and Cream Plum and Spilt Milk Blood and Custard Blood & Custard Crimson & Cream Crimson and Cream Plum and Spilt Milk Blood and Custard Blood & Custard Crimson & Cream Crimson and Cream Plum and Spilt Milk Blood and Custard Blood & Custard Crimson & Cream Crimson and Cream Plum and Spilt Milk Blood and Custard Blood & Custard Crimson & Cream Crimson and Cream Plum and Spilt Milk Blood and Custard Blood & Custard Crimson & Cream Crimson and Cream Plum and Spilt Milk Blood and Custard Blood & Custard Crimson & Cream Crimson and Cream Plum and Spilt Milk Blood and Custard Blood & Custard Crimson & Cream Crimson and Cream Plum and Spilt Milk Hornby Brighton Belle 5 BEL Removing the body Pullman DCC installation Taking the body off Brighton Belle Pullman car Crimson & Cream Crimson and Cream Plum and Spilt Milk Hornby Brighton Belle 5 BEL Removing the body Pullman DCC installation Taking the body off Brighton Belle Pullman car Crimson & Cream Crimson and Cream Plum and Spilt Milk Hornby Brighton Belle 5 BEL Removing the body Pullman DCC installation Taking the body off Brighton Belle Pullman car Crimson & Cream Crimson and Cream Plum and Spilt Milk Hornby Brighton Belle 5 BEL Removing the body Pullman DCC installation Taking the body off Brighton Belle Pullman car Crimson & Cream Crimson and Cream Plum and Spilt Milk Hornby Brighton Belle 5 BEL Removing the body Pullman DCC installation Taking the body off Brighton Belle Pullman car Crimson & Cream Crimson and Cream Plum and Spilt Milk Hornby Brighton Belle 5 BEL Removing the body Pullman DCC installation Taking the body off Brighton Belle Pullman car Crimson & Cream Crimson and Cream Plum and Spilt Milk Hornby Brighton Belle 5 BEL Removing the body Pullman DCC installation Taking the body off Brighton Belle Pullman car Crimson & Cream Crimson and Cream Plum and Spilt Milk Hornby Brighton Belle 5 BEL Removing the body Pullman DCC installation Taking the body off Brighton Belle Pullman car Crimson & Cream Crimson and Cream Plum and Spilt Milk Hornby Brighton Belle 5 BEL Removing the body Pullman DCC installation Taking the body off Brighton Belle Pullman car Crimson & Cream Crimson and Cream Plum and Spilt Milk Hornby Brighton Belle 5 BEL Removing the body Pullman DCC installation Taking the body off Brighton Belle Pullman car Crimson & Cream Crimson and Cream Plum and Spilt Milk Hornby Brighton Belle 5 BEL Removing the body Pullman DCC installation Taking the body off Brighton Belle Pullman car Crimson & Cream Crimson and Cream Plum and Spilt Milk Hornby Brighton Belle 5 BEL Removing the body Pullman DCC installation Taking the body off Brighton Belle Pullman car Crimson & Cream Crimson and Cream Plum and Spilt Milk Hornby Brighton Belle 5 BEL Removing the body Pullman DCC installation Taking the body off Brighton Belle Pullman car Crimson & Cream Crimson and Cream Plum and Spilt Milk Hornby Brighton Belle 5 BEL Removing the body Pullman DCC installation Taking the body off Brighton Belle Pullman car Crimson & Cream Crimson and Cream Plum and Spilt Milk Hornby Brighton Belle 5 BEL Removing the body Pullman DCC installation Taking the body off Brighton Belle Pullman car Crimson & Cream Crimson and Cream Plum and Spilt Milk Hornby Brighton Belle 5 BEL Removing the body Pullman DCC installation Taking the body off Brighton Belle Pullman car Crimson & Cream Crimson and Cream Plum and Spilt Milk Hornby Brighton Belle 5 BEL Removing the body Pullman DCC installation Taking the body off Brighton Belle Pullman car Crimson & Cream Crimson and Cream Plum and Spilt Milk Hornby Brighton Belle 5 BEL Removing the body Pullman DCC installation Taking the body off Brighton Belle Pullman car Crimson & Cream Crimson and Cream Plum and Spilt Milk Hornby Brighton Belle 5 BEL Removing the body Pullman DCC installation Taking the body off Brighton Belle Pullman car Crimson & Cream Crimson and Cream Plum and Spilt Milk Hornby Brighton Belle 5 BEL Removing the body Pullman DCC installation Taking the body off Brighton Belle Pullman car Crimson & Cream Crimson and Cream Plum and Spilt Milk Hornby Brighton Belle 5 BEL Removing the body Pullman DCC installation Taking the body off Brighton Belle Pullman car Crimson & Cream Crimson and Cream Plum and Spilt Milk Hornby Brighton Belle 5 BEL Removing the body Pullman DCC installation Taking the body off Brighton Belle Pullman car Crimson & Cream Crimson and Cream Plum and Spilt Milk Hornby Brighton Belle 5 BEL Removing the body Pullman DCC installation Taking the body off Brighton Belle Pullman car Crimson & Cream Crimson and Cream Plum and Spilt Milk Hornby Brighton Belle 5 BEL Removing the body Pullman DCC installation Taking the body off Brighton Belle Pullman car Crimson & Cream Crimson and Cream Plum and Spilt Milk Hornby Brighton Belle 5 BEL Removing the body Pullman DCC installation Taking the body off Brighton Belle Pullman car Crimson & Cream Crimson and Cream Plum and Spilt Milk Hornby Brighton Belle 5 BEL Removing the body Pullman DCC installation Taking the body off Brighton Belle Pullman car Crimson & Cream Crimson and Cream Plum and Spilt Milk Hornby Brighton Belle 5 BEL Removing the body Pullman DCC installation Taking the body off Brighton Belle Pullman car Crimson & Cream Crimson and Cream Plum and Spilt Milk Hornby Brighton Belle 5 BEL Removing the body Pullman DCC installation Taking the body off Brighton Belle Pullman car Crimson & Cream Crimson and Cream Plum and Spilt Milk Hornby Brighton Belle 5 BEL Removing the body Pullman DCC installation Taking the body off Brighton Belle Pullman car Crimson & Cream Crimson and Cream Plum and Spilt Milk Hornby Brighton Belle 5 BEL Removing the body Pullman DCC installation Taking the body off Brighton Belle Pullman car Crimson & Cream Crimson and Cream Plum and Spilt Milk Hornby Brighton Belle 5 BEL Removing the body Pullman DCC installation Taking the body off Brighton Belle Pullman car Crimson & Cream Crimson and Cream Plum and Spilt Milk Hornby Brighton Belle 5 BEL Removing the body Pullman DCC installation Taking the body off Brighton Belle Pullman car Crimson & Cream Crimson and Cream Plum and Spilt Milk Hornby Brighton Belle 5 BEL Removing the body Pullman DCC installation Taking the body off Brighton Belle Pullman car Crimson & Cream Crimson and Cream Plum and Spilt Milk Hornby Brighton Belle 5 BEL Removing the body Pullman DCC installation Taking the body off Brighton Belle Pullman car Crimson & Cream Crimson and Cream Plum and Spilt Milk Hornby Brighton Belle 5 BEL Removing the body Pullman DCC installation Taking the body off Brighton Belle Pullman car Crimson & Cream Crimson and Cream Plum and Spilt Milk Hornby Brighton Belle 5 BEL Removing the body Pullman DCC installation Taking the body off Brighton Belle Pullman car Crimson & Cream Crimson and Cream Plum and Spilt Milk Hornby Brighton Belle 5 BEL Removing the body Pullman DCC installation Taking the body off Brighton Belle Pullman car Crimson & Cream Crimson and Cream Plum and Spilt Milk Hornby Brighton Belle 5 BEL Removing the body Pullman DCC installation Taking the body off Brighton Belle Pullman car Crimson & Cream Crimson and Cream Plum and Spilt Milk Hornby Brighton Belle 5 BEL Removing the body Pullman DCC installation Taking the body off Brighton Belle Pullman car Crimson & Cream Crimson and Cream Plum and Spilt Milk Hornby Brighton Belle 5 BEL Removing the body Pullman DCC installation Taking the body off Brighton Belle Pullman car Crimson & Cream Crimson and Cream Plum and Spilt Milk Hornby Brighton Belle 5 BEL Removing the body Pullman DCC installation Taking the body off Brighton Belle Pullman car Crimson & Cream Crimson and Cream Plum and Spilt Milk Hornby Brighton Belle 5 BEL Removing the body Pullman DCC installation Taking the body off Brighton Belle Pullman car Crimson & Cream Crimson and Cream Plum and Spilt Milk Hornby Brighton Belle 5 BEL Removing the body Pullman DCC installation Taking the body off Brighton Belle Pullman car Crimson & Cream Crimson and Cream Plum and Spilt Milk Hornby Brighton Belle 5 BEL Removing the body Pullman DCC installation Taking the body off Brighton Belle Pullman car Crimson & Cream Crimson and Cream Plum and Spilt Milk Hornby Brighton Belle 5 BEL Removing the body Pullman DCC installation Taking the body off Brighton Belle Pullman car Crimson & Cream Crimson and Cream Plum and Spilt Milk Hornby Brighton Belle 5 BEL Removing the body Pullman DCC installation Taking the body off Brighton Belle Pullman car Crimson & Cream Crimson and Cream Plum and Spilt Milk Hornby Brighton Belle 5 BEL Removing the body Pullman DCC installation Taking the body off Brighton Belle Pullman car Crimson & Cream Crimson and Cream Plum and Spilt Milk Hornby Brighton Belle 5 BEL Removing the body Pullman DCC installation Taking the body off Brighton Belle Pullman car Crimson & Cream Crimson and Cream Plum and Spilt Milk Hornby Brighton Belle 5 BEL Removing the body Pullman DCC installation Taking the body off Brighton Belle Pullman car Crimson & Cream Crimson and Cream Plum and Spilt Milk Hornby Brighton Belle 5 BEL Removing the body Pullman DCC installation Taking the body off Brighton Belle Pullman car Crimson & Cream Crimson and Cream Plum and Spilt Milk Hornby Brighton Belle 5 BEL Removing the body Pullman DCC installation Taking the body off Brighton Belle Pullman car Crimson & Cream Crimson and Cream Plum and Spilt Milk Hornby Brighton Belle 5 BEL Removing the body Pullman DCC installation Taking the body off Brighton Belle Pullman car Crimson & Cream Crimson and Cream Plum and Spilt Milk Hornby Brighton Belle 5 BEL Removing the body Pullman DCC installation Taking the body off Brighton Belle Pullman car Crimson & Cream Crimson and Cream Plum and Spilt Milk Hornby Brighton Belle 5 BEL Removing the body Pullman DCC installation Taking the body off Brighton Belle Pullman car Crimson & Cream Crimson and Cream Plum and Spilt Milk Hornby Brighton Belle 5 BEL Removing the body Pullman DCC installation Taking the body off Brighton Belle Pullman car Crimson & Cream Crimson and Cream Plum and Spilt Milk Hornby Brighton Belle 5 BEL Removing the body Pullman DCC installation Taking the body off Brighton Belle Pullman car Crimson & Cream Crimson and Cream Plum and Spilt Milk Hornby Brighton Belle 5 BEL Removing the body Pullman DCC installation Taking the body off Brighton Belle Pullman car Crimson & Cream Crimson and Cream Plum and Spilt Milk Hornby Brighton Belle 5 BEL Removing the body Pullman DCC installation Taking the body off Brighton Belle Pullman car Crimson & Cream Crimson and Cream Plum and Spilt Milk Hornby Brighton Belle 5 BEL Removing the body Pullman DCC installation Taking the body off Brighton Belle Pullman car Crimson & Cream Crimson and Cream Plum and Spilt Milk Hornby Brighton Belle 5 BEL Removing the body Pullman DCC installation Taking the body off Brighton Belle Pullman car Crimson & Cream Crimson and Cream Plum and Spilt Milk Hornby Brighton Belle 5 BEL Removing the body Pullman DCC installation Taking the body off Brighton Belle Pullman car Crimson & Cream Crimson and Cream Plum and Spilt Milk Hornby Brighton Belle 5 BEL Removing the body Pullman DCC installation Taking the body off Brighton Belle Pullman car Crimson & Cream Crimson and Cream Plum and Spilt Milk Hornby Brighton Belle 5 BEL Removing the body Pullman DCC installation Taking the body off Brighton Belle Pullman car Crimson & Cream Crimson and Cream Plum and Spilt Milk Hornby Brighton Belle 5 BEL Removing the body Pullman DCC installation Taking the body off Brighton Belle Pullman car Crimson & Cream Crimson and Cream Plum and Spilt Milk Hornby Brighton Belle 5 BEL Removing the body Pullman DCC installation Taking the body off Brighton Belle Pullman car Crimson & Cream Crimson and Cream Plum and Spilt Milk Hornby Brighton Belle 5 BEL Removing the body Pullman DCC installation Taking the body off Brighton Belle Pullman car Crimson & Cream Crimson and Cream Plum and Spilt Milk Hornby Brighton Belle 5 BEL Removing the body Pullman DCC installation Taking the body off Brighton Belle Pullman car Crimson & Cream Crimson and Cream Plum and Spilt Milk Hornby Brighton Belle 5 BEL Removing the body Pullman DCC installation Taking the body off Brighton Belle Pullman car Crimson & Cream Crimson and Cream Plum and Spilt Milk Hornby Brighton Belle 5 BEL Removing the body Pullman DCC installation Taking the body off Brighton Belle Pullman car Crimson & Cream Crimson and Cream Plum and Spilt Milk Hornby Brighton Belle 5 BEL Removing the body Pullman DCC installation Taking the body off Brighton Belle Pullman car Crimson & Cream Crimson and Cream Plum and Spilt Milk Hornby Brighton Belle 5 BEL Removing the body Pullman DCC installation Taking the body off Brighton Belle Pullman car Crimson & Cream Crimson and Cream Plum and Spilt Milk Hornby Brighton Belle 5 BEL Removing the body Pullman DCC installation Taking the body off Brighton Belle Pullman car Crimson & Cream Crimson and Cream Plum and Spilt Milk Hornby Brighton Belle 5 BEL Removing the body Pullman DCC installation Taking the body off Brighton Belle Pullman car Crimson & Cream Crimson and Cream Plum and Spilt Milk Hornby Brighton Belle 5 BEL Removing the body Pullman DCC installation Taking the body off Brighton Belle Pullman car Crimson & Cream Crimson and Cream Plum and Spilt Milk Hornby Brighton Belle 5 BEL Removing the body Pullman DCC installation Taking the body off Brighton Belle Pullman car Crimson & Cream Crimson and Cream Plum and Spilt Milk Hornby Brighton Belle 5 BEL Removing the body Pullman DCC installation Taking the body off Brighton Belle Pullman car Crimson & Cream Crimson and Cream Plum and Spilt Milk Hornby Brighton Belle 5 BEL Removing the body Pullman DCC installation Taking the body off Brighton Belle Pullman car Crimson & Cream Crimson and Cream Plum and Spilt Milk Hornby Brighton Belle 5 BEL Removing the body Pullman DCC installation Taking the body off Brighton Belle Pullman car Crimson & Cream Crimson and Cream Plum and Spilt Milk Hornby Brighton Belle 5 BEL Removing the body Pullman DCC installation Taking the body off Brighton Belle Pullman car Crimson & Cream Crimson and Cream Plum and Spilt Milk Hornby Brighton Belle 5 BEL Removing the body Pullman DCC installation Taking the body off Brighton Belle Pullman car Crimson & Cream Crimson and Cream Plum and Spilt Milk Hornby Brighton Belle 5 BEL Removing the body Pullman DCC installation Taking the body off Brighton Belle Pullman car Crimson & Cream Crimson and Cream Plum and Spilt Milk Hornby Brighton Belle 5 BEL Removing the body Pullman DCC installation Taking the body off Brighton Belle Pullman car Crimson & Cream Crimson and Cream Plum and Spilt Milk Hornby Brighton Belle 5 BEL Removing the body Pullman DCC installation Taking the body off Brighton Belle Pullman car Crimson & Cream Crimson and Cream Plum and Spilt Milk Hornby Brighton Belle 5 BEL Removing the body Pullman DCC installation Taking the body off Brighton Belle Pullman car Crimson & Cream Crimson and Cream Plum and Spilt Milk Hornby Brighton Belle 5 BEL Removing the body Pullman DCC installation Taking the body off Brighton Belle Pullman car Crimson & Cream Crimson and Cream Plum and Spilt Milk Hornby Brighton Belle 5 BEL Removing the body Pullman DCC installation Taking the body off Brighton Belle Pullman car Crimson & Cream Crimson and Cream Plum and Spilt Milk Hornby Brighton Belle 5 BEL Removing the body Pullman DCC installation Taking the body off Brighton Belle Pullman car Crimson & Cream Crimson and Cream Plum and Spilt Milk Hornby Brighton Belle 5 BEL Removing the body Pullman DCC installation Taking the body off Brighton Belle Pullman car Crimson & Cream Crimson and Cream Plum and Spilt Milk Hornby Brighton Belle 5 BEL Removing the body Pullman DCC installation Taking the body off Brighton Belle Pullman car Crimson & Cream Crimson and Cream Plum and Spilt Milk Hornby Brighton Belle 5 BEL Removing the body Pullman DCC installation Taking the body off Brighton Belle Pullman car Crimson & Cream Crimson and Cream Plum and Spilt Milk Hornby Brighton Belle 5 BEL Removing the body Pullman DCC installation Taking the body off Brighton Belle Pullman car Crimson & Cream Crimson and Cream Plum and Spilt Milk Hornby Brighton Belle 5 BEL Removing the body Pullman DCC installation Taking the body off Brighton Belle Pullman car Crimson & Cream Crimson and Cream Plum and Spilt Milk Hornby Brighton Belle 5 BEL Removing the body Pullman DCC installation Taking the body off Brighton Belle Pullman car Crimson & Cream Crimson and Cream Plum and Spilt Milk Hornby Brighton Belle 5 BEL Removing the body Pullman DCC installation Taking the body off Brighton Belle Pullman car Crimson & Cream Crimson and Cream Plum and Spilt Milk Hornby Brighton Belle 5 BEL Removing the body Pullman DCC installation Taking the body off Brighton Belle Pullman car Crimson & Cream Crimson and Cream Plum and Spilt Milk Hornby Brighton Belle 5 BEL Removing the body Pullman DCC installation Taking the body off Brighton Belle Pullman car Crimson & Cream Crimson and Cream Plum and Spilt Milk Hornby Brighton Belle 5 BEL Removing the body Pullman DCC installation Taking the body off Brighton Belle Pullman car Crimson & Cream Crimson and Cream Plum and Spilt Milk Hornby Brighton Belle 5 BEL Removing the body Pullman DCC installation Taking the body off Brighton Belle Pullman car Crimson & Cream Crimson and Cream Plum and Spilt Milk Hornby Brighton Belle 5 BEL Removing the body Pullman DCC installation Taking the body off Brighton Belle Pullman car Crimson & Cream Crimson and Cream Plum and Spilt Milk Hornby Brighton Belle 5 BEL Removing the body Pullman DCC installation Taking the body off Brighton Belle Pullman car Crimson & Cream Crimson and Cream Plum and Spilt Milk Hornby Brighton Belle 5 BEL Removing the body Pullman DCC installation Taking the body off Brighton Belle Pullman car Crimson & Cream Crimson and Cream Plum and Spilt Milk Hornby Brighton Belle 5 BEL Removing the body Pullman DCC installation Taking the body off Brighton Belle Pullman car Crimson & Cream Crimson and Cream Plum and Spilt Milk Hornby Brighton Belle 5 BEL Removing the body Pullman DCC installation Taking the body off Brighton Belle Pullman car Crimson & Cream Crimson and Cream Plum and Spilt Milk Hornby Brighton Belle 5 BEL Removing the body Pullman DCC installation Taking the body off Brighton Belle Pullman car Crimson & Cream Crimson and Cream Plum and Spilt Milk Hornby Brighton Belle 5 BEL Removing the body Pullman DCC installation Taking the body off Brighton Belle Pullman car Crimson & Cream Crimson and Cream Plum and Spilt Milk Hornby Brighton Belle 5 BEL Removing the body Pullman DCC installation Taking the body off Brighton Belle Pullman car Crimson & Cream Crimson and Cream Plum and Spilt Milk Hornby Brighton Belle 5 BEL Removing the body Pullman DCC installation Taking the body off Brighton Belle Pullman car Crimson & Cream Crimson and Cream Plum and Spilt Milk Hornby Brighton Belle 5 BEL Removing the body Pullman DCC installation Taking the body off Brighton Belle Pullman car Crimson & Cream Crimson and Cream Plum and Spilt Milk Hornby Brighton Belle 5 BEL Removing the body Pullman DCC installation Taking the body off Brighton Belle Pullman car Crimson & Cream Crimson and Cream Plum and Spilt Milk Hornby Brighton Belle 5 BEL Removing the body Pullman DCC installation Taking the body off Brighton Belle Pullman car Crimson & Cream Crimson and Cream Plum and Spilt Milk Blood and Custard Blood & Custard Crimson & Cream Crimson and Cream Plum and Spilt Milk Blood and Custard Blood & Custard Crimson & Cream Crimson and Cream Plum and Spilt Milk Blood and Custard Blood & Custard Crimson & Cream Crimson and Cream Plum and Spilt Milk Blood and Custard Blood & Custard Crimson & Cream Crimson and Cream Plum and Spilt Milk Blood and Custard Blood & Custard Crimson & Cream Crimson and Cream Plum and Spilt Milk Blood and Custard Blood & Custard Crimson & Cream Crimson and Cream Plum and Spilt Milk Blood and Custard Blood & Custard Crimson & Cream Crimson and Cream Plum and Spilt Milk Blood and Custard Blood & Custard Crimson & Cream Crimson and Cream Plum and Spilt Milk Blood and Custard Blood & Custard Crimson & Cream Crimson and Cream Plum and Spilt Milk Blood and Custard Blood & Custard Crimson & Cream Crimson and Cream Plum and Spilt Milk Blood and Custard Blood & Custard Crimson & Cream Crimson and Cream Plum and Spilt Milk Blood and Custard Blood & Custard Crimson & Cream Crimson and Cream Plum and Spilt Milk Blood and Custard Blood & Custard Crimson & Cream Crimson and Cream Plum and Spilt Milk Blood and Custard Blood & Custard Crimson & Cream Crimson and Cream Plum and Spilt Milk Blood and Custard Blood & Custard Crimson & Cream Crimson and Cream Plum and Spilt Milk Blood and Custard Blood & Custard Crimson & Cream Crimson and Cream Plum and Spilt Milk Blood and Custard Blood & Custard Crimson & Cream Crimson and Cream Plum and Spilt Milk Blood and Custard Blood & Custard Crimson & Cream Crimson and Cream Plum and Spilt Milk Blood and Custard Blood & Custard Crimson & Cream Crimson and Cream Plum and Spilt Milk Blood and Custard Blood & Custard Crimson & Cream Crimson and Cream Plum and Spilt Milk Blood and Custard Blood & Custard Crimson & Cream Crimson and Cream Plum and Spilt Milk Blood and Custard Blood & Custard Crimson & Cream Crimson and Cream Plum and Spilt Milk Blood and Custard Blood & Custard Crimson & Cream Crimson and Cream Plum and Spilt Milk Blood and Custard Blood & Custard Crimson & Cream Crimson and Cream Plum and Spilt Milk Blood and Custard Blood & Custard Crimson & Cream Crimson and Cream Plum and Spilt Milk Blood and Custard Blood & Custard Crimson & Cream Crimson and Cream Plum and Spilt Milk Blood and Custard Blood & Custard Crimson & Cream Crimson and Cream Plum and Spilt Milk Blood and Custard Blood & Custard Crimson & Cream Crimson and Cream Plum and Spilt Milk Blood and Custard Blood & Custard Crimson & Cream Crimson and Cream Plum and Spilt Milk Blood and Custard Blood & Custard Crimson & Cream Crimson and Cream Plum and Spilt Milk Blood and Custard Blood & Custard Crimson & Cream Crimson and Cream Plum and Spilt Milk Blood and Custard Blood & Custard Crimson & Cream Crimson and Cream Plum and Spilt Milk Blood and Custard Blood & Custard Crimson & Cream Crimson and Cream Plum and Spilt Milk Blood and Custard Blood & Custard Crimson & Cream Crimson and Cream Plum and Spilt Milk Blood and Custard Blood & Custard Crimson & Cream Crimson and Cream Plum and Spilt Milk Blood and Custard Blood & Custard Crimson & Cream Crimson and Cream Plum and Spilt Milk Blood and Custard Blood & Custard Crimson & Cream Crimson and Cream Plum and Spilt Milk Blood and Custard Blood & Custard Crimson & Cream Crimson and Cream Plum and Spilt Milk Blood and Custard Blood & Custard Crimson & Cream Crimson and Cream Plum and Spilt Milk Blood and Custard Blood & Custard Crimson & Cream Crimson and Cream Plum and Spilt Milk Blood and Custard Blood & Custard Crimson & Cream Crimson and Cream Plum and Spilt Milk Blood and Custard Blood & Custard Crimson & Cream Crimson and Cream Plum and Spilt Milk Blood and Custard Blood & Custard Crimson & Cream Crimson and Cream Plum and Spilt Milk Blood and Custard Blood & Custard Crimson & Cream Crimson and Cream Plum and Spilt Milk Blood and Custard Blood & Custard Crimson & Cream Crimson and Cream Plum and Spilt Milk Blood and Custard Blood & Custard Crimson & Cream Crimson and Cream Plum and Spilt Milk Blood and Custard Blood & Custard Crimson & Cream Crimson and Cream Plum and Spilt Milk Blood and Custard Blood & Custard Crimson & Cream Crimson and Cream Plum and Spilt Milk Blood and Custard Blood & Custard Crimson & Cream Crimson and Cream Plum and Spilt Milk Blood and Custard Blood & Custard Crimson & Cream Crimson and Cream Plum and Spilt Milk Blood and Custard Blood & Custard Crimson & Cream Crimson and Cream Plum and Spilt Milk Blood and Custard Blood & Custard Crimson & Cream Crimson and Cream Plum and Spilt Milk Blood and Custard Blood & Custard Crimson & Cream Crimson and Cream Plum and Spilt Milk Blood and Custard Blood & Custard Crimson & Cream Crimson and Cream Plum and Spilt Milk Blood and Custard Blood & Custard Crimson & Cream Crimson and Cream Plum and Spilt Milk Blood and Custard Blood & Custard Crimson & Cream Crimson and Cream Plum and Spilt Milk Blood and Custard Blood & Custard Crimson & Cream Crimson and Cream Plum and Spilt Milk Blood and Custard Blood & Custard Crimson & Cream Crimson and Cream Plum and Spilt Milk Blood and Custard Blood & Custard Crimson & Cream Crimson and Cream Plum and Spilt Milk Blood and Custard Blood & Custard Crimson & Cream Crimson and Cream Plum and Spilt Milk Blood and Custard Blood & Custard Crimson & Cream Crimson and Cream Plum and Spilt Milk Blood and Custard Blood & Custard Crimson & Cream Crimson and Cream Plum and Spilt Milk Blood and Custard Blood & Custard Crimson & Cream Crimson and Cream Plum and Spilt Milk Blood and Custard Blood & Custard Crimson & Cream Crimson and Cream Plum and Spilt Milk Blood and Custard Blood & Custard Crimson & Cream Crimson and Cream Plum and Spilt Milk Blood and Custard Blood & Custard Crimson & Cream Crimson and Cream Plum and Spilt Milk Blood and Custard Blood & Custard Crimson & Cream Crimson and Cream Plum and Spilt Milk Blood and Custard Blood & Custard Crimson & Cream Crimson and Cream Plum and Spilt Milk Blood and Custard Blood & Custard Crimson & Cream Crimson and Cream Plum and Spilt Milk Blood and Custard Blood & Custard Crimson & Cream Crimson and Cream Plum and Spilt Milk Blood and Custard Blood & Custard Crimson & Cream Crimson and Cream Plum and Spilt Milk Blood and Custard Blood & Custard Crimson & Cream Crimson and Cream Plum and Spilt Milk Blood and Custard Blood & Custard Crimson & Cream Crimson and Cream Plum and Spilt Milk Blood and Custard Blood & Custard Crimson & Cream Crimson and Cream Plum and Spilt Milk Blood and Custard Blood & Custard Crimson & Cream Crimson and Cream Plum and Spilt Milk Blood and Custard Blood & Custard Crimson & Cream Crimson and Cream Plum and Spilt Milk Blood and Custard Blood & Custard Crimson & Cream Crimson and Cream Plum and Spilt Milk Blood and Custard Blood & Custard Crimson & Cream Crimson and Cream Plum and Spilt Milk Blood and Custard Blood & Custard Crimson & Cream Crimson and Cream Plum and Spilt Milk Blood and Custard Blood & Custard Crimson & Cream Crimson and Cream Plum and Spilt Milk Blood and Custard Blood & Custard Crimson & Cream Crimson and Cream Plum and Spilt Milk Blood and Custard Blood & Custard Crimson & Cream Crimson and Cream Plum and Spilt Milk Blood and Custard Blood & Custard Crimson & Cream Crimson and Cream Plum and Spilt Milk Blood and Custard Blood & Custard Crimson & Cream Crimson and Cream Plum and Spilt Milk Blood and Custard Blood & Custard Crimson & Cream Crimson and Cream Plum and Spilt Milk Blood and Custard Blood & Custard Crimson & Cream Crimson and Cream Plum and Spilt Milk Blood and Custard Blood & Custard Crimson & Cream Crimson and Cream Plum and Spilt Milk Blood and Custard Blood & Custard Crimson & Cream Crimson and Cream Plum and Spilt Milk Blood and Custard Blood & Custard Crimson & Cream Crimson and Cream Plum and Spilt Milk Blood and Custard Blood & Custard Crimson & Cream Crimson and Cream Plum and Spilt Milk Blood and Custard Blood & Custard Crimson & Cream Crimson and Cream Plum and Spilt Milk Blood and Custard Blood & Custard Crimson & Cream Crimson and Cream Plum and Spilt Milk Blood and Custard Blood & Custard Crimson & Cream Crimson and Cream Plum and Spilt Milk Blood and Custard Blood & Custard Crimson & Cream Crimson and Cream Plum and Spilt Milk Blood and Custard Blood & Custard Crimson & Cream Crimson and Cream Plum and Spilt Milk Blood and Custard Blood & Custard Crimson & Cream Crimson and Cream Plum and Spilt Milk Blood and Custard Blood & Custard Crimson & Cream Crimson and Cream Plum and Spilt Milk Blood and Custard Blood & Custard Crimson & Cream Crimson and Cream Plum and Spilt Milk Blood and Custard Blood & Custard Crimson & Cream Crimson and Cream Plum and Spilt Milk Blood and Custard Blood & Custard Crimson & Cream Crimson and Cream Plum and Spilt Milk Blood and Custard Blood & Custard Crimson & Cream Crimson and Cream Plum and Spilt Milk Blood and Custard Blood & Custard Crimson & Cream Crimson and Cream Plum and Spilt Milk Blood and Custard Blood & Custard Crimson & Cream Crimson and Cream Plum and Spilt Milk Blood and Custard Blood & Custard Crimson & Cream Crimson and Cream Plum and Spilt Milk Blood and Custard Blood & Custard Crimson & Cream Crimson and Cream Plum and Spilt Milk Blood and Custard Blood & Custard Crimson & Cream Crimson and Cream Plum and Spilt Milk Blood and Custard Blood & Custard Crimson & Cream Crimson and Cream Plum and Spilt Milk Blood and Custard Blood & Custard Crimson & Cream Crimson and Cream Plum and Spilt Milk Blood and Custard Blood & Custard Crimson & Cream Crimson and Cream Plum and Spilt Milk Blood and Custard Blood & Custard Crimson & Cream Crimson and Cream Plum and Spilt Milk Blood and Custard Blood & Custard Crimson & Cream Crimson and Cream Plum and Spilt Milk Blood and Custard Blood & Custard Crimson & Cream Crimson and Cream Plum and Spilt Milk Blood and Custard Blood & Custard Crimson & Cream Crimson and Cream Plum and Spilt Milk Blood and Custard Blood & Custard Crimson & Cream Crimson and Cream Plum and Spilt Milk Blood and Custard Blood & Custard Crimson & Cream Crimson and Cream Plum and Spilt Milk Blood and Custard Blood & Custard Crimson & Cream Crimson and Cream Plum and Spilt Milk Blood and Custard Blood & Custard Crimson & Cream Crimson and Cream Plum and Spilt Milk Blood and Custard Blood & Custard Crimson & Cream Crimson and Cream Plum and Spilt Milk Blood and Custard Blood & Custard Crimson & Cream Crimson and Cream Plum and Spilt Milk Blood and Custard Blood & Custard Crimson & Cream Crimson and Cream Plum and Spilt Milk Blood and Custard Blood & Custard Crimson & Cream Crimson and Cream Plum and Spilt Milk Hornby Brighton Belle 5 BEL Removing the body Pullman DCC installation Taking the body off Brighton Belle Pullman car Crimson & Cream Crimson and Cream Plum and Spilt Milk Hornby Brighton Belle 5 BEL Removing the body Pullman DCC installation Taking the body off Brighton Belle Pullman car Crimson & Cream Crimson and Cream Plum and Spilt Milk Hornby Brighton Belle 5 BEL Removing the body Pullman DCC installation Taking the body off Brighton Belle Pullman car Crimson & Cream Crimson and Cream Plum and Spilt Milk Hornby Brighton Belle 5 BEL Removing the body Pullman DCC installation Taking the body off Brighton Belle Pullman car Crimson & Cream Crimson and Cream Plum and Spilt Milk Hornby Brighton Belle 5 BEL Removing the body Pullman DCC installation Taking the body off Brighton Belle Pullman car Crimson & Cream Crimson and Cream Plum and Spilt Milk Hornby Brighton Belle 5 BEL Removing the body Pullman DCC installation Taking the body off Brighton Belle Pullman car Crimson & Cream Crimson and Cream Plum and Spilt Milk Hornby Brighton Belle 5 BEL Removing the body Pullman DCC installation Taking the body off Brighton Belle Pullman car Crimson & Cream Crimson and Cream Plum and Spilt Milk Hornby Brighton Belle 5 BEL Removing the body Pullman DCC installation Taking the body off Brighton Belle Pullman car Crimson & Cream Crimson and Cream Plum and Spilt Milk Hornby Brighton Belle 5 BEL Removing the body Pullman DCC installation Taking the body off Brighton Belle Pullman car Crimson & Cream Crimson and Cream Plum and Spilt Milk Hornby Brighton Belle 5 BEL Removing the body Pullman DCC installation Taking the body off Brighton Belle Pullman car Crimson & Cream Crimson and Cream Plum and Spilt Milk Hornby Brighton Belle 5 BEL Removing the body Pullman DCC installation Taking the body off Brighton Belle Pullman car Crimson & Cream Crimson and Cream Plum and Spilt Milk Hornby Brighton Belle 5 BEL Removing the body Pullman DCC installation Taking the body off Brighton Belle Pullman car Crimson & Cream Crimson and Cream Plum and Spilt Milk Hornby Brighton Belle 5 BEL Removing the body Pullman DCC installation Taking the body off Brighton Belle Pullman car Crimson & Cream Crimson and Cream Plum and Spilt Milk Hornby Brighton Belle 5 BEL Removing the body Pullman DCC installation Taking the body off Brighton Belle Pullman car Crimson & Cream Crimson and Cream Plum and Spilt Milk Hornby Brighton Belle 5 BEL Removing the body Pullman DCC installation Taking the body off Brighton Belle Pullman car Crimson & Cream Crimson and Cream Plum and Spilt Milk Hornby Brighton Belle 5 BEL Removing the body Pullman DCC installation Taking the body off Brighton Belle Pullman car Crimson & Cream Crimson and Cream Plum and Spilt Milk Hornby Brighton Belle 5 BEL Removing the body Pullman DCC installation Taking the body off Brighton Belle Pullman car Crimson & Cream Crimson and Cream Plum and Spilt Milk Hornby Brighton Belle 5 BEL Removing the body Pullman DCC installation Taking the body off Brighton Belle Pullman car Crimson & Cream Crimson and Cream Plum and Spilt Milk Hornby Brighton Belle 5 BEL Removing the body Pullman DCC installation Taking the body off Brighton Belle Pullman car Crimson & Cream Crimson and Cream Plum and Spilt Milk Hornby Brighton Belle 5 BEL Removing the body Pullman DCC installation Taking the body off Brighton Belle Pullman car Crimson & Cream Crimson and Cream Plum and Spilt Milk Hornby Brighton Belle 5 BEL Removing the body Pullman DCC installation Taking the body off Brighton Belle Pullman car Crimson & Cream Crimson and Cream Plum and Spilt Milk Hornby Brighton Belle 5 BEL Removing the body Pullman DCC installation Taking the body off Brighton Belle Pullman car Crimson & Cream Crimson and Cream Plum and Spilt Milk Hornby Brighton Belle 5 BEL Removing the body Pullman DCC installation Taking the body off Brighton Belle Pullman car Crimson & Cream Crimson and Cream Plum and Spilt Milk Hornby Brighton Belle 5 BEL Removing the body Pullman DCC installation Taking the body off Brighton Belle Pullman car Crimson & Cream Crimson and Cream Plum and Spilt Milk Hornby Brighton Belle 5 BEL Removing the body Pullman DCC installation Taking the body off Brighton Belle Pullman car Crimson & Cream Crimson and Cream Plum and Spilt Milk Hornby Brighton Belle 5 BEL Removing the body Pullman DCC installation Taking the body off Brighton Belle Pullman car Crimson & Cream Crimson and Cream Plum and Spilt Milk Hornby Brighton Belle 5 BEL Removing the body Pullman DCC installation Taking the body off Brighton Belle Pullman car Crimson & Cream Crimson and Cream Plum and Spilt Milk Hornby Brighton Belle 5 BEL Removing the body Pullman DCC installation Taking the body off Brighton Belle Pullman car Crimson & Cream Crimson and Cream Plum and Spilt Milk Hornby Brighton Belle 5 BEL Removing the body Pullman DCC installation Taking the body off Brighton Belle Pullman car Crimson & Cream Crimson and Cream Plum and Spilt Milk Hornby Brighton Belle 5 BEL Removing the body Pullman DCC installation Taking the body off Brighton Belle Pullman car Crimson & Cream Crimson and Cream Plum and Spilt Milk Hornby Brighton Belle 5 BEL Removing the body Pullman DCC installation Taking the body off Brighton Belle Pullman car Crimson & Cream Crimson and Cream Plum and Spilt Milk Hornby Brighton Belle 5 BEL Removing the body Pullman DCC installation Taking the body off Brighton Belle Pullman car Crimson & Cream Crimson and Cream Plum and Spilt Milk Hornby Brighton Belle 5 BEL Removing the body Pullman DCC installation Taking the body off Brighton Belle Pullman car Crimson & Cream Crimson and Cream Plum and Spilt Milk Hornby Brighton Belle 5 BEL Removing the body Pullman DCC installation Taking the body off Brighton Belle Pullman car Crimson & Cream Crimson and Cream Plum and Spilt Milk Hornby Brighton Belle 5 BEL Removing the body Pullman DCC installation Taking the body off Brighton Belle Pullman car Crimson & Cream Crimson and Cream Plum and Spilt Milk Hornby Brighton Belle 5 BEL Removing the body Pullman DCC installation Taking the body off Brighton Belle Pullman car Crimson & Cream Crimson and Cream Plum and Spilt Milk Hornby Brighton Belle 5 BEL Removing the body Pullman DCC installation Taking the body off Brighton Belle Pullman car Crimson & Cream Crimson and Cream Plum and Spilt Milk Hornby Brighton Belle 5 BEL Removing the body Pullman DCC installation Taking the body off Brighton Belle Pullman car Crimson & Cream Crimson and Cream Plum and Spilt Milk Hornby Brighton Belle 5 BEL Removing the body Pullman DCC installation Taking the body off Brighton Belle Pullman car Crimson & Cream Crimson and Cream Plum and Spilt Milk Hornby Brighton Belle 5 BEL Removing the body Pullman DCC installation Taking the body off Brighton Belle Pullman car Crimson & Cream Crimson and Cream Plum and Spilt Milk Hornby Brighton Belle 5 BEL Removing the body Pullman DCC installation Taking the body off Brighton Belle Pullman car Crimson & Cream Crimson and Cream Plum and Spilt Milk Hornby Brighton Belle 5 BEL Removing the body Pullman DCC installation Taking the body off Brighton Belle Pullman car Crimson & Cream Crimson and Cream Plum and Spilt Milk Hornby Brighton Belle 5 BEL Removing the body Pullman DCC installation Taking the body off Brighton Belle Pullman car Crimson & Cream Crimson and Cream Plum and Spilt Milk Hornby Brighton Belle 5 BEL Removing the body Pullman DCC installation Taking the body off Brighton Belle Pullman car Crimson & Cream Crimson and Cream Plum and Spilt Milk Hornby Brighton Belle 5 BEL Removing the body Pullman DCC installation Taking the body off Brighton Belle Pullman car Crimson & Cream Crimson and Cream Plum and Spilt Milk Hornby Brighton Belle 5 BEL Removing the body Pullman DCC installation Taking the body off Brighton Belle Pullman car Crimson & Cream Crimson and Cream Plum and Spilt Milk Hornby Brighton Belle 5 BEL Removing the body Pullman DCC installation Taking the body off Brighton Belle Pullman car Crimson & Cream Crimson and Cream Plum and Spilt Milk Hornby Brighton Belle 5 BEL Removing the body Pullman DCC installation Taking the body off Brighton Belle Pullman car Crimson & Cream Crimson and Cream Plum and Spilt Milk Hornby Brighton Belle 5 BEL Removing the body Pullman DCC installation Taking the body off Brighton Belle Pullman car Crimson & Cream Crimson and Cream Plum and Spilt Milk Hornby Brighton Belle 5 BEL Removing the body Pullman DCC installation Taking the body off Brighton Belle Pullman car Crimson & Cream Crimson and Cream Plum and Spilt Milk Hornby Brighton Belle 5 BEL Removing the body Pullman DCC installation Taking the body off Brighton Belle Pullman car Crimson & Cream Crimson and Cream Plum and Spilt Milk Hornby Brighton Belle 5 BEL Removing the body Pullman DCC installation Taking the body off Brighton Belle Pullman car Crimson & Cream Crimson and Cream Plum and Spilt Milk Hornby Brighton Belle 5 BEL Removing the body Pullman DCC installation Taking the body off Brighton Belle Pullman car Crimson & Cream Crimson and Cream Plum and Spilt Milk Hornby Brighton Belle 5 BEL Removing the body Pullman DCC installation Taking the body off Brighton Belle Pullman car Crimson & Cream Crimson and Cream Plum and Spilt Milk Hornby Brighton Belle 5 BEL Removing the body Pullman DCC installation Taking the body off Brighton Belle Pullman car Crimson & Cream Crimson and Cream Plum and Spilt Milk Hornby Brighton Belle 5 BEL Removing the body Pullman DCC installation Taking the body off Brighton Belle Pullman car Crimson & Cream Crimson and Cream Plum and Spilt Milk Hornby Brighton Belle 5 BEL Removing the body Pullman DCC installation Taking the body off Brighton Belle Pullman car Crimson & Cream Crimson and Cream Plum and Spilt Milk Hornby Brighton Belle 5 BEL Removing the body Pullman DCC installation Taking the body off Brighton Belle Pullman car Crimson & Cream Crimson and Cream Plum and Spilt Milk Hornby Brighton Belle 5 BEL Removing the body Pullman DCC installation Taking the body off Brighton Belle Pullman car Crimson & Cream Crimson and Cream Plum and Spilt Milk Hornby Brighton Belle 5 BEL Removing the body Pullman DCC installation Taking the body off Brighton Belle Pullman car Crimson & Cream Crimson and Cream Plum and Spilt Milk Hornby Brighton Belle 5 BEL Removing the body Pullman DCC installation Taking the body off Brighton Belle Pullman car Crimson & Cream Crimson and Cream Plum and Spilt Milk Hornby Brighton Belle 5 BEL Removing the body Pullman DCC installation Taking the body off Brighton Belle Pullman car Crimson & Cream Crimson and Cream Plum and Spilt Milk Hornby Brighton Belle 5 BEL Removing the body Pullman DCC installation Taking the body off Brighton Belle Pullman car Crimson & Cream Crimson and Cream Plum and Spilt Milk Hornby Brighton Belle 5 BEL Removing the body Pullman DCC installation Taking the body off Brighton Belle Pullman car Crimson & Cream Crimson and Cream Plum and Spilt Milk Hornby Brighton Belle 5 BEL Removing the body Pullman DCC installation Taking the body off Brighton Belle Pullman car Crimson & Cream Crimson and Cream Plum and Spilt Milk Hornby Brighton Belle 5 BEL Removing the body Pullman DCC installation Taking the body off Brighton Belle Pullman car Crimson & Cream Crimson and Cream Plum and Spilt Milk Hornby Brighton Belle 5 BEL Removing the body Pullman DCC installation Taking the body off Brighton Belle Pullman car Crimson & Cream Crimson and Cream Plum and Spilt Milk Hornby Brighton Belle 5 BEL Removing the body Pullman DCC installation Taking the body off Brighton Belle Pullman car Crimson & Cream Crimson and Cream Plum and Spilt Milk Hornby Brighton Belle 5 BEL Removing the body Pullman DCC installation Taking the body off Brighton Belle Pullman car Crimson & Cream Crimson and Cream Plum and Spilt Milk Hornby Brighton Belle 5 BEL Removing the body Pullman DCC installation Taking the body off Brighton Belle Pullman car Crimson & Cream Crimson and Cream Plum and Spilt Milk Hornby Brighton Belle 5 BEL Removing the body Pullman DCC installation Taking the body off Brighton Belle Pullman car Crimson & Cream Crimson and Cream Plum and Spilt Milk Hornby Brighton Belle 5 BEL Removing the body Pullman DCC installation Taking the body off Brighton Belle Pullman car Crimson & Cream Crimson and Cream Plum and Spilt Milk Hornby Brighton Belle 5 BEL Removing the body Pullman DCC installation Taking the body off Brighton Belle Pullman car Crimson & Cream Crimson and Cream Plum and Spilt Milk Hornby Brighton Belle 5 BEL Removing the body Pullman DCC installation Taking the body off Brighton Belle Pullman car Crimson & Cream Crimson and Cream Plum and Spilt Milk Hornby Brighton Belle 5 BEL Removing the body Pullman DCC installation Taking the body off Brighton Belle Pullman car Crimson & Cream Crimson and Cream Plum and Spilt Milk Hornby Brighton Belle 5 BEL Removing the body Pullman DCC installation Taking the body off Brighton Belle Pullman car Crimson & Cream Crimson and Cream Plum and Spilt Milk Hornby Brighton Belle 5 BEL Removing the body Pullman DCC installation Taking the body off Brighton Belle Pullman car Crimson & Cream Crimson and Cream Plum and Spilt Milk Hornby Brighton Belle 5 BEL Removing the body Pullman DCC installation Taking the body off Brighton Belle Pullman car Crimson & Cream Crimson and Cream Plum and Spilt Milk Hornby Brighton Belle 5 BEL Removing the body Pullman DCC installation Taking the body off Brighton Belle Pullman car Crimson & Cream Crimson and Cream Plum and Spilt Milk Hornby Brighton Belle 5 BEL Removing the body Pullman DCC installation Taking the body off Brighton Belle Pullman car Crimson & Cream Crimson and Cream Plum and Spilt Milk Hornby Brighton Belle 5 BEL Removing the body Pullman DCC installation Taking the body off Brighton Belle Pullman car Crimson & Cream Crimson and Cream Plum and Spilt Milk Hornby Brighton Belle 5 BEL Removing the body Pullman DCC installation Taking the body off Brighton Belle Pullman car Crimson & Cream Crimson and Cream Plum and Spilt Milk Hornby Brighton Belle 5 BEL Removing the body Pullman DCC installation Taking the body off Brighton Belle Pullman car Crimson & Cream Crimson and Cream Plum and Spilt Milk Hornby Brighton Belle 5 BEL Removing the body Pullman DCC installation Taking the body off Brighton Belle Pullman car Crimson & Cream Crimson and Cream Plum and Spilt Milk Hornby Brighton Belle 5 BEL Removing the body Pullman DCC installation Taking the body off Brighton Belle Pullman car Crimson & Cream Crimson and Cream Plum and Spilt Milk Hornby Brighton Belle 5 BEL Removing the body Pullman DCC installation Taking the body off Brighton Belle Pullman car Crimson & Cream Crimson and Cream Plum and Spilt Milk Hornby Brighton Belle 5 BEL Removing the body Pullman DCC installation Taking the body off Brighton Belle Pullman car Crimson & Cream Crimson and Cream Plum and Spilt Milk Hornby Brighton Belle 5 BEL Removing the body Pullman DCC installation Taking the body off Brighton Belle Pullman car Crimson & Cream Crimson and Cream Plum and Spilt Milk Hornby Brighton Belle 5 BEL Removing the body Pullman DCC installation Taking the body off Brighton Belle Pullman car Crimson & Cream Crimson and Cream Plum and Spilt Milk Hornby Brighton Belle 5 BEL Removing the body Pullman DCC installation Taking the body off Brighton Belle Pullman car Crimson & Cream Crimson and Cream Plum and Spilt Milk Hornby Brighton Belle 5 BEL Removing the body Pullman DCC installation Taking the body off Brighton Belle Pullman car Crimson & Cream Crimson and Cream Plum and Spilt Milk Hornby Brighton Belle 5 BEL Removing the body Pullman DCC installation Taking the body off Brighton Belle Pullman car Crimson & Cream Crimson and Cream Plum and Spilt Milk Hornby Brighton Belle 5 BEL Removing the body Pullman DCC installation Taking the body off Brighton Belle Pullman car Crimson & Cream Crimson and Cream Plum and Spilt Milk Hornby Brighton Belle 5 BEL Removing the body Pullman DCC installation Taking the body off Brighton Belle Pullman car Crimson & Cream Crimson and Cream Plum and Spilt Milk Hornby Brighton Belle 5 BEL Removing the body Pullman DCC installation Taking the body off Brighton Belle Pullman car Crimson & Cream Crimson and Cream Plum and Spilt Milk Hornby Brighton Belle 5 BEL Removing the body Pullman DCC installation Taking the body off Brighton Belle Pullman car Crimson & Cream Crimson and Cream Plum and Spilt Milk Hornby Brighton Belle 5 BEL Removing the body Pullman DCC installation Taking the body off Brighton Belle Pullman car Crimson & Cream Crimson and Cream Plum and Spilt Milk Hornby Brighton Belle 5 BEL Removing the body Pullman DCC installation Taking the body off Brighton Belle Pullman car Crimson & Cream Crimson and Cream Plum and Spilt Milk Hornby Brighton Belle 5 BEL Removing the body Pullman DCC installation Taking the body off Brighton Belle Pullman car Crimson & Cream Crimson and Cream Plum and Spilt Milk Hornby Brighton Belle 5 BEL Removing the body Pullman DCC installation Taking the body off Brighton Belle Pullman car Crimson & Cream Crimson and Cream Plum and Spilt Milk Hornby Brighton Belle 5 BEL Removing the body Pullman DCC installation Taking the body off Brighton Belle Pullman car Crimson & Cream Crimson and Cream Plum and Spilt Milk Hornby Brighton Belle 5 BEL Removing the body Pullman DCC installation Taking the body off Brighton Belle Pullman car Crimson & Cream Crimson and Cream Plum and Spilt Milk Hornby Brighton Belle 5 BEL Removing the body Pullman DCC installation Taking the body off Brighton Belle Pullman car Crimson & Cream Crimson and Cream Plum and Spilt Milk Hornby Brighton Belle 5 BEL Removing the body Pullman DCC installation Taking the body off Brighton Belle Pullman car Crimson & Cream Crimson and Cream Plum and Spilt Milk Hornby Brighton Belle 5 BEL Removing the body Pullman DCC installation Taking the body off Brighton Belle Pullman car Crimson & Cream Crimson and Cream Plum and Spilt Milk Hornby Brighton Belle 5 BEL Removing the body Pullman DCC installation Taking the body off Brighton Belle Pullman car Crimson & Cream Crimson and Cream Plum and Spilt Milk Hornby Brighton Belle 5 BEL Removing the body Pullman DCC installation Taking the body off Brighton Belle Pullman car Crimson & Cream Crimson and Cream Plum and Spilt Milk Hornby Brighton Belle 5 BEL Removing the body Pullman DCC installation Taking the body off Brighton Belle Pullman car Crimson & Cream Crimson and Cream Plum and Spilt Milk Hornby Brighton Belle 5 BEL Removing the body Pullman DCC installation Taking the body off Brighton Belle Pullman car Crimson & Cream Crimson and Cream Plum and Spilt Milk Hornby Brighton Belle 5 BEL Removing the body Pullman DCC installation Taking the body off Brighton Belle Pullman car Crimson & Cream Crimson and Cream Plum and Spilt Milk Blood and Custard Blood & Custard Crimson & Cream Crimson and Cream Plum and Spilt Milk Blood and Custard Blood & Custard Crimson & Cream Crimson and Cream Plum and Spilt Milk Blood and Custard Blood & Custard Crimson & Cream Crimson and Cream Plum and Spilt Milk Blood and Custard Blood & Custard Crimson & Cream Crimson and Cream Plum and Spilt Milk Blood and Custard Blood & Custard Crimson & Cream Crimson and Cream Plum and Spilt Milk Blood and Custard Blood & Custard Crimson & Cream Crimson and Cream Plum and Spilt Milk Blood and Custard Blood & Custard Crimson & Cream Crimson and Cream Plum and Spilt Milk Blood and Custard Blood & Custard Crimson & Cream Crimson and Cream Plum and Spilt Milk Blood and Custard Blood & Custard Crimson & Cream Crimson and Cream Plum and Spilt Milk Blood and Custard Blood & Custard Crimson & Cream Crimson and Cream Plum and Spilt Milk Blood and Custard Blood & Custard Crimson & Cream Crimson and Cream Plum and Spilt Milk Blood and Custard Blood & Custard Crimson & Cream Crimson and Cream Plum and Spilt Milk Blood and Custard Blood & Custard Crimson & Cream Crimson and Cream Plum and Spilt Milk Blood and Custard Blood & Custard Crimson & Cream Crimson and Cream Plum and Spilt Milk Blood and Custard Blood & Custard Crimson & Cream Crimson and Cream Plum and Spilt Milk Blood and Custard Blood & Custard Crimson & Cream Crimson and Cream Plum and Spilt Milk Blood and Custard Blood & Custard Crimson & Cream Crimson and Cream Plum and Spilt Milk Blood and Custard Blood & Custard Crimson & Cream Crimson and Cream Plum and Spilt Milk Blood and Custard Blood & Custard Crimson & Cream Crimson and Cream Plum and Spilt Milk Blood and Custard Blood & Custard Crimson & Cream Crimson and Cream Plum and Spilt Milk Blood and Custard Blood & Custard Crimson & Cream Crimson and Cream Plum and Spilt Milk Blood and Custard Blood & Custard Crimson & Cream Crimson and Cream Plum and Spilt Milk Blood and Custard Blood & Custard Crimson & Cream Crimson and Cream Plum and Spilt Milk Blood and Custard Blood & Custard Crimson & Cream Crimson and Cream Plum and Spilt Milk Blood and Custard Blood & Custard Crimson & Cream Crimson and Cream Plum and Spilt Milk Blood and Custard Blood & Custard Crimson & Cream Crimson and Cream Plum and Spilt Milk Blood and Custard Blood & Custard Crimson & Cream Crimson and Cream Plum and Spilt Milk Blood and Custard Blood & Custard Crimson & Cream Crimson and Cream Plum and Spilt Milk Blood and Custard Blood & Custard Crimson & Cream Crimson and Cream Plum and Spilt Milk Blood and Custard Blood & Custard Crimson & Cream Crimson and Cream Plum and Spilt Milk Blood and Custard Blood & Custard Crimson & Cream Crimson and Cream Plum and Spilt Milk Blood and Custard Blood & Custard Crimson & Cream Crimson and Cream Plum and Spilt Milk Blood and Custard Blood & Custard Crimson & Cream Crimson and Cream Plum and Spilt Milk Blood and Custard Blood & Custard Crimson & Cream Crimson and Cream Plum and Spilt Milk Blood and Custard Blood & Custard Crimson & Cream Crimson and Cream Plum and Spilt Milk Blood and Custard Blood & Custard Crimson & Cream Crimson and Cream Plum and Spilt Milk Blood and Custard Blood & Custard Crimson & Cream Crimson and Cream Plum and Spilt Milk Blood and Custard Blood & Custard Crimson & Cream Crimson and Cream Plum and Spilt Milk Blood and Custard Blood & Custard Crimson & Cream Crimson and Cream Plum and Spilt Milk Blood and Custard Blood & Custard Crimson & Cream Crimson and Cream Plum and Spilt Milk Blood and Custard Blood & Custard Crimson & Cream Crimson and Cream Plum and Spilt Milk Blood and Custard Blood & Custard Crimson & Cream Crimson and Cream Plum and Spilt Milk Blood and Custard Blood & Custard Crimson & Cream Crimson and Cream Plum and Spilt Milk Blood and Custard Blood & Custard Crimson & Cream Crimson and Cream Plum and Spilt Milk Blood and Custard Blood & Custard Crimson & Cream Crimson and Cream Plum and Spilt Milk Blood and Custard Blood & Custard Crimson & Cream Crimson and Cream Plum and Spilt Milk Blood and Custard Blood & Custard Crimson & Cream Crimson and Cream Plum and Spilt Milk Blood and Custard Blood & Custard Crimson & Cream Crimson and Cream Plum and Spilt Milk Blood and Custard Blood & Custard Crimson & Cream Crimson and Cream Plum and Spilt Milk Blood and Custard Blood & Custard Crimson & Cream Crimson and Cream Plum and Spilt Milk Blood and Custard Blood & Custard Crimson & Cream Crimson and Cream Plum and Spilt Milk Blood and Custard Blood & Custard Crimson & Cream Crimson and Cream Plum and Spilt Milk Blood and Custard Blood & Custard Crimson & Cream Crimson and Cream Plum and Spilt Milk Blood and Custard Blood & Custard Crimson & Cream Crimson and Cream Plum and Spilt Milk Blood and Custard Blood & Custard Crimson & Cream Crimson and Cream Plum and Spilt Milk Blood and Custard Blood & Custard Crimson & Cream Crimson and Cream Plum and Spilt Milk Blood and Custard Blood & Custard Crimson & Cream Crimson and Cream Plum and Spilt Milk Blood and Custard Blood & Custard Crimson & Cream Crimson and Cream Plum and Spilt Milk Blood and Custard Blood & Custard Crimson & Cream Crimson and Cream Plum and Spilt Milk Blood and Custard Blood & Custard Crimson & Cream Crimson and Cream Plum and Spilt Milk Blood and Custard Blood & Custard Crimson & Cream Crimson and Cream Plum and Spilt Milk Blood and Custard Blood & Custard Crimson & Cream Crimson and Cream Plum and Spilt Milk Blood and Custard Blood & Custard Crimson & Cream Crimson and Cream Plum and Spilt Milk Blood and Custard Blood & Custard Crimson & Cream Crimson and Cream Plum and Spilt Milk Blood and Custard Blood & Custard Crimson & Cream Crimson and Cream Plum and Spilt Milk Blood and Custard Blood & Custard Crimson & Cream Crimson and Cream Plum and Spilt Milk Blood and Custard Blood & Custard Crimson & Cream Crimson and Cream Plum and Spilt Milk Blood and Custard Blood & Custard Crimson & Cream Crimson and Cream Plum and Spilt Milk Blood and Custard Blood & Custard Crimson & Cream Crimson and Cream Plum and Spilt Milk Blood and Custard Blood & Custard Crimson & Cream Crimson and Cream Plum and Spilt Milk Blood and Custard Blood & Custard Crimson & Cream Crimson and Cream Plum and Spilt Milk Blood and Custard Blood & Custard Crimson & Cream Crimson and Cream Plum and Spilt Milk Blood and Custard Blood & Custard Crimson & Cream Crimson and Cream Plum and Spilt Milk Blood and Custard Blood & Custard Crimson & Cream Crimson and Cream Plum and Spilt Milk Blood and Custard Blood & Custard Crimson & Cream Crimson and Cream Plum and Spilt Milk Blood and Custard Blood & Custard Crimson & Cream Crimson and Cream Plum and Spilt Milk Blood and Custard Blood & Custard Crimson & Cream Crimson and Cream Plum and Spilt Milk Blood and Custard Blood & Custard Crimson & Cream Crimson and Cream Plum and Spilt Milk Blood and Custard Blood & Custard Crimson & Cream Crimson and Cream Plum and Spilt Milk Blood and Custard Blood & Custard Crimson & Cream Crimson and Cream Plum and Spilt Milk Blood and Custard Blood & Custard Crimson & Cream Crimson and Cream Plum and Spilt Milk Blood and Custard Blood & Custard Crimson & Cream Crimson and Cream Plum and Spilt Milk Blood and Custard Blood & Custard Crimson & Cream Crimson and Cream Plum and Spilt Milk Blood and Custard Blood & Custard Crimson & Cream Crimson and Cream Plum and Spilt Milk Blood and Custard Blood & Custard Crimson & Cream Crimson and Cream Plum and Spilt Milk Blood and Custard Blood & Custard Crimson & Cream Crimson and Cream Plum and Spilt Milk Blood and Custard Blood & Custard Crimson & Cream Crimson and Cream Plum and Spilt Milk Blood and Custard Blood & Custard Crimson & Cream Crimson and Cream Plum and Spilt Milk Blood and Custard Blood & Custard Crimson & Cream Crimson and Cream Plum and Spilt Milk Blood and Custard Blood & Custard Crimson & Cream Crimson and Cream Plum and Spilt Milk Blood and Custard Blood & Custard Crimson & Cream Crimson and Cream Plum and Spilt Milk Blood and Custard Blood & Custard Crimson & Cream Crimson and Cream Plum and Spilt Milk Blood and Custard Blood & Custard Crimson & Cream Crimson and Cream Plum and Spilt Milk Blood and Custard Blood & Custard Crimson & Cream Crimson and Cream Plum and Spilt Milk Blood and Custard Blood & Custard Crimson & Cream Crimson and Cream Plum and Spilt Milk Blood and Custard Blood & Custard Crimson & Cream Crimson and Cream Plum and Spilt Milk Blood and Custard Blood & Custard Crimson & Cream Crimson and Cream Plum and Spilt Milk Blood and Custard Blood & Custard Crimson & Cream Crimson and Cream Plum and Spilt Milk Blood and Custard Blood & Custard Crimson & Cream Crimson and Cream Plum and Spilt Milk Blood and Custard Blood & Custard Crimson & Cream Crimson and Cream Plum and Spilt Milk Blood and Custard Blood & Custard Crimson & Cream Crimson and Cream Plum and Spilt Milk Blood and Custard Blood & Custard Crimson & Cream Crimson and Cream Plum and Spilt Milk Blood and Custard Blood & Custard Crimson & Cream Crimson and Cream Plum and Spilt Milk Blood and Custard Blood & Custard Crimson & Cream Crimson and Cream Plum and Spilt Milk Blood and Custard Blood & Custard Crimson & Cream Crimson and Cream Plum and Spilt Milk Blood and Custard Blood & Custard Crimson & Cream Crimson and Cream Plum and Spilt Milk Blood and Custard Blood & Custard Crimson & Cream Crimson and Cream Plum and Spilt Milk Blood and Custard Blood & Custard Crimson & Cream Crimson and Cream Plum and Spilt Milk Blood and Custard Blood & Custard Crimson & Cream Crimson and Cream Plum and Spilt Milk Blood and Custard Blood & Custard Crimson & Cream Crimson and Cream Plum and Spilt Milk Blood and Custard Blood & Custard Crimson & Cream Crimson and Cream Plum and Spilt Milk Blood and Custard Blood & Custard Crimson & Cream Crimson and Cream Plum and Spilt Milk Blood and Custard Blood & Custard Crimson & Cream Crimson and Cream Plum and Spilt Milk Blood and Custard Blood & Custard Crimson & Cream Crimson and Cream Plum and Spilt Milk Blood and Custard Blood & Custard Crimson & Cream Crimson and Cream Plum and Spilt Milk Blood and Custard Blood & Custard Crimson & Cream Crimson and Cream Plum and Spilt Milk Blood and Custard Blood & Custard Crimson & Cream Crimson and Cream Plum and Spilt Milk Blood and Custard Blood & Custard Crimson & Cream Crimson and Cream Plum and Spilt Milk Blood and Custard Blood & Custard Crimson & Cream Crimson and Cream Plum and Spilt Milk Blood and Custard Blood & Custard Crimson & Cream Crimson and Cream Plum and Spilt Milk Blood and Custard Blood & Custard Crimson & Cream Crimson and Cream Plum and Spilt Milk Hornby Brighton Belle 5 BEL Removing the body Pullman DCC installation Taking the body off Brighton Belle Pullman car Crimson & Cream Crimson and Cream Plum and Spilt Milk Hornby Brighton Belle 5 BEL Removing the body Pullman DCC installation Taking the body off Brighton Belle Pullman car Crimson & Cream Crimson and Cream Plum and Spilt Milk Hornby Brighton Belle 5 BEL Removing the body Pullman DCC installation Taking the body off Brighton Belle Pullman car Crimson & Cream Crimson and Cream Plum and Spilt Milk Hornby Brighton Belle 5 BEL Removing the body Pullman DCC installation Taking the body off Brighton Belle Pullman car Crimson & Cream Crimson and Cream Plum and Spilt Milk Hornby Brighton Belle 5 BEL Removing the body Pullman DCC installation Taking the body off Brighton Belle Pullman car Crimson & Cream Crimson and Cream Plum and Spilt Milk Hornby Brighton Belle 5 BEL Removing the body Pullman DCC installation Taking the body off Brighton Belle Pullman car Crimson & Cream Crimson and Cream Plum and Spilt Milk Hornby Brighton Belle 5 BEL Removing the body Pullman DCC installation Taking the body off Brighton Belle Pullman car Crimson & Cream Crimson and Cream Plum and Spilt Milk Hornby Brighton Belle 5 BEL Removing the body Pullman DCC installation Taking the body off Brighton Belle Pullman car Crimson & Cream Crimson and Cream Plum and Spilt Milk Hornby Brighton Belle 5 BEL Removing the body Pullman DCC installation Taking the body off Brighton Belle Pullman car Crimson & Cream Crimson and Cream Plum and Spilt Milk Hornby Brighton Belle 5 BEL Removing the body Pullman DCC installation Taking the body off Brighton Belle Pullman car Crimson & Cream Crimson and Cream Plum and Spilt Milk Hornby Brighton Belle 5 BEL Removing the body Pullman DCC installation Taking the body off Brighton Belle Pullman car Crimson & Cream Crimson and Cream Plum and Spilt Milk Hornby Brighton Belle 5 BEL Removing the body Pullman DCC installation Taking the body off Brighton Belle Pullman car Crimson & Cream Crimson and Cream Plum and Spilt Milk Hornby Brighton Belle 5 BEL Removing the body Pullman DCC installation Taking the body off Brighton Belle Pullman car Crimson & Cream Crimson and Cream Plum and Spilt Milk Hornby Brighton Belle 5 BEL Removing the body Pullman DCC installation Taking the body off Brighton Belle Pullman car Crimson & Cream Crimson and Cream Plum and Spilt Milk Hornby Brighton Belle 5 BEL Removing the body Pullman DCC installation Taking the body off Brighton Belle Pullman car Crimson & Cream Crimson and Cream Plum and Spilt Milk Hornby Brighton Belle 5 BEL Removing the body Pullman DCC installation Taking the body off Brighton Belle Pullman car Crimson & Cream Crimson and Cream Plum and Spilt Milk Hornby Brighton Belle 5 BEL Removing the body Pullman DCC installation Taking the body off Brighton Belle Pullman car Crimson & Cream Crimson and Cream Plum and Spilt Milk Hornby Brighton Belle 5 BEL Removing the body Pullman DCC installation Taking the body off Brighton Belle Pullman car Crimson & Cream Crimson and Cream Plum and Spilt Milk Hornby Brighton Belle 5 BEL Removing the body Pullman DCC installation Taking the body off Brighton Belle Pullman car Crimson & Cream Crimson and Cream Plum and Spilt Milk Hornby Brighton Belle 5 BEL Removing the body Pullman DCC installation Taking the body off Brighton Belle Pullman car Crimson & Cream Crimson and Cream Plum and Spilt Milk Hornby Brighton Belle 5 BEL Removing the body Pullman DCC installation Taking the body off Brighton Belle Pullman car Crimson & Cream Crimson and Cream Plum and Spilt Milk Hornby Brighton Belle 5 BEL Removing the body Pullman DCC installation Taking the body off Brighton Belle Pullman car Crimson & Cream Crimson and Cream Plum and Spilt Milk Hornby Brighton Belle 5 BEL Removing the body Pullman DCC installation Taking the body off Brighton Belle Pullman car Crimson & Cream Crimson and Cream Plum and Spilt Milk Hornby Brighton Belle 5 BEL Removing the body Pullman DCC installation Taking the body off Brighton Belle Pullman car Crimson & Cream Crimson and Cream Plum and Spilt Milk Hornby Brighton Belle 5 BEL Removing the body Pullman DCC installation Taking the body off Brighton Belle Pullman car Crimson & Cream Crimson and Cream Plum and Spilt Milk Hornby Brighton Belle 5 BEL Removing the body Pullman DCC installation Taking the body off Brighton Belle Pullman car Crimson & Cream Crimson and Cream Plum and Spilt Milk Hornby Brighton Belle 5 BEL Removing the body Pullman DCC installation Taking the body off Brighton Belle Pullman car Crimson & Cream Crimson and Cream Plum and Spilt Milk Hornby Brighton Belle 5 BEL Removing the body Pullman DCC installation Taking the body off Brighton Belle Pullman car Crimson & Cream Crimson and Cream Plum and Spilt Milk Hornby Brighton Belle 5 BEL Removing the body Pullman DCC installation Taking the body off Brighton Belle Pullman car Crimson & Cream Crimson and Cream Plum and Spilt Milk Hornby Brighton Belle 5 BEL Removing the body Pullman DCC installation Taking the body off Brighton Belle Pullman car Crimson & Cream Crimson and Cream Plum and Spilt Milk Hornby Brighton Belle 5 BEL Removing the body Pullman DCC installation Taking the body off Brighton Belle Pullman car Crimson & Cream Crimson and Cream Plum and Spilt Milk Hornby Brighton Belle 5 BEL Removing the body Pullman DCC installation Taking the body off Brighton Belle Pullman car Crimson & Cream Crimson and Cream Plum and Spilt Milk Hornby Brighton Belle 5 BEL Removing the body Pullman DCC installation Taking the body off Brighton Belle Pullman car Crimson & Cream Crimson and Cream Plum and Spilt Milk Hornby Brighton Belle 5 BEL Removing the body Pullman DCC installation Taking the body off Brighton Belle Pullman car Crimson & Cream Crimson and Cream Plum and Spilt Milk Hornby Brighton Belle 5 BEL Removing the body Pullman DCC installation Taking the body off Brighton Belle Pullman car Crimson & Cream Crimson and Cream Plum and Spilt Milk Hornby Brighton Belle 5 BEL Removing the body Pullman DCC installation Taking the body off Brighton Belle Pullman car Crimson & Cream Crimson and Cream Plum and Spilt Milk Hornby Brighton Belle 5 BEL Removing the body Pullman DCC installation Taking the body off Brighton Belle Pullman car Crimson & Cream Crimson and Cream Plum and Spilt Milk Hornby Brighton Belle 5 BEL Removing the body Pullman DCC installation Taking the body off Brighton Belle Pullman car Crimson & Cream Crimson and Cream Plum and Spilt Milk Hornby Brighton Belle 5 BEL Removing the body Pullman DCC installation Taking the body off Brighton Belle Pullman car Crimson & Cream Crimson and Cream Plum and Spilt Milk Hornby Brighton Belle 5 BEL Removing the body Pullman DCC installation Taking the body off Brighton Belle Pullman car Crimson & Cream Crimson and Cream Plum and Spilt Milk Hornby Brighton Belle 5 BEL Removing the body Pullman DCC installation Taking the body off Brighton Belle Pullman car Crimson & Cream Crimson and Cream Plum and Spilt Milk Hornby Brighton Belle 5 BEL Removing the body Pullman DCC installation Taking the body off Brighton Belle Pullman car Crimson & Cream Crimson and Cream Plum and Spilt Milk Hornby Brighton Belle 5 BEL Removing the body Pullman DCC installation Taking the body off Brighton Belle Pullman car Crimson & Cream Crimson and Cream Plum and Spilt Milk Hornby Brighton Belle 5 BEL Removing the body Pullman DCC installation Taking the body off Brighton Belle Pullman car Crimson & Cream Crimson and Cream Plum and Spilt Milk Hornby Brighton Belle 5 BEL Removing the body Pullman DCC installation Taking the body off Brighton Belle Pullman car Crimson & Cream Crimson and Cream Plum and Spilt Milk Hornby Brighton Belle 5 BEL Removing the body Pullman DCC installation Taking the body off Brighton Belle Pullman car Crimson & Cream Crimson and Cream Plum and Spilt Milk Hornby Brighton Belle 5 BEL Removing the body Pullman DCC installation Taking the body off Brighton Belle Pullman car Crimson & Cream Crimson and Cream Plum and Spilt Milk Hornby Brighton Belle 5 BEL Removing the body Pullman DCC installation Taking the body off Brighton Belle Pullman car Crimson & Cream Crimson and Cream Plum and Spilt Milk Hornby Brighton Belle 5 BEL Removing the body Pullman DCC installation Taking the body off Brighton Belle Pullman car Crimson & Cream Crimson and Cream Plum and Spilt Milk Hornby Brighton Belle 5 BEL Removing the body Pullman DCC installation Taking the body off Brighton Belle Pullman car Crimson & Cream Crimson and Cream Plum and Spilt Milk Hornby Brighton Belle 5 BEL Removing the body Pullman DCC installation Taking the body off Brighton Belle Pullman car Crimson & Cream Crimson and Cream Plum and Spilt Milk Hornby Brighton Belle 5 BEL Removing the body Pullman DCC installation Taking the body off Brighton Belle Pullman car Crimson & Cream Crimson and Cream Plum and Spilt Milk Hornby Brighton Belle 5 BEL Removing the body Pullman DCC installation Taking the body off Brighton Belle Pullman car Crimson & Cream Crimson and Cream Plum and Spilt Milk Hornby Brighton Belle 5 BEL Removing the body Pullman DCC installation Taking the body off Brighton Belle Pullman car Crimson & Cream Crimson and Cream Plum and Spilt Milk Hornby Brighton Belle 5 BEL Removing the body Pullman DCC installation Taking the body off Brighton Belle Pullman car Crimson & Cream Crimson and Cream Plum and Spilt Milk Hornby Brighton Belle 5 BEL Removing the body Pullman DCC installation Taking the body off Brighton Belle Pullman car Crimson & Cream Crimson and Cream Plum and Spilt Milk Hornby Brighton Belle 5 BEL Removing the body Pullman DCC installation Taking the body off Brighton Belle Pullman car Crimson & Cream Crimson and Cream Plum and Spilt Milk Hornby Brighton Belle 5 BEL Removing the body Pullman DCC installation Taking the body off Brighton Belle Pullman car Crimson & Cream Crimson and Cream Plum and Spilt Milk Hornby Brighton Belle 5 BEL Removing the body Pullman DCC installation Taking the body off Brighton Belle Pullman car Crimson & Cream Crimson and Cream Plum and Spilt Milk Hornby Brighton Belle 5 BEL Removing the body Pullman DCC installation Taking the body off Brighton Belle Pullman car Crimson & Cream Crimson and Cream Plum and Spilt Milk Hornby Brighton Belle 5 BEL Removing the body Pullman DCC installation Taking the body off Brighton Belle Pullman car Crimson & Cream Crimson and Cream Plum and Spilt Milk Hornby Brighton Belle 5 BEL Removing the body Pullman DCC installation Taking the body off Brighton Belle Pullman car Crimson & Cream Crimson and Cream Plum and Spilt Milk Hornby Brighton Belle 5 BEL Removing the body Pullman DCC installation Taking the body off Brighton Belle Pullman car Crimson & Cream Crimson and Cream Plum and Spilt Milk Hornby Brighton Belle 5 BEL Removing the body Pullman DCC installation Taking the body off Brighton Belle Pullman car Crimson & Cream Crimson and Cream Plum and Spilt Milk Hornby Brighton Belle 5 BEL Removing the body Pullman DCC installation Taking the body off Brighton Belle Pullman car Crimson & Cream Crimson and Cream Plum and Spilt Milk Hornby Brighton Belle 5 BEL Removing the body Pullman DCC installation Taking the body off Brighton Belle Pullman car Crimson & Cream Crimson and Cream Plum and Spilt Milk Hornby Brighton Belle 5 BEL Removing the body Pullman DCC installation Taking the body off Brighton Belle Pullman car Crimson & Cream Crimson and Cream Plum and Spilt Milk Hornby Brighton Belle 5 BEL Removing the body Pullman DCC installation Taking the body off Brighton Belle Pullman car Crimson & Cream Crimson and Cream Plum and Spilt Milk Hornby Brighton Belle 5 BEL Removing the body Pullman DCC installation Taking the body off Brighton Belle Pullman car Crimson & Cream Crimson and Cream Plum and Spilt Milk Hornby Brighton Belle 5 BEL Removing the body Pullman DCC installation Taking the body off Brighton Belle Pullman car Crimson & Cream Crimson and Cream Plum and Spilt Milk Hornby Brighton Belle 5 BEL Removing the body Pullman DCC installation Taking the body off Brighton Belle Pullman car Crimson & Cream Crimson and Cream Plum and Spilt Milk Hornby Brighton Belle 5 BEL Removing the body Pullman DCC installation Taking the body off Brighton Belle Pullman car Crimson & Cream Crimson and Cream Plum and Spilt Milk Hornby Brighton Belle 5 BEL Removing the body Pullman DCC installation Taking the body off Brighton Belle Pullman car Crimson & Cream Crimson and Cream Plum and Spilt Milk Hornby Brighton Belle 5 BEL Removing the body Pullman DCC installation Taking the body off Brighton Belle Pullman car Crimson & Cream Crimson and Cream Plum and Spilt Milk Hornby Brighton Belle 5 BEL Removing the body Pullman DCC installation Taking the body off Brighton Belle Pullman car Crimson & Cream Crimson and Cream Plum and Spilt Milk Hornby Brighton Belle 5 BEL Removing the body Pullman DCC installation Taking the body off Brighton Belle Pullman car Crimson & Cream Crimson and Cream Plum and Spilt Milk Hornby Brighton Belle 5 BEL Removing the body Pullman DCC installation Taking the body off Brighton Belle Pullman car Crimson & Cream Crimson and Cream Plum and Spilt Milk Hornby Brighton Belle 5 BEL Removing the body Pullman DCC installation Taking the body off Brighton Belle Pullman car Crimson & Cream Crimson and Cream Plum and Spilt Milk Hornby Brighton Belle 5 BEL Removing the body Pullman DCC installation Taking the body off Brighton Belle Pullman car Crimson & Cream Crimson and Cream Plum and Spilt Milk Hornby Brighton Belle 5 BEL Removing the body Pullman DCC installation Taking the body off Brighton Belle Pullman car Crimson & Cream Crimson and Cream Plum and Spilt Milk Hornby Brighton Belle 5 BEL Removing the body Pullman DCC installation Taking the body off Brighton Belle Pullman car Crimson & Cream Crimson and Cream Plum and Spilt Milk Hornby Brighton Belle 5 BEL Removing the body Pullman DCC installation Taking the body off Brighton Belle Pullman car Crimson & Cream Crimson and Cream Plum and Spilt Milk Hornby Brighton Belle 5 BEL Removing the body Pullman DCC installation Taking the body off Brighton Belle Pullman car Crimson & Cream Crimson and Cream Plum and Spilt Milk Hornby Brighton Belle 5 BEL Removing the body Pullman DCC installation Taking the body off Brighton Belle Pullman car Crimson & Cream Crimson and Cream Plum and Spilt Milk Hornby Brighton Belle 5 BEL Removing the body Pullman DCC installation Taking the body off Brighton Belle Pullman car Crimson & Cream Crimson and Cream Plum and Spilt Milk Hornby Brighton Belle 5 BEL Removing the body Pullman DCC installation Taking the body off Brighton Belle Pullman car Crimson & Cream Crimson and Cream Plum and Spilt Milk Hornby Brighton Belle 5 BEL Removing the body Pullman DCC installation Taking the body off Brighton Belle Pullman car Crimson & Cream Crimson and Cream Plum and Spilt Milk Hornby Brighton Belle 5 BEL Removing the body Pullman DCC installation Taking the body off Brighton Belle Pullman car Crimson & Cream Crimson and Cream Plum and Spilt Milk Hornby Brighton Belle 5 BEL Removing the body Pullman DCC installation Taking the body off Brighton Belle Pullman car Crimson & Cream Crimson and Cream Plum and Spilt Milk Hornby Brighton Belle 5 BEL Removing the body Pullman DCC installation Taking the body off Brighton Belle Pullman car Crimson & Cream Crimson and Cream Plum and Spilt Milk Hornby Brighton Belle 5 BEL Removing the body Pullman DCC installation Taking the body off Brighton Belle Pullman car Crimson & Cream Crimson and Cream Plum and Spilt Milk Hornby Brighton Belle 5 BEL Removing the body Pullman DCC installation Taking the body off Brighton Belle Pullman car Crimson & Cream Crimson and Cream Plum and Spilt Milk Hornby Brighton Belle 5 BEL Removing the body Pullman DCC installation Taking the body off Brighton Belle Pullman car Crimson & Cream Crimson and Cream Plum and Spilt Milk Hornby Brighton Belle 5 BEL Removing the body Pullman DCC installation Taking the body off Brighton Belle Pullman car Crimson & Cream Crimson and Cream Plum and Spilt Milk Hornby Brighton Belle 5 BEL Removing the body Pullman DCC installation Taking the body off Brighton Belle Pullman car Crimson & Cream Crimson and Cream Plum and Spilt Milk Hornby Brighton Belle 5 BEL Removing the body Pullman DCC installation Taking the body off Brighton Belle Pullman car Crimson & Cream Crimson and Cream Plum and Spilt Milk Hornby Brighton Belle 5 BEL Removing the body Pullman DCC installation Taking the body off Brighton Belle Pullman car Crimson & Cream Crimson and Cream Plum and Spilt Milk Hornby Brighton Belle 5 BEL Removing the body Pullman DCC installation Taking the body off Brighton Belle Pullman car Crimson & Cream Crimson and Cream Plum and Spilt Milk Hornby Brighton Belle 5 BEL Removing the body Pullman DCC installation Taking the body off Brighton Belle Pullman car Crimson & Cream Crimson and Cream Plum and Spilt Milk Hornby Brighton Belle 5 BEL Removing the body Pullman DCC installation Taking the body off Brighton Belle Pullman car Crimson & Cream Crimson and Cream Plum and Spilt Milk Hornby Brighton Belle 5 BEL Removing the body Pullman DCC installation Taking the body off Brighton Belle Pullman car Crimson & Cream Crimson and Cream Plum and Spilt Milk Hornby Brighton Belle 5 BEL Removing the body Pullman DCC installation Taking the body off Brighton Belle Pullman car Crimson & Cream Crimson and Cream Plum and Spilt Milk Hornby Brighton Belle 5 BEL Removing the body Pullman DCC installation Taking the body off Brighton Belle Pullman car Crimson & Cream Crimson and Cream Plum and Spilt Milk Hornby Brighton Belle 5 BEL Removing the body Pullman DCC installation Taking the body off Brighton Belle Pullman car Crimson & Cream Crimson and Cream Plum and Spilt Milk Hornby Brighton Belle 5 BEL Removing the body Pullman DCC installation Taking the body off Brighton Belle Pullman car Crimson & Cream Crimson and Cream Plum and Spilt Milk Hornby Brighton Belle 5 BEL Removing the body Pullman DCC installation Taking the body off Brighton Belle Pullman car Crimson & Cream Crimson and Cream Plum and Spilt Milk Hornby Brighton Belle 5 BEL Removing the body Pullman DCC installation Taking the body off Brighton Belle Pullman car Crimson & Cream Crimson and Cream Plum and Spilt Milk Hornby Brighton Belle 5 BEL Removing the body Pullman DCC installation Taking the body off Brighton Belle Pullman car Crimson & Cream Crimson and Cream Plum and Spilt Milk Hornby Brighton Belle 5 BEL Removing the body Pullman DCC installation Taking the body off Brighton Belle Pullman car Crimson & Cream Crimson and Cream Plum and Spilt Milk Hornby Brighton Belle 5 BEL Removing the body Pullman DCC installation Taking the body off Brighton Belle Pullman car