Apothecary Street Junction
Apothecary Street Junction was a 4mm Southern Electric layout set in the late 1950's /early 1960's period, the name coming from the Junction rather than the terminal station, Newgate.
The layout derived its inspiration from the line into Holborn Viaduct. Apothecary Street Junction having been a short-lived feature (1st May 1988 to Easter 1989 – effectively Ludgate Hill Junction moved slightly north) to enable the Thameslink lines to be rebuilt in advance of Holborn Viaduct's closure on 26th January 1990.
The basic premise was a terminus to fiddle-yard arrangement with the 'Snow Hill' lines enabling the cross London freights as well as providing a circular 'test' capability. The terminal station was a four-platform affair enabling operation of up to 8-car electric units (plus MLV) or the equivalent steam-hauled lengths. Adjacent to the station was a small goods yard, 8-car electric siding and beyond the 'Snow Hill' lines a two-road 6-car carriage shed.
The size of the 22' by 8' layout was determined by the size of the attic room in which it was contained. This also meant the a few compromises such as double track approach and retained cutting rather than on viaduct section; but most models involve compromise. Whilst attic rooms have restricted headroom towards the eaves, suitably lined it was warm in winter with air-con provided for the warmest summer days.
Besides the emu offerings from both Hornby (2 BIL /2 HAL) and Bachmann (4 CEP /MLV) the layout used electric models such as augmented 4 SUBs, 2 HALs and 2 NOLs. Steam operation included C2x, D, E, E2, E4, E4x, E5, H, K, L, L1, N, Q, U, V, W & Z classes as well as the 'usual' BR(S) modified proprietary models such as 00 Works' Black Motors (admittedly a little off-area), Bachmann's C, 4MT (Fairburn and BR versions) classes and Hornby's M7 & Q1 classes.
Yard shunting was undertaken by an E2, A1X or P (unless the Z was called for) with Jintys, a class 15 and an N2 working the cross-London freights.
Diesel classes 24 and 33 were starting to make an appearance replacing steam on peak-hour services up from Kent and the Weald; even Hastings /Hampshire 2H demus made a rare appearance pending arrival (or rather my building a pair) of East Sussex 3D units.
<![if !vml]>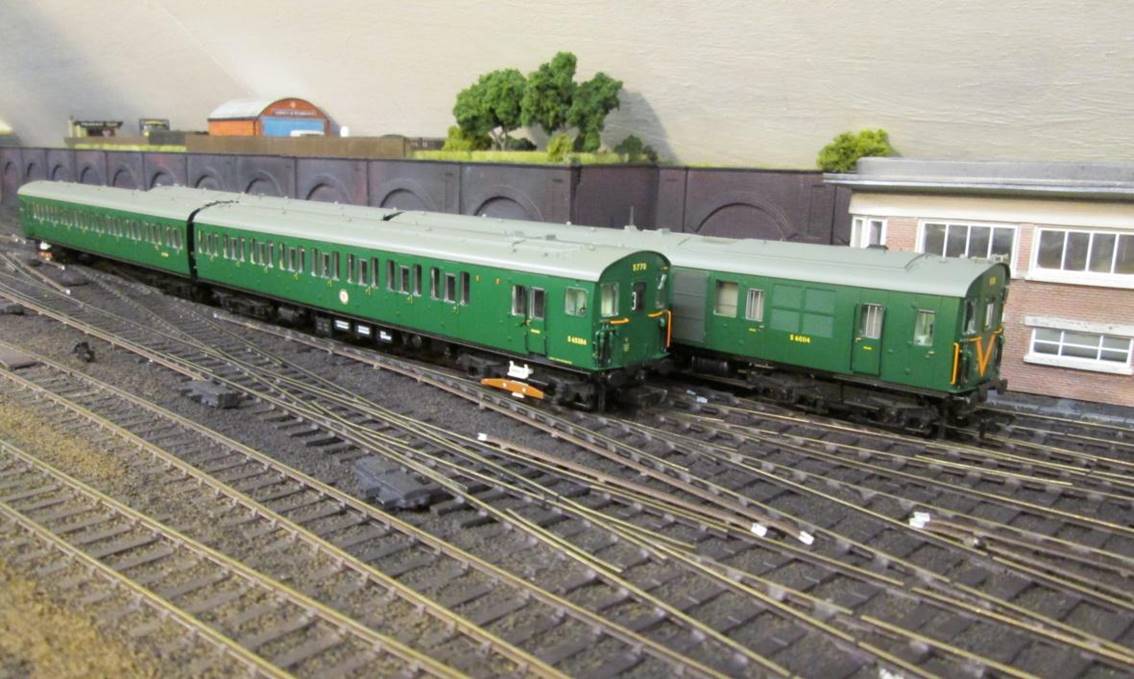 <![endif]>
© BloodandCustard
Scenic track work was Finescale '00' (Marcway /SMP) although the fiddle yard used proprietary 'H0' (Peco code 75) for simplicity; all turnouts being driven by a total of seventy-five Tortoise motors. These motors give smooth operation and electrical switching capability; although a Marcway double-slip does require four! Signalling was colour-light with mechanical shunts. The scenic running lines were built to a minimum 4' radius with 3' radius in sidings and the fiddle yard.
The non-scenic fiddle yard comprised three elements:
(1)    Freight - cross inter-regional goods trains were handled on the complete circuit. This section included both loops and sidings to reform trains;
(2)    Steam passenger - single-ended sidings feeding into a non-scenic Fleischmann turntable handled the locomotive-hauled trains and 8-car emus (the turntable was simply used for its operational reliability);
(3)        EMU – two sidings (in and out) leading into a stub-end which automatically sequentially rotated five number 4-car electric trains.
Control was conventional DC but fed through the conditional locking that controlled both station and junction. In other words if the turnouts weren't correctly set then the signals couldn't be pulled off; the signals feeding power to the tracks.
The fiddle yard used route-setting working as the 'second' signalbox with block bells and train describers being envisaged. All this used nearly two miles of cabling and over 100 relays but gave reliable and realistic operation without the need for complex cab-control switching. Most circuits operated at 12v with 50v for the conditional locking relays.
Alas the layout was dismantled in 2013 due to a house move. However, this enabled a much larger fully-aircon purpose-built modelling studio for its replacement; construction of which is already well under way.
Finally, I have to pass on thanks to The Hobby Box at Uckfield (RIP) for supplying my modelling needs across the years along with Replica in Swindon for their BR(S) Mk1 suburban coaches; in particular agreeing to produce and supply the correctly numbered Mk1 suburban coaches for Central Division rush-hour set 904.
By 'Caiptean'