Freight Stock
Isetta 'Bubble Cars' by Rail
Built at Brighton's (former) Locomotive Works
1957-1962
<![if !vml]>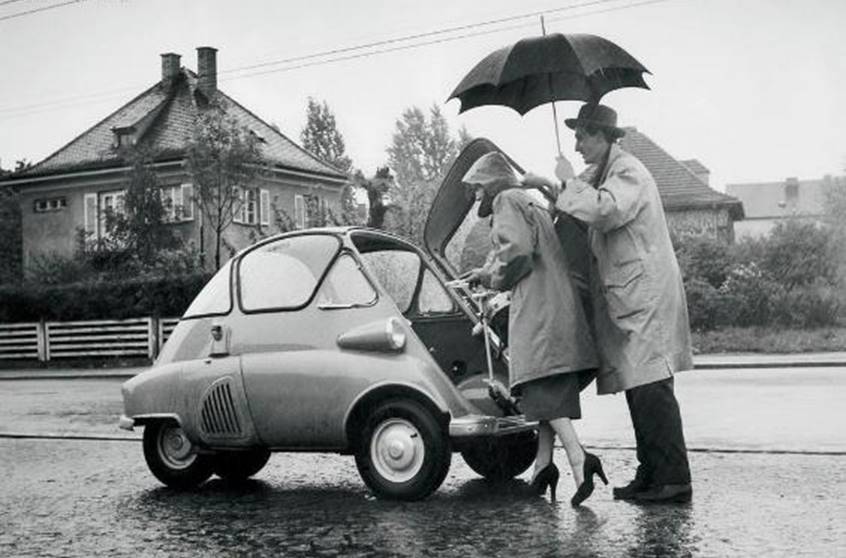 <![endif]>
1955/56 left-hand drive four-wheeled Isetta 'bubble top' car
Initially of Italian design dating back to the Iso Spa Isetta in 1953, the BMW Isetta 'bubble car' may be of interest (at least) to those who follow British Rail's Southern Region (including railway modellers) for these cars were built in part of the former locomotive works (adjacent to Brighton station) from 1957 to 1962 by Isetta of Great Britain Ltd. Car production ceased in 1962 when BMW took over and relocated to premises (producing engines) on Victoria Road, Portslade (which closed in 1964).
Just some six-weeks after the locomotive works closed, Dunsfold Tools Ltd (subsequently renamed Isetta of Great Britain) took over the premises with production of the Isetta cars commencing on 23rd April 1957; many of the two-hundred staff involved in production of the cars being former employees of the now-closed locomotive works. At the time of peak-production, some three-hundred cars were being produced each week; over 300,000 in total. Production commenced with order for a thousand four-wheeled cars for Canada (left-hand drive). Manufacture of the three-wheeled version followed in 1959 although four-wheel cars were still produced including for export to Canada, Australia and New Zealand.
The history and development of the Isetta is well-documented and easily located on the internet. In summary, Brighton built the post-1956 sliding window 'export design' left and right-hand drive cars; four and three-wheeled versions. The latter came into being as it attracted a lower road-tax after a decision that the four-wheeled version's narrow rear-wheel spacing (some 18") fell within the higher four-wheel car taxation classification. Furthermore, the three-wheeled version could be driven by motorcycle licence holders; albeit initially without a reverse gear (BloodandCustard seems to recall a simple blanking plate prevented reverse gear from being selected).
The right-hand drive meant that both driver and engine were on the same side. In order to try and compensate for the instability a 60 lb counterweight was added to the left side of the car.
<![if !vml]>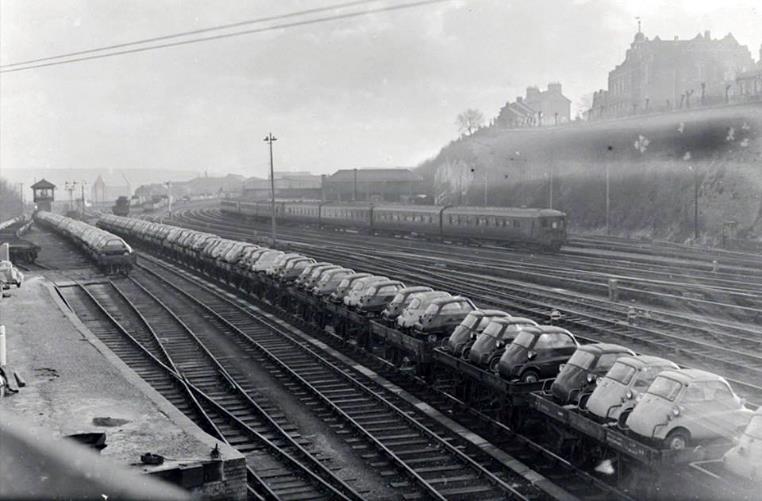 <![endif]>
View south from Dyke Road Drive overbridge with wagon loads of left-hand drive four-wheeled Isetta cars in Brighton North sidings in 1958; the eight Lowfit wagons on the left being off no.6 siding (with Brighton Upper Goods signal box just beyond). The longer train of on the right (at least twenty-two Lowfit wagons) is in no.5 siding.
Note the half-a-dozen empty Lowfit wagons stabled on the very left. On the far side of the main line (north of Lover's Walk depot) is a train formed of 2 BIL electric units.
Brighton Locomotive Works (located off New England Street) was not road connected (just a long flight of steps) and so the Isetta cars left the works by rail; three cars to a Lowfit wagon (each separated by a timber baulk) shunted out from the works eight wagons at a time (due to the restricted length of the headshunt into the works' loading dock) thence to form a consist in Brighton's North Sidings. The cars were loaded onto each wagon sideways; each weekday morning loaded wagons would be shunted out of the works thence again around lunchtime.
 <![if !vml]>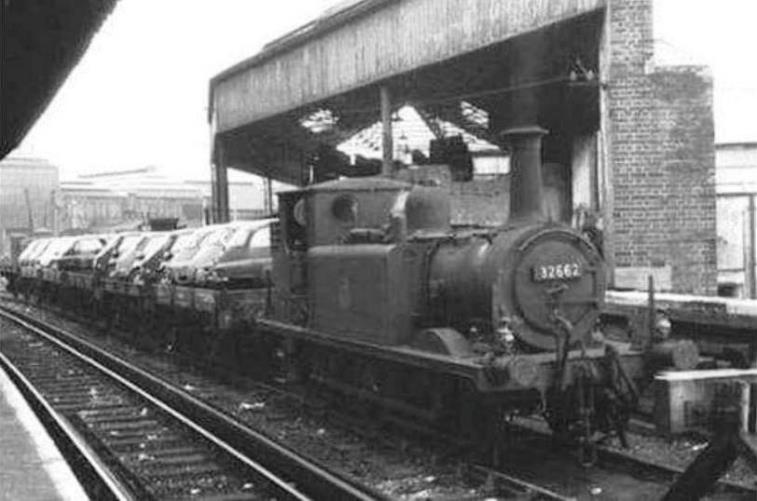 <![endif]> 
Terrier no.32662 and six Lowfit wagon loaded with four-wheeled Isettas in the headshunt alongside the station, awaiting movement up to the North sidings.
Even the car parts had to be brought in by rail (on Saturday mornings). Engines, transmissions and body panels ( pressed in Bavaria) arrived from Germany. The chassis were fabricated in the UK and delivered with other parts by rail each Saturday. Within Brighton Works the body panels were welded together on jigs, prepared and painted, thence mounted on the chassis before progressing along the production line to the finished car.
However, unlike the cars built on the continent other components such as electrics (for example Lucas lights replaced Hella), tyres, brakes, suspension (etc) were produced in the Midlands with some components (it appears) arriving locally from places such as Shoreham. [Were panels and parts coming from Germany through Shoreham Harbour?].
<![if !vml]>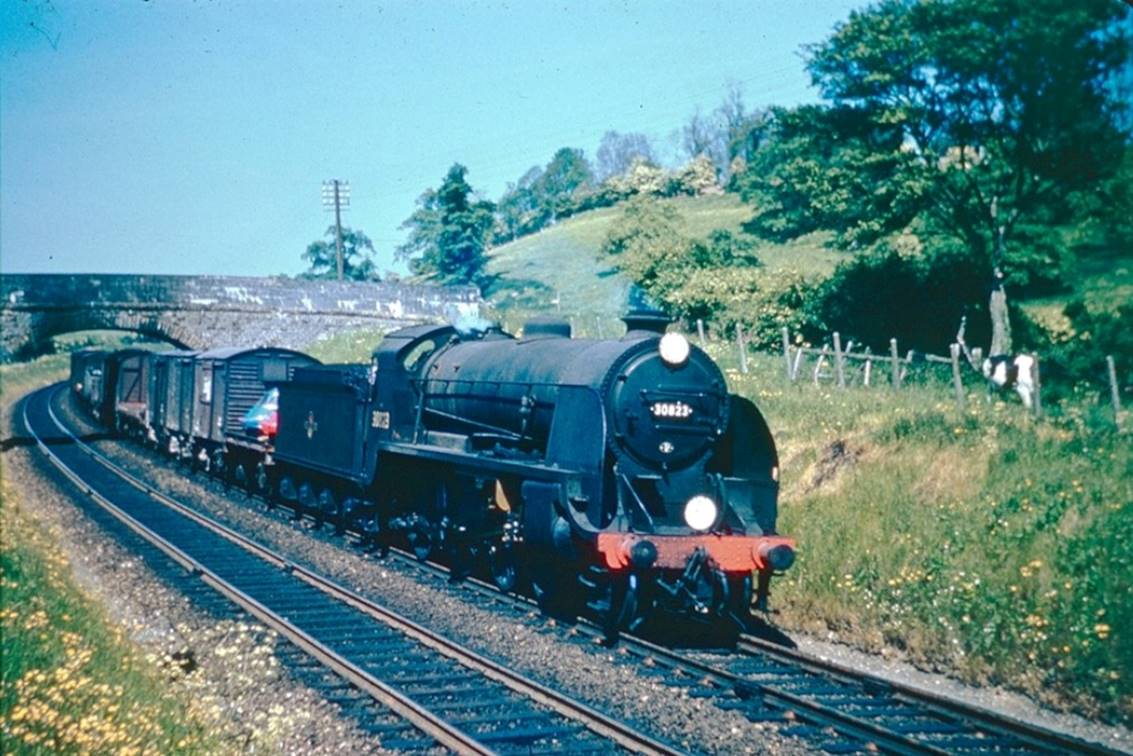 <![endif]>
Note the Isetta cars loaded on the wagon behind S15 no.30823.
Isetta Factory Colours
Here is a list of BMW Isetta colours which BloodandCustard has been able to identify although presumably not all were available from Brighton Works. In the above photographs all appear to be mono-coloured. Please, if anyone has been able to identify any other BMW Isetta factory-original colours or more accurate dates and colours for Brighton-produced cars then please do let me know!
BMW colour name

UK name

Period /date from

Araber gold*

Arabian Gold

1957-1960

Azurblau

Azure Blue

1957-1959

Bayerischblau

Bavarian Blue

1955-1957

Birkenguren

Birch Green

1957-1962

Cortinagrau

Cortina Grey

1956-1962

Crème

Crème

1958-1959

Dunkelturkis*

Dark Turquoise

1957

Elfenbein

Ivory

1955-1962

Elfenbeingrunlich

Greenish Ivory

1958-1961

Federweiss

Feather White

1958

Gesedeagruen

Reseda Green

1955

Hellbeige

Light Beige

1957-1959

Hellgrau

Light Grey

1958-1962

Hellblau

Light Blue

1955-1959

Japanrot

Japan Red

1957-1962

Keramikblau*

Ceramic Blue

1958-1959

Korallenrot

Coral Red

1957-1958

Kornblumenblau*

Cornflower Blue

1955

Lichtgrau

Light Grey

1957-1962

Pastellblau

Pastel Blue

1957-1962

Polizeigruen

(Police Green – not UK)

1957-1962

Sanduenenbeige

Sand Beige

1957-1962

Saphirblau

Sapphire Blue

?

Savannagelb

Savanna Yellow

?

Signalrot

Signal Red

1955-1962

Spanishrot

Spanish Red

1958-1959

Turkis

Turquoise

1957-1962

Turkishell

Light Turquoise

1955, 1959-1962

Turkisweiss

Turquoise White

1957-1958

Weinrot

Wine Red

1957-1962

Weissgold

White Gold

1957-1962

Weissblau*

White Blue

1958-1959

*only available on an optional two-tone paint scheme.
Two-tone Schemes
(mixed colour as compared to upper body white)
| | | |
| --- | --- | --- |
| Upper Body | Lower Body | Period |
| Beige Green | Birch Green | 1957-1962 |
| Feather White | Birch Grey | 1957-1962 |
| Feather White | Japan Red | 1957-1959 |
| Cortina Grey | Wine Red | 1956-1962 |
| Light Beige | White Gold | 1957-1962 |
| Light Blue | White | 1957-1962 |
| Light Blue | Cornflower Blue | 1956-1962 |
| Light Grey | Azure Blue | 1957-1962 |
| Light Turquoise | Dark Turquoise | 1956-1961 |
| Pastel Blue | Barvarian Blue | 1957-1962 |
| Sand Beige | Wine Red | 1957-1962 |
| Sand Beige | Coral Red | 1957-1962 |
| Seidengrun (Green) | Spanish Red | 1958-1962 |
| White Blue* | Ceramic Blue | 1958 |
Fittings
| | | |
| --- | --- | --- |
| Part | UK name | Period /date from |
| Frame & Chassis | Grey | 1955-1962 |
| Heater /interior fittings | Beige Grey | 1959-on |
| Interior | Interior Silver (flat) | 1957-1960 |
| Interior fittings | Interior Light Grey | 1956, 1959-on |
| Rims | Ivory | 1955-1962 |
Last Isetta 'by Rail'?
In 1967 one of the four-wheeled Isetta cars (built in  1957 by Isetta of Great Britain Ltd at Brighton) was converted to a 4-2-0 'Rail Taxi' by Richard Morris (of 'monorail collection fame') and used on the 1' 11½" gauge Leighton Buzzard railway. By the nineteen-eighties it had moved to the Ffestiniog Railway and now resides at the Tanat Valley Railway.
4mm Model Isettas
A trainload of Isetta cars makes for potentially interesting railway modelling!
Cararma had previously produced a 1:72 model of the left-hand drive four-wheeled Isetta. However, it's sun-roof (these doubled as an emergency escape hatch) was modelled partially opened and a wicker hamper was affixed to an 'aftermarket' rear-mounted luggage rack. Accordingly, some potentially tricky modifications would have be necessary to have presented these in a 'being delivered' condition.
More recently Oxford Diecast introduced a 1:76 model of the Isetta 'bubble car' which (when mounted on Bachmann Lowfit wagons) can provide wagon loads from Brighton from 1957 to 1962. It is worth observing that the Oxford model is a four-wheeled left-hand drive Isetta which was produced from 1957 at Brighton. However, later production concentrated on right-hand drive three-wheeled cars but with left-hand drive four-wheel cars still being built for export (in particular Canada).
Oxford Diecast's first 1:76 model Isetta (cat. no.76IS001) was produced in Signal Red (Signalrot) which appears to have been used from 1957 to 1962.
The second issue was one of the six RAC-liveried left-hand drive vans introduced in January 1959 for use in Central London (cat. No.76IS002). The conversion essentially comprised an equipment cabinet (which included a heavy-duty battery) in place of the rear windscreen. It is noted that the rear pillars and roof section appear to have undertaken significant alteration; presumably whilst still on the production line during 1958.
<![if !vml]>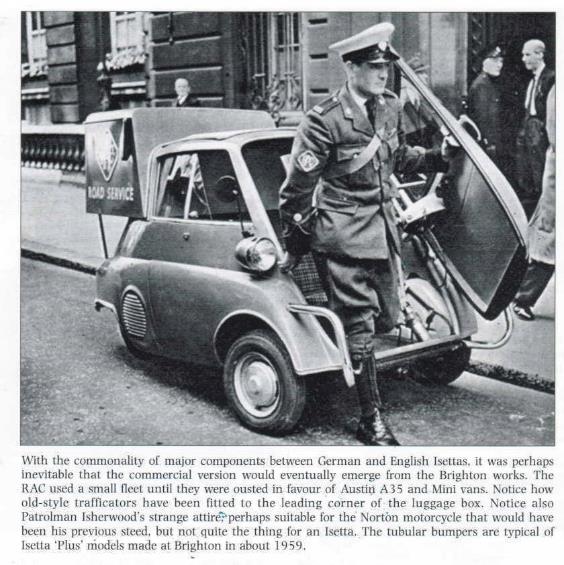 <![endif]>
Oxford Diecast's third Isetta model (cat. No.76IS003 released in September 2019) was pink and BloodandCustard was unable to locate this as an original factory colour.
Fortunately, Oxford's fourth model (released September 2020) was yellow (cat.no.76IS003) and twenty-seven were purchased in readiness to form a model train.
Assuming Oxford make a third standard factory colour (blue was a popular Isetta colour) then this could lead to modeller's 'fun' of a trainload with each possible combination of three colours (plus a few duplicates), loaded three cars to a Lowft. All three colour-combinations leads to twenty-seven Lowfit wagon-loads to provide all possible colour combinations!
These would be as follows (the third colour is assumed to be blue). In reality there will be further wagons with duplicates of (say) Red /Red /Red (a common car-colour) and of course one wagon including the RAC van.
Wagon No.

Colour
Combination

1

Red Red Red

2

Red Red Blue

3

Red Red Yellow

4

Red Blue Red

5

Red Blue Blue

6

Red Blue Yellow

7

Red Yellow Red

8

Red Yellow Blue

9

Red Yellow Yellow

10

Blue Red Red

11

Blue Red Blue

12

Blue Red Yellow

13

Blue Blue Red

14

Blue Blue Blue

15

Blue Blue Yellow

16

Blue Yellow Red

17

Blue Yellow Blue

18

Blue Yellow Yellow

19

Yellow Red Red

20

Yellow Red Blue

21

Yellow Red Yellow

22

Yellow Blue Red

23

Yellow Blue Blue

24

Yellow Blue Yellow

25

Yellow Yellow Red

26

Yellow Yellow Blue

27

Yellow Yellow Yellow
Oxford Diecast Isetta Range ©
| | | | |
| --- | --- | --- | --- |
| <![if !vml]><![endif]> | <![if !vml]><![endif]> | <![if !vml]><![endif]> | <![if !vml]><![endif]> |
| | | | |
<![if !vml]>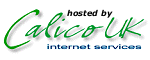 <![endif]>
Blood and Custard Blood & Custard Crimson & Cream Crimson and Cream CLC Blood and Custard Blood & Custard Crimson & Cream Crimson and Cream CLC Blood and Custard Blood & Custard Crimson & Cream Crimson and Cream CLC Blood and Custard Blood & Custard Crimson & Cream Crimson and Cream CLC Blood and Custard Blood & Custard Crimson & Cream Crimson and Cream CLC Blood and Custard Blood & Custard Crimson & Cream Crimson and Cream CLC Blood and Custard Blood & Custard Crimson & Cream Crimson and Cream CLC Blood and Custard Blood & Custard Crimson & Cream Crimson and Cream CLC Blood and Custard Blood & Custard Crimson & Cream Crimson and Cream CLC Blood and Custard Blood & Custard Crimson & Cream Crimson and Cream CLC Blood and Custard Blood & Custard Crimson & Cream Crimson and Cream CLC Blood and Custard Blood & Custard Crimson & Cream Crimson and Cream CLC Blood and Custard Blood & Custard Crimson & Cream Crimson and Cream CLC Blood and Custard Blood & Custard Crimson & Cream Crimson and Cream CLC Blood and Custard Blood & Custard Crimson & Cream Crimson and Cream CLC Blood and Custard Blood & Custard Crimson & Cream Crimson and Cream CLC Blood and Custard Blood & Custard Crimson & Cream Crimson and Cream CLC Blood and Custard Blood & Custard Crimson & Cream Crimson and Cream CLC Blood and Custard Blood & Custard Crimson & Cream Crimson and Cream CLC Blood and Custard Blood & Custard Crimson & Cream Crimson and Cream CLC Blood and Custard Blood & Custard Crimson & Cream Crimson and Cream CLC Blood and Custard Blood & Custard Crimson & Cream Crimson and Cream CLC Blood and Custard Blood & Custard Crimson & Cream Crimson and Cream CLC Blood and Custard Blood & Custard Crimson & Cream Crimson and Cream CLC Blood and Custard Blood & Custard Crimson & Cream Crimson and Cream CLC Blood and Custard Blood & Custard Crimson & Cream Crimson and Cream CLC Blood and Custard Blood & Custard Crimson & Cream Crimson and Cream CLC Blood and Custard Blood & Custard Crimson & Cream Crimson and Cream CLC Blood and Custard Blood & Custard Crimson & Cream Crimson and Cream CLC Blood and Custard Blood & Custard Crimson & Cream Crimson and Cream CLC Blood and Custard Blood & Custard Crimson & Cream Crimson and Cream CLC Blood and Custard Blood & Custard Crimson & Cream Crimson and Cream CLC Blood and Custard Blood & Custard Crimson & Cream Crimson and Cream CLC Blood and Custard Blood & Custard Crimson & Cream Crimson and Cream CLC Blood and Custard Blood & Custard Crimson & Cream Crimson and Cream CLC Blood and Custard Blood & Custard Crimson & Cream Crimson and Cream CLC Blood and Custard Blood & Custard Crimson & Cream Crimson and Cream CLC Blood and Custard Blood & Custard Crimson & Cream Crimson and Cream CLC Blood and Custard Blood & Custard Crimson & Cream Crimson and Cream CLC Blood and Custard Blood & Custard Crimson & Cream Crimson and Cream CLC Blood and Custard Blood & Custard Crimson & Cream Crimson and Cream CLC Blood and Custard Blood & Custard Crimson & Cream Crimson and Cream CLC Blood and Custard Blood & Custard Crimson & Cream Crimson and Cream CLC Blood and Custard Blood & Custard Crimson & Cream Crimson and Cream CLC Blood and Custard Blood & Custard Crimson & Cream Crimson and Cream CLC Blood and Custard Blood & Custard Crimson & Cream Crimson and Cream CLC Blood and Custard Blood & Custard Crimson & Cream Crimson and Cream CLC Blood and Custard Blood & Custard Crimson & Cream Crimson and Cream CLC Blood and Custard Blood & Custard Crimson & Cream Crimson and Cream CLC Blood and Custard Blood & Custard Crimson & Cream Crimson and Cream CLC Blood and Custard Blood & Custard Crimson & Cream Crimson and Cream CLC Blood and Custard Blood & Custard Crimson & Cream Crimson and Cream CLC Blood and Custard Blood & Custard Crimson & Cream Crimson and Cream CLC Blood and Custard Blood & Custard Crimson & Cream Crimson and Cream CLC Blood and Custard Blood & Custard Crimson & Cream Crimson and Cream CLC Blood and Custard Blood & Custard Crimson & Cream Crimson and Cream CLC Blood and Custard Blood & Custard Crimson & Cream Crimson and Cream CLC Blood and Custard Blood & Custard Crimson & Cream Crimson and Cream CLC Blood and Custard Blood & Custard Crimson & Cream Crimson and Cream CLC Blood and Custard Blood & Custard Crimson & Cream Crimson and Cream CLC Blood and Custard Blood & Custard Crimson & Cream Crimson and Cream CLC Blood and Custard Blood & Custard Crimson & Cream Crimson and Cream CLC Blood and Custard Blood & Custard Crimson & Cream Crimson and Cream CLC Blood and Custard Blood & Custard Crimson & Cream Crimson and Cream CLC Blood and Custard Blood & Custard Crimson & Cream Crimson and Cream CLC Blood and Custard Blood & Custard Crimson & Cream Crimson and Cream CLC Blood and Custard Blood & Custard Crimson & Cream Crimson and Cream CLC Blood and Custard Blood & Custard Crimson & Cream Crimson and Cream CLC Blood and Custard Blood & Custard Crimson & Cream Crimson and Cream CLC Blood and Custard Blood & Custard Crimson & Cream Crimson and Cream CLC Blood and Custard Blood & Custard Crimson & Cream Crimson and Cream CLC Blood and Custard Blood & Custard Crimson & Cream Crimson and Cream CLC Blood and Custard Blood & Custard Crimson & Cream Crimson and Cream CLC Blood and Custard Blood & Custard Crimson & Cream Crimson and Cream CLC Blood and Custard Blood & Custard Crimson & Cream Crimson and Cream CLC Blood and Custard Blood & Custard Crimson & Cream Crimson and Cream CLC Blood and Custard Blood & Custard Crimson & Cream Crimson and Cream CLC Blood and Custard Blood & Custard Crimson & Cream Crimson and Cream CLC Blood and Custard Blood & Custard Crimson & Cream Crimson and Cream CLC Blood and Custard Blood & Custard Crimson & Cream Crimson and Cream CLC Blood and Custard Blood & Custard Crimson & Cream Crimson and Cream CLC Blood and Custard Blood & Custard Crimson & Cream Crimson and Cream CLC Blood and Custard Blood & Custard Crimson & Cream Crimson and Cream CLC Blood and Custard Blood & Custard Crimson & Cream Crimson and Cream CLC Blood and Custard Blood & Custard Crimson & Cream Crimson and Cream CLC Blood and Custard Blood & Custard Crimson & Cream Crimson and Cream CLC Blood and Custard Blood & Custard Crimson & Cream Crimson and Cream CLC Blood and Custard Blood & Custard Crimson & Cream Crimson and Cream CLC Blood and Custard Blood & Custard Crimson & Cream Crimson and Cream CLC Blood and Custard Blood & Custard Crimson & Cream Crimson and Cream CLC Blood and Custard Blood & Custard Crimson & Cream Crimson and Cream CLC Blood and Custard Blood & Custard Crimson & Cream Crimson and Cream CLC Blood and Custard Blood & Custard Crimson & Cream Crimson and Cream CLC Blood and Custard Blood & Custard Crimson & Cream Crimson and Cream CLC Blood and Custard Blood & Custard Crimson & Cream Crimson and Cream CLC Blood and Custard Blood & Custard Crimson & Cream Crimson and Cream CLC Blood and Custard Blood & Custard Crimson & Cream Crimson and Cream CLC Blood and Custard Blood & Custard Crimson & Cream Crimson and Cream CLC Blood and Custard Blood & Custard Crimson & Cream Crimson and Cream CLC Blood and Custard Blood & Custard Crimson & Cream Crimson and Cream CLC Blood and Custard Blood & Custard Crimson & Cream Crimson and Cream CLC Blood and Custard Blood & Custard Crimson & Cream Crimson and Cream CLC Blood and Custard Blood & Custard Crimson & Cream Crimson and Cream CLC Blood and Custard Blood & Custard Crimson & Cream Crimson and Cream CLC Blood and Custard Blood & Custard Crimson & Cream Crimson and Cream CLC Blood and Custard Blood & Custard Crimson & Cream Crimson and Cream CLC Blood and Custard Blood & Custard Crimson & Cream Crimson and Cream CLC Blood and Custard Blood & Custard Crimson & Cream Crimson and Cream CLC Blood and Custard Blood & Custard Crimson & Cream Crimson and Cream CLC Blood and Custard Blood & Custard Crimson & Cream Crimson and Cream CLC Blood and Custard Blood & Custard Crimson & Cream Crimson and Cream CLC Blood and Custard Blood & Custard Crimson & Cream Crimson and Cream CLC Blood and Custard Blood & Custard Crimson & Cream Crimson and Cream CLC Blood and Custard Blood & Custard Crimson & Cream Crimson and Cream CLC Blood and Custard Blood & Custard Crimson & Cream Crimson and Cream CLC Blood and Custard Blood & Custard Crimson & Cream Crimson and Cream CLC Blood and Custard Blood & Custard Crimson & Cream Crimson and Cream CLC Blood and Custard Blood & Custard Crimson & Cream Crimson and Cream CLC Blood and Custard Blood & Custard Crimson & Cream Crimson and Cream CLC Blood and Custard Blood & Custard Crimson & Cream Crimson and Cream CLC Blood and Custard Blood & Custard Crimson & Cream Crimson and Cream CLC Blood and Custard Blood & Custard Crimson & Cream Crimson and Cream CLC Blood and Custard Blood & Custard Crimson & Cream Crimson and Cream CLC Blood and Custard Blood & Custard Crimson & Cream Crimson and Cream CLC Blood and Custard Blood & Custard Crimson & Cream Crimson and Cream CLC Blood and Custard Blood & Custard Crimson & Cream Crimson and Cream CLC Blood and Custard Blood & Custard Crimson & Cream Crimson and Cream CLC Blood and Custard Blood & Custard Crimson & Cream Crimson and Cream CLC Blood and Custard Blood & Custard Crimson & Cream Crimson and Cream CLC Blood and Custard Blood & Custard Crimson & Cream Crimson and Cream CLC Blood and Custard Blood & Custard Crimson & Cream Crimson and Cream CLC Blood and Custard Blood & Custard Crimson & Cream Crimson and Cream CLC Blood and Custard Blood & Custard Crimson & Cream Crimson and Cream CLC Blood and Custard Blood & Custard Crimson & Cream Crimson and Cream CLC Blood and Custard Blood & Custard Crimson & Cream Crimson and Cream CLC Blood and Custard Blood & Custard Crimson & Cream Crimson and Cream CLC Blood and Custard Blood & Custard Crimson & Cream Crimson and Cream CLC Blood and Custard Blood & Custard Crimson & Cream Crimson and Cream CLC Blood and Custard Blood & Custard Crimson & Cream Crimson and Cream CLC Blood and Custard Blood & Custard Crimson & Cream Crimson and Cream CLC Blood and Custard Blood & Custard Crimson & Cream Crimson and Cream CLC Blood and Custard Blood & Custard Crimson & Cream Crimson and Cream CLC Blood and Custard Blood & Custard Crimson & Cream Crimson and Cream CLC Blood and Custard Blood & Custard Crimson & Cream Crimson and Cream CLC Blood and Custard Blood & Custard Crimson & Cream Crimson and Cream CLC Blood and Custard Blood & Custard Crimson & Cream Crimson and Cream CLC Blood and Custard Blood & Custard Crimson & Cream Crimson and Cream CLC Blood and Custard Blood & Custard Crimson & Cream Crimson and Cream CLC Blood and Custard Blood & Custard Crimson & Cream Crimson and Cream CLC Blood and Custard Blood & Custard Crimson & Cream Crimson and Cream CLC Blood and Custard Blood & Custard Crimson & Cream Crimson and Cream CLC Blood and Custard Blood & Custard Crimson & Cream Crimson and Cream CLC Blood and Custard Blood & Custard Crimson & Cream Crimson and Cream CLC Blood and Custard Blood & Custard Crimson & Cream Crimson and Cream CLC Blood and Custard Blood & Custard Crimson & Cream Crimson and Cream CLC Blood and Custard Blood & Custard Crimson & Cream Crimson and Cream CLC Blood and Custard Blood & Custard Crimson & Cream Crimson and Cream CLC Blood and Custard Blood & Custard Crimson & Cream Crimson and Cream CLC Blood and Custard Blood & Custard Crimson & Cream Crimson and Cream CLC Blood and Custard Blood & Custard Crimson & Cream Crimson and Cream CLC Blood and Custard Blood & Custard Crimson & Cream Crimson and Cream CLC Blood and Custard Blood & Custard Crimson & Cream Crimson and Cream CLC Blood and Custard Blood & Custard Crimson & Cream Crimson and Cream CLC Blood and Custard Blood & Custard Crimson & Cream Crimson and Cream CLC Blood and Custard Blood & Custard Crimson & Cream Crimson and Cream CLC Blood and Custard Blood & Custard Crimson & Cream Crimson and Cream CLC Blood and Custard Blood & Custard Crimson & Cream Crimson and Cream CLC Blood and Custard Blood & Custard Crimson & Cream Crimson and Cream CLC Blood and Custard Blood & Custard Crimson & Cream Crimson and Cream CLC Blood and Custard Blood & Custard Crimson & Cream Crimson and Cream CLC Blood and Custard Blood & Custard Crimson & Cream Crimson and Cream CLC Blood and Custard Blood & Custard Crimson & Cream Crimson and Cream CLC Blood and Custard Blood & Custard Crimson & Cream Crimson and Cream CLC Blood and Custard Blood & Custard Crimson & Cream Crimson and Cream CLC Blood and Custard Blood & Custard Crimson & Cream Crimson and Cream CLC Blood and Custard Blood & Custard Crimson & Cream Crimson and Cream CLC Blood and Custard Blood & Custard Crimson & Cream Crimson and Cream CLC Blood and Custard Blood & Custard Crimson & Cream Crimson and Cream CLC Blood and Custard Blood & Custard Crimson & Cream Crimson and Cream CLC Blood and Custard Blood & Custard Crimson & Cream Crimson and Cream CLC Blood and Custard Blood & Custard Crimson & Cream Crimson and Cream CLC Blood and Custard Blood & Custard Crimson & Cream Crimson and Cream CLC Blood and Custard Blood & Custard Crimson & Cream Crimson and Cream CLC Blood and Custard Blood & Custard Crimson & Cream Crimson and Cream CLC Blood and Custard Blood & Custard Crimson & Cream Crimson and Cream CLC Blood and Custard Blood & Custard Crimson & Cream Crimson and Cream CLC Blood and Custard Blood & Custard Crimson & Cream Crimson and Cream CLC Blood and Custard Blood & Custard Crimson & Cream Crimson and Cream CLC Blood and Custard Blood & Custard Crimson & Cream Crimson and Cream CLC Blood and Custard Blood & Custard Crimson & Cream Crimson and Cream CLC Blood and Custard Blood & Custard Crimson & Cream Crimson and Cream CLC Blood and Custard Blood & Custard Crimson & Cream Crimson and Cream CLC Blood and Custard Blood & Custard Crimson & Cream Crimson and Cream CLC Blood and Custard Blood & Custard Crimson & Cream Crimson and Cream CLC Blood and Custard Blood & Custard Crimson & Cream Crimson and Cream CLC Blood and Custard Blood & Custard Crimson & Cream Crimson and Cream CLC Blood and Custard Blood & Custard Crimson & Cream Crimson and Cream CLC Blood and Custard Blood & Custard Crimson & Cream Crimson and Cream CLC Blood and Custard Blood & Custard Crimson & Cream Crimson and Cream CLC Blood and Custard Blood & Custard Crimson & Cream Crimson and Cream CLC Blood and Custard Blood & Custard Crimson & Cream Crimson and Cream CLC Blood and Custard Blood & Custard Crimson & Cream Crimson and Cream CLC Blood and Custard Blood & Custard Crimson & Cream Crimson and Cream CLC Blood and Custard Blood & Custard Crimson & Cream Crimson and Cream CLC Blood and Custard Blood & Custard Crimson & Cream Crimson and Cream CLC Blood and Custard Blood & Custard Crimson & Cream Crimson and Cream CLC Blood and Custard Blood & Custard Crimson & Cream Crimson and Cream CLC Blood and Custard Blood & Custard Crimson & Cream Crimson and Cream CLC Blood and Custard Blood & Custard Crimson & Cream Crimson and Cream CLC Blood and Custard Blood & Custard Crimson & Cream Crimson and Cream CLC Blood and Custard Blood & Custard Crimson & Cream Crimson and Cream CLC Blood and Custard Blood & Custard Crimson & Cream Crimson and Cream CLC Blood and Custard Blood & Custard Crimson & Cream Crimson and Cream CLC Blood and Custard Blood & Custard Crimson & Cream Crimson and Cream CLC Blood and Custard Blood & Custard Crimson & Cream Crimson and Cream CLC Blood and Custard Blood & Custard Crimson & Cream Crimson and Cream CLC Blood and Custard Blood & Custard Crimson & Cream Crimson and Cream CLC Blood and Custard Blood & Custard Crimson & Cream Crimson and Cream CLC Blood and Custard Blood & Custard Crimson & Cream Crimson and Cream CLC Blood and Custard Blood & Custard Crimson & Cream Crimson and Cream CLC Blood and Custard Blood & Custard Crimson & Cream Crimson and Cream CLC Blood and Custard Blood & Custard Crimson & Cream Crimson and Cream CLC Blood and Custard Blood & Custard Crimson & Cream Crimson and Cream CLC Blood and Custard Blood & Custard Crimson & Cream Crimson and Cream CLC Blood and Custard Blood & Custard Crimson & Cream Crimson and Cream CLC
BMW Isetta Oxford Diecast Brighton Locomotive Works bubble car  BMW Isetta Oxford Diecast Brighton Locomotive Works bubble car  BMW Isetta Oxford Diecast Brighton Locomotive Works bubble car  BMW Isetta Oxford Diecast Brighton Locomotive Works bubble car  BMW Isetta Oxford Diecast Brighton Locomotive Works bubble car  BMW Isetta Oxford Diecast Brighton Locomotive Works bubble car  BMW Isetta Oxford Diecast Brighton Locomotive Works bubble car  BMW Isetta Oxford Diecast Brighton Locomotive Works bubble car  BMW Isetta Oxford Diecast Brighton Locomotive Works bubble car  BMW Isetta Oxford Diecast Brighton Locomotive Works bubble car MW Isetta Oxford Diecast Brighton Locomotive Works bubble car  BMW Isetta Oxford Diecast Brighton Locomotive Works bubble car  BMW Isetta Oxford Diecast Brighton Locomotive Works bubble car  BMW Isetta Oxford Diecast Brighton Locomotive Works bubble car  BMW Isetta Oxford Diecast Brighton Locomotive Works bubble car  BMW Isetta Oxford Diecast Brighton Locomotive Works bubble car  BMW Isetta Oxford Diecast Brighton Locomotive Works bubble car  BMW Isetta Oxford Diecast Brighton Locomotive Works bubble car  BMW Isetta Oxford Diecast Brighton Locomotive Works bubble car  BMW Isetta Oxford Diecast Brighton Locomotive Works bubble car MW Isetta Oxford Diecast Brighton Locomotive Works bubble car  BMW Isetta Oxford Diecast Brighton Locomotive Works bubble car  BMW Isetta Oxford Diecast Brighton Locomotive Works bubble car  BMW Isetta Oxford Diecast Brighton Locomotive Works bubble car  BMW Isetta Oxford Diecast Brighton Locomotive Works bubble car  BMW Isetta Oxford Diecast Brighton Locomotive Works bubble car  BMW Isetta Oxford Diecast Brighton Locomotive Works bubble car  BMW Isetta Oxford Diecast Brighton Locomotive Works bubble car  BMW Isetta Oxford Diecast Brighton Locomotive Works bubble car  BMW Isetta Oxford Diecast Brighton Locomotive Works bubble car MW Isetta Oxford Diecast Brighton Locomotive Works bubble car  BMW Isetta Oxford Diecast Brighton Locomotive Works bubble car  BMW Isetta Oxford Diecast Brighton Locomotive Works bubble car  BMW Isetta Oxford Diecast Brighton Locomotive Works bubble car  BMW Isetta Oxford Diecast Brighton Locomotive Works bubble car  BMW Isetta Oxford Diecast Brighton Locomotive Works bubble car  BMW Isetta Oxford Diecast Brighton Locomotive Works bubble car  BMW Isetta Oxford Diecast Brighton Locomotive Works bubble car  BMW Isetta Oxford Diecast Brighton Locomotive Works bubble car  BMW Isetta Oxford Diecast Brighton Locomotive Works bubble car MW Isetta Oxford Diecast Brighton Locomotive Works bubble car  BMW Isetta Oxford Diecast Brighton Locomotive Works bubble car  BMW Isetta Oxford Diecast Brighton Locomotive Works bubble car  BMW Isetta Oxford Diecast Brighton Locomotive Works bubble car  BMW Isetta Oxford Diecast Brighton Locomotive Works bubble car  BMW Isetta Oxford Diecast Brighton Locomotive Works bubble car  BMW Isetta Oxford Diecast Brighton Locomotive Works bubble car  BMW Isetta Oxford Diecast Brighton Locomotive Works bubble car  BMW Isetta Oxford Diecast Brighton Locomotive Works bubble car  BMW Isetta Oxford Diecast Brighton Locomotive Works bubble car MW Isetta Oxford Diecast Brighton Locomotive Works bubble car  BMW Isetta Oxford Diecast Brighton Locomotive Works bubble car  BMW Isetta Oxford Diecast Brighton Locomotive Works bubble car  BMW Isetta Oxford Diecast Brighton Locomotive Works bubble car  BMW Isetta Oxford Diecast Brighton Locomotive Works bubble car  BMW Isetta Oxford Diecast Brighton Locomotive Works bubble car  BMW Isetta Oxford Diecast Brighton Locomotive Works bubble car  BMW Isetta Oxford Diecast Brighton Locomotive Works bubble car  BMW Isetta Oxford Diecast Brighton Locomotive Works bubble car  BMW Isetta Oxford Diecast Brighton Locomotive Works bubble car MW Isetta Oxford Diecast Brighton Locomotive Works bubble car  BMW Isetta Oxford Diecast Brighton Locomotive Works bubble car  BMW Isetta Oxford Diecast Brighton Locomotive Works bubble car  BMW Isetta Oxford Diecast Brighton Locomotive Works bubble car  BMW Isetta Oxford Diecast Brighton Locomotive Works bubble car  BMW Isetta Oxford Diecast Brighton Locomotive Works bubble car  BMW Isetta Oxford Diecast Brighton Locomotive Works bubble car  BMW Isetta Oxford Diecast Brighton Locomotive Works bubble car  BMW Isetta Oxford Diecast Brighton Locomotive Works bubble car  BMW Isetta Oxford Diecast Brighton Locomotive Works bubble car MW Isetta Oxford Diecast Brighton Locomotive Works bubble car  BMW Isetta Oxford Diecast Brighton Locomotive Works bubble car  BMW Isetta Oxford Diecast Brighton Locomotive Works bubble car  BMW Isetta Oxford Diecast Brighton Locomotive Works bubble car  BMW Isetta Oxford Diecast Brighton Locomotive Works bubble car  BMW Isetta Oxford Diecast Brighton Locomotive Works bubble car  BMW Isetta Oxford Diecast Brighton Locomotive Works bubble car  BMW Isetta Oxford Diecast Brighton Locomotive Works bubble car  BMW Isetta Oxford Diecast Brighton Locomotive Works bubble car  BMW Isetta Oxford Diecast Brighton Locomotive Works bubble car MW Isetta Oxford Diecast Brighton Locomotive Works bubble car  BMW Isetta Oxford Diecast Brighton Locomotive Works bubble car  BMW Isetta Oxford Diecast Brighton Locomotive Works bubble car  BMW Isetta Oxford Diecast Brighton Locomotive Works bubble car  BMW Isetta Oxford Diecast Brighton Locomotive Works bubble car  BMW Isetta Oxford Diecast Brighton Locomotive Works bubble car  BMW Isetta Oxford Diecast Brighton Locomotive Works bubble car  BMW Isetta Oxford Diecast Brighton Locomotive Works bubble car  BMW Isetta Oxford Diecast Brighton Locomotive Works bubble car  BMW Isetta Oxford Diecast Brighton Locomotive Works bubble car MW Isetta Oxford Diecast Brighton Locomotive Works bubble car  BMW Isetta Oxford Diecast Brighton Locomotive Works bubble car  BMW Isetta Oxford Diecast Brighton Locomotive Works bubble car  BMW Isetta Oxford Diecast Brighton Locomotive Works bubble car  BMW Isetta Oxford Diecast Brighton Locomotive Works bubble car  BMW Isetta Oxford Diecast Brighton Locomotive Works bubble car  BMW Isetta Oxford Diecast Brighton Locomotive Works bubble car  BMW Isetta Oxford Diecast Brighton Locomotive Works bubble car  BMW Isetta Oxford Diecast Brighton Locomotive Works bubble car  BMW Isetta Oxford Diecast Brighton Locomotive Works bubble car MW Isetta Oxford Diecast Brighton Locomotive Works bubble car  BMW Isetta Oxford Diecast Brighton Locomotive Works bubble car  BMW Isetta Oxford Diecast Brighton Locomotive Works bubble car  BMW Isetta Oxford Diecast Brighton Locomotive Works bubble car  BMW Isetta Oxford Diecast Brighton Locomotive Works bubble car  BMW Isetta Oxford Diecast Brighton Locomotive Works bubble car  BMW Isetta Oxford Diecast Brighton Locomotive Works bubble car  BMW Isetta Oxford Diecast Brighton Locomotive Works bubble car  BMW Isetta Oxford Diecast Brighton Locomotive Works bubble car  BMW Isetta Oxford Diecast Brighton Locomotive Works bubble car MW Isetta Oxford Diecast Brighton Locomotive Works bubble car  BMW Isetta Oxford Diecast Brighton Locomotive Works bubble car  BMW Isetta Oxford Diecast Brighton Locomotive Works bubble car  BMW Isetta Oxford Diecast Brighton Locomotive Works bubble car  BMW Isetta Oxford Diecast Brighton Locomotive Works bubble car  BMW Isetta Oxford Diecast Brighton Locomotive Works bubble car  BMW Isetta Oxford Diecast Brighton Locomotive Works bubble car  BMW Isetta Oxford Diecast Brighton Locomotive Works bubble car  BMW Isetta Oxford Diecast Brighton Locomotive Works bubble car  BMW Isetta Oxford Diecast Brighton Locomotive Works bubble car MW Isetta Oxford Diecast Brighton Locomotive Works bubble car  BMW Isetta Oxford Diecast Brighton Locomotive Works bubble car  BMW Isetta Oxford Diecast Brighton Locomotive Works bubble car  BMW Isetta Oxford Diecast Brighton Locomotive Works bubble car  BMW Isetta Oxford Diecast Brighton Locomotive Works bubble car  BMW Isetta Oxford Diecast Brighton Locomotive Works bubble car  BMW Isetta Oxford Diecast Brighton Locomotive Works bubble car  BMW Isetta Oxford Diecast Brighton Locomotive Works bubble car  BMW Isetta Oxford Diecast Brighton Locomotive Works bubble car  BMW Isetta Oxford Diecast Brighton Locomotive Works bubble car MW Isetta Oxford Diecast Brighton Locomotive Works bubble car  BMW Isetta Oxford Diecast Brighton Locomotive Works bubble car  BMW Isetta Oxford Diecast Brighton Locomotive Works bubble car  BMW Isetta Oxford Diecast Brighton Locomotive Works bubble car  BMW Isetta Oxford Diecast Brighton Locomotive Works bubble car  BMW Isetta Oxford Diecast Brighton Locomotive Works bubble car  BMW Isetta Oxford Diecast Brighton Locomotive Works bubble car  BMW Isetta Oxford Diecast Brighton Locomotive Works bubble car  BMW Isetta Oxford Diecast Brighton Locomotive Works bubble car  BMW Isetta Oxford Diecast Brighton Locomotive Works bubble car MW Isetta Oxford Diecast Brighton Locomotive Works bubble car  BMW Isetta Oxford Diecast Brighton Locomotive Works bubble car  BMW Isetta Oxford Diecast Brighton Locomotive Works bubble car  BMW Isetta Oxford Diecast Brighton Locomotive Works bubble car  BMW Isetta Oxford Diecast Brighton Locomotive Works bubble car  BMW Isetta Oxford Diecast Brighton Locomotive Works bubble car  BMW Isetta Oxford Diecast Brighton Locomotive Works bubble car  BMW Isetta Oxford Diecast Brighton Locomotive Works bubble car  BMW Isetta Oxford Diecast Brighton Locomotive Works bubble car  BMW Isetta Oxford Diecast Brighton Locomotive Works bubble car MW Isetta Oxford Diecast Brighton Locomotive Works bubble car  BMW Isetta Oxford Diecast Brighton Locomotive Works bubble car  BMW Isetta Oxford Diecast Brighton Locomotive Works bubble car  BMW Isetta Oxford Diecast Brighton Locomotive Works bubble car  BMW Isetta Oxford Diecast Brighton Locomotive Works bubble car  BMW Isetta Oxford Diecast Brighton Locomotive Works bubble car  BMW Isetta Oxford Diecast Brighton Locomotive Works bubble car  BMW Isetta Oxford Diecast Brighton Locomotive Works bubble car  BMW Isetta Oxford Diecast Brighton Locomotive Works bubble car  BMW Isetta Oxford Diecast Brighton Locomotive Works bubble car MW Isetta Oxford Diecast Brighton Locomotive Works bubble car  BMW Isetta Oxford Diecast Brighton Locomotive Works bubble car  BMW Isetta Oxford Diecast Brighton Locomotive Works bubble car  BMW Isetta Oxford Diecast Brighton Locomotive Works bubble car  BMW Isetta Oxford Diecast Brighton Locomotive Works bubble car  BMW Isetta Oxford Diecast Brighton Locomotive Works bubble car  BMW Isetta Oxford Diecast Brighton Locomotive Works bubble car  BMW Isetta Oxford Diecast Brighton Locomotive Works bubble car  BMW Isetta Oxford Diecast Brighton Locomotive Works bubble car  BMW Isetta Oxford Diecast Brighton Locomotive Works bubble car MW Isetta Oxford Diecast Brighton Locomotive Works bubble car  BMW Isetta Oxford Diecast Brighton Locomotive Works bubble car  BMW Isetta Oxford Diecast Brighton Locomotive Works bubble car  BMW Isetta Oxford Diecast Brighton Locomotive Works bubble car  BMW Isetta Oxford Diecast Brighton Locomotive Works bubble car  BMW Isetta Oxford Diecast Brighton Locomotive Works bubble car  BMW Isetta Oxford Diecast Brighton Locomotive Works bubble car  BMW Isetta Oxford Diecast Brighton Locomotive Works bubble car  BMW Isetta Oxford Diecast Brighton Locomotive Works bubble car  BMW Isetta Oxford Diecast Brighton Locomotive Works bubble car MW Isetta Oxford Diecast Brighton Locomotive Works bubble car  BMW Isetta Oxford Diecast Brighton Locomotive Works bubble car  BMW Isetta Oxford Diecast Brighton Locomotive Works bubble car  BMW Isetta Oxford Diecast Brighton Locomotive Works bubble car  BMW Isetta Oxford Diecast Brighton Locomotive Works bubble car  BMW Isetta Oxford Diecast Brighton Locomotive Works bubble car  BMW Isetta Oxford Diecast Brighton Locomotive Works bubble car  BMW Isetta Oxford Diecast Brighton Locomotive Works bubble car  BMW Isetta Oxford Diecast Brighton Locomotive Works bubble car  BMW Isetta Oxford Diecast Brighton Locomotive Works bubble car MW Isetta Oxford Diecast Brighton Locomotive Works bubble car  BMW Isetta Oxford Diecast Brighton Locomotive Works bubble car  BMW Isetta Oxford Diecast Brighton Locomotive Works bubble car  BMW Isetta Oxford Diecast Brighton Locomotive Works bubble car  BMW Isetta Oxford Diecast Brighton Locomotive Works bubble car  BMW Isetta Oxford Diecast Brighton Locomotive Works bubble car  BMW Isetta Oxford Diecast Brighton Locomotive Works bubble car  BMW Isetta Oxford Diecast Brighton Locomotive Works bubble car  BMW Isetta Oxford Diecast Brighton Locomotive Works bubble car  BMW Isetta Oxford Diecast Brighton Locomotive Works bubble car MW Isetta Oxford Diecast Brighton Locomotive Works bubble car  BMW Isetta Oxford Diecast Brighton Locomotive Works bubble car  BMW Isetta Oxford Diecast Brighton Locomotive Works bubble car  BMW Isetta Oxford Diecast Brighton Locomotive Works bubble car  BMW Isetta Oxford Diecast Brighton Locomotive Works bubble car  BMW Isetta Oxford Diecast Brighton Locomotive Works bubble car  BMW Isetta Oxford Diecast Brighton Locomotive Works bubble car  BMW Isetta Oxford Diecast Brighton Locomotive Works bubble car  BMW Isetta Oxford Diecast Brighton Locomotive Works bubble car  BMW Isetta Oxford Diecast Brighton Locomotive Works bubble car MW Isetta Oxford Diecast Brighton Locomotive Works bubble car  BMW Isetta Oxford Diecast Brighton Locomotive Works bubble car  BMW Isetta Oxford Diecast Brighton Locomotive Works bubble car  BMW Isetta Oxford Diecast Brighton Locomotive Works bubble car  BMW Isetta Oxford Diecast Brighton Locomotive Works bubble car  BMW Isetta Oxford Diecast Brighton Locomotive Works bubble car  BMW Isetta Oxford Diecast Brighton Locomotive Works bubble car  BMW Isetta Oxford Diecast Brighton Locomotive Works bubble car  BMW Isetta Oxford Diecast Brighton Locomotive Works bubble car  BMW Isetta Oxford Diecast Brighton Locomotive Works bubble car MW Isetta Oxford Diecast Brighton Locomotive Works bubble car  BMW Isetta Oxford Diecast Brighton Locomotive Works bubble car  BMW Isetta Oxford Diecast Brighton Locomotive Works bubble car  BMW Isetta Oxford Diecast Brighton Locomotive Works bubble car  BMW Isetta Oxford Diecast Brighton Locomotive Works bubble car  BMW Isetta Oxford Diecast Brighton Locomotive Works bubble car  BMW Isetta Oxford Diecast Brighton Locomotive Works bubble car  BMW Isetta Oxford Diecast Brighton Locomotive Works bubble car  BMW Isetta Oxford Diecast Brighton Locomotive Works bubble car  BMW Isetta Oxford Diecast Brighton Locomotive Works bubble car MW Isetta Oxford Diecast Brighton Locomotive Works bubble car  BMW Isetta Oxford Diecast Brighton Locomotive Works bubble car  BMW Isetta Oxford Diecast Brighton Locomotive Works bubble car  BMW Isetta Oxford Diecast Brighton Locomotive Works bubble car  BMW Isetta Oxford Diecast Brighton Locomotive Works bubble car  BMW Isetta Oxford Diecast Brighton Locomotive Works bubble car  BMW Isetta Oxford Diecast Brighton Locomotive Works bubble car  BMW Isetta Oxford Diecast Brighton Locomotive Works bubble car  BMW Isetta Oxford Diecast Brighton Locomotive Works bubble car  BMW Isetta Oxford Diecast Brighton Locomotive Works bubble car MW Isetta Oxford Diecast Brighton Locomotive Works bubble car  BMW Isetta Oxford Diecast Brighton Locomotive Works bubble car  BMW Isetta Oxford Diecast Brighton Locomotive Works bubble car  BMW Isetta Oxford Diecast Brighton Locomotive Works bubble car  BMW Isetta Oxford Diecast Brighton Locomotive Works bubble car  BMW Isetta Oxford Diecast Brighton Locomotive Works bubble car  BMW Isetta Oxford Diecast Brighton Locomotive Works bubble car  BMW Isetta Oxford Diecast Brighton Locomotive Works bubble car  BMW Isetta Oxford Diecast Brighton Locomotive Works bubble car  BMW Isetta Oxford Diecast Brighton Locomotive Works bubble car MW Isetta Oxford Diecast Brighton Locomotive Works bubble car  BMW Isetta Oxford Diecast Brighton Locomotive Works bubble car  BMW Isetta Oxford Diecast Brighton Locomotive Works bubble car  BMW Isetta Oxford Diecast Brighton Locomotive Works bubble car  BMW Isetta Oxford Diecast Brighton Locomotive Works bubble car  BMW Isetta Oxford Diecast Brighton Locomotive Works bubble car  BMW Isetta Oxford Diecast Brighton Locomotive Works bubble car  BMW Isetta Oxford Diecast Brighton Locomotive Works bubble car  BMW Isetta Oxford Diecast Brighton Locomotive Works bubble car  BMW Isetta Oxford Diecast Brighton Locomotive Works bubble car MW Isetta Oxford Diecast Brighton Locomotive Works bubble car  BMW Isetta Oxford Diecast Brighton Locomotive Works bubble car  BMW Isetta Oxford Diecast Brighton Locomotive Works bubble car  BMW Isetta Oxford Diecast Brighton Locomotive Works bubble car  BMW Isetta Oxford Diecast Brighton Locomotive Works bubble car  BMW Isetta Oxford Diecast Brighton Locomotive Works bubble car  BMW Isetta Oxford Diecast Brighton Locomotive Works bubble car  BMW Isetta Oxford Diecast Brighton Locomotive Works bubble car  BMW Isetta Oxford Diecast Brighton Locomotive Works bubble car  BMW Isetta Oxford Diecast Brighton Locomotive Works bubble car MW Isetta Oxford Diecast Brighton Locomotive Works bubble car  BMW Isetta Oxford Diecast Brighton Locomotive Works bubble car  BMW Isetta Oxford Diecast Brighton Locomotive Works bubble car  BMW Isetta Oxford Diecast Brighton Locomotive Works bubble car  BMW Isetta Oxford Diecast Brighton Locomotive Works bubble car  BMW Isetta Oxford Diecast Brighton Locomotive Works bubble car  BMW Isetta Oxford Diecast Brighton Locomotive Works bubble car  BMW Isetta Oxford Diecast Brighton Locomotive Works bubble car  BMW Isetta Oxford Diecast Brighton Locomotive Works bubble car  BMW Isetta Oxford Diecast Brighton Locomotive Works bubble car MW Isetta Oxford Diecast Brighton Locomotive Works bubble car  BMW Isetta Oxford Diecast Brighton Locomotive Works bubble car  BMW Isetta Oxford Diecast Brighton Locomotive Works bubble car  BMW Isetta Oxford Diecast Brighton Locomotive Works bubble car  BMW Isetta Oxford Diecast Brighton Locomotive Works bubble car  BMW Isetta Oxford Diecast Brighton Locomotive Works bubble car  BMW Isetta Oxford Diecast Brighton Locomotive Works bubble car  BMW Isetta Oxford Diecast Brighton Locomotive Works bubble car  BMW Isetta Oxford Diecast Brighton Locomotive Works bubble car  BMW Isetta Oxford Diecast Brighton Locomotive Works bubble car MW Isetta Oxford Diecast Brighton Locomotive Works bubble car  BMW Isetta Oxford Diecast Brighton Locomotive Works bubble car  BMW Isetta Oxford Diecast Brighton Locomotive Works bubble car  BMW Isetta Oxford Diecast Brighton Locomotive Works bubble car  BMW Isetta Oxford Diecast Brighton Locomotive Works bubble car  BMW Isetta Oxford Diecast Brighton Locomotive Works bubble car  BMW Isetta Oxford Diecast Brighton Locomotive Works bubble car  BMW Isetta Oxford Diecast Brighton Locomotive Works bubble car  BMW Isetta Oxford Diecast Brighton Locomotive Works bubble car  BMW Isetta Oxford Diecast Brighton Locomotive Works bubble car MW Isetta Oxford Diecast Brighton Locomotive Works bubble car  BMW Isetta Oxford Diecast Brighton Locomotive Works bubble car  BMW Isetta Oxford Diecast Brighton Locomotive Works bubble car  BMW Isetta Oxford Diecast Brighton Locomotive Works bubble car  BMW Isetta Oxford Diecast Brighton Locomotive Works bubble car  BMW Isetta Oxford Diecast Brighton Locomotive Works bubble car  BMW Isetta Oxford Diecast Brighton Locomotive Works bubble car  BMW Isetta Oxford Diecast Brighton Locomotive Works bubble car  BMW Isetta Oxford Diecast Brighton Locomotive Works bubble car  BMW Isetta Oxford Diecast Brighton Locomotive Works bubble car MW Isetta Oxford Diecast Brighton Locomotive Works bubble car  BMW Isetta Oxford Diecast Brighton Locomotive Works bubble car  BMW Isetta Oxford Diecast Brighton Locomotive Works bubble car  BMW Isetta Oxford Diecast Brighton Locomotive Works bubble car  BMW Isetta Oxford Diecast Brighton Locomotive Works bubble car  BMW Isetta Oxford Diecast Brighton Locomotive Works bubble car  BMW Isetta Oxford Diecast Brighton Locomotive Works bubble car  BMW Isetta Oxford Diecast Brighton Locomotive Works bubble car  BMW Isetta Oxford Diecast Brighton Locomotive Works bubble car  BMW Isetta Oxford Diecast Brighton Locomotive Works bubble car MW Isetta Oxford Diecast Brighton Locomotive Works bubble car  BMW Isetta Oxford Diecast Brighton Locomotive Works bubble car  BMW Isetta Oxford Diecast Brighton Locomotive Works bubble car  BMW Isetta Oxford Diecast Brighton Locomotive Works bubble car  BMW Isetta Oxford Diecast Brighton Locomotive Works bubble car  BMW Isetta Oxford Diecast Brighton Locomotive Works bubble car  BMW Isetta Oxford Diecast Brighton Locomotive Works bubble car  BMW Isetta Oxford Diecast Brighton Locomotive Works bubble car  BMW Isetta Oxford Diecast Brighton Locomotive Works bubble car  BMW Isetta Oxford Diecast Brighton Locomotive Works bubble car MW Isetta Oxford Diecast Brighton Locomotive Works bubble car  BMW Isetta Oxford Diecast Brighton Locomotive Works bubble car  BMW Isetta Oxford Diecast Brighton Locomotive Works bubble car  BMW Isetta Oxford Diecast Brighton Locomotive Works bubble car  BMW Isetta Oxford Diecast Brighton Locomotive Works bubble car  BMW Isetta Oxford Diecast Brighton Locomotive Works bubble car  BMW Isetta Oxford Diecast Brighton Locomotive Works bubble car  BMW Isetta Oxford Diecast Brighton Locomotive Works bubble car  BMW Isetta Oxford Diecast Brighton Locomotive Works bubble car  BMW Isetta Oxford Diecast Brighton Locomotive Works bubble car MW Isetta Oxford Diecast Brighton Locomotive Works bubble car  BMW Isetta Oxford Diecast Brighton Locomotive Works bubble car  BMW Isetta Oxford Diecast Brighton Locomotive Works bubble car  BMW Isetta Oxford Diecast Brighton Locomotive Works bubble car  BMW Isetta Oxford Diecast Brighton Locomotive Works bubble car  BMW Isetta Oxford Diecast Brighton Locomotive Works bubble car  BMW Isetta Oxford Diecast Brighton Locomotive Works bubble car  BMW Isetta Oxford Diecast Brighton Locomotive Works bubble car  BMW Isetta Oxford Diecast Brighton Locomotive Works bubble car  BMW Isetta Oxford Diecast Brighton Locomotive Works bubble car MW Isetta Oxford Diecast Brighton Locomotive Works bubble car  BMW Isetta Oxford Diecast Brighton Locomotive Works bubble car  BMW Isetta Oxford Diecast Brighton Locomotive Works bubble car  BMW Isetta Oxford Diecast Brighton Locomotive Works bubble car  BMW Isetta Oxford Diecast Brighton Locomotive Works bubble car  BMW Isetta Oxford Diecast Brighton Locomotive Works bubble car  BMW Isetta Oxford Diecast Brighton Locomotive Works bubble car  BMW Isetta Oxford Diecast Brighton Locomotive Works bubble car  BMW Isetta Oxford Diecast Brighton Locomotive Works bubble car  BMW Isetta Oxford Diecast Brighton Locomotive Works bubble car MW Isetta Oxford Diecast Brighton Locomotive Works bubble car  BMW Isetta Oxford Diecast Brighton Locomotive Works bubble car  BMW Isetta Oxford Diecast Brighton Locomotive Works bubble car  BMW Isetta Oxford Diecast Brighton Locomotive Works bubble car  BMW Isetta Oxford Diecast Brighton Locomotive Works bubble car  BMW Isetta Oxford Diecast Brighton Locomotive Works bubble car  BMW Isetta Oxford Diecast Brighton Locomotive Works bubble car  BMW Isetta Oxford Diecast Brighton Locomotive Works bubble car  BMW Isetta Oxford Diecast Brighton Locomotive Works bubble car  BMW Isetta Oxford Diecast Brighton Locomotive Works bubble car MW Isetta Oxford Diecast Brighton Locomotive Works bubble car  BMW Isetta Oxford Diecast Brighton Locomotive Works bubble car  BMW Isetta Oxford Diecast Brighton Locomotive Works bubble car  BMW Isetta Oxford Diecast Brighton Locomotive Works bubble car  BMW Isetta Oxford Diecast Brighton Locomotive Works bubble car  BMW Isetta Oxford Diecast Brighton Locomotive Works bubble car  BMW Isetta Oxford Diecast Brighton Locomotive Works bubble car  BMW Isetta Oxford Diecast Brighton Locomotive Works bubble car  BMW Isetta Oxford Diecast Brighton Locomotive Works bubble car  BMW Isetta Oxford Diecast Brighton Locomotive Works bubble car MW Isetta Oxford Diecast Brighton Locomotive Works bubble car  BMW Isetta Oxford Diecast Brighton Locomotive Works bubble car  BMW Isetta Oxford Diecast Brighton Locomotive Works bubble car  BMW Isetta Oxford Diecast Brighton Locomotive Works bubble car  BMW Isetta Oxford Diecast Brighton Locomotive Works bubble car  BMW Isetta Oxford Diecast Brighton Locomotive Works bubble car  BMW Isetta Oxford Diecast Brighton Locomotive Works bubble car  BMW Isetta Oxford Diecast Brighton Locomotive Works bubble car  BMW Isetta Oxford Diecast Brighton Locomotive Works bubble car  BMW Isetta Oxford Diecast Brighton Locomotive Works bubble car MW Isetta Oxford Diecast Brighton Locomotive Works bubble car  BMW Isetta Oxford Diecast Brighton Locomotive Works bubble car  BMW Isetta Oxford Diecast Brighton Locomotive Works bubble car  BMW Isetta Oxford Diecast Brighton Locomotive Works bubble car  BMW Isetta Oxford Diecast Brighton Locomotive Works bubble car  BMW Isetta Oxford Diecast Brighton Locomotive Works bubble car  BMW Isetta Oxford Diecast Brighton Locomotive Works bubble car  BMW Isetta Oxford Diecast Brighton Locomotive Works bubble car  BMW Isetta Oxford Diecast Brighton Locomotive Works bubble car  BMW Isetta Oxford Diecast Brighton Locomotive Works bubble car MW Isetta Oxford Diecast Brighton Locomotive Works bubble car  BMW Isetta Oxford Diecast Brighton Locomotive Works bubble car  BMW Isetta Oxford Diecast Brighton Locomotive Works bubble car  BMW Isetta Oxford Diecast Brighton Locomotive Works bubble car  BMW Isetta Oxford Diecast Brighton Locomotive Works bubble car  BMW Isetta Oxford Diecast Brighton Locomotive Works bubble car  BMW Isetta Oxford Diecast Brighton Locomotive Works bubble car  BMW Isetta Oxford Diecast Brighton Locomotive Works bubble car  BMW Isetta Oxford Diecast Brighton Locomotive Works bubble car  BMW Isetta Oxford Diecast Brighton Locomotive Works bubble car MW Isetta Oxford Diecast Brighton Locomotive Works bubble car  BMW Isetta Oxford Diecast Brighton Locomotive Works bubble car  BMW Isetta Oxford Diecast Brighton Locomotive Works bubble car  BMW Isetta Oxford Diecast Brighton Locomotive Works bubble car  BMW Isetta Oxford Diecast Brighton Locomotive Works bubble car  BMW Isetta Oxford Diecast Brighton Locomotive Works bubble car  BMW Isetta Oxford Diecast Brighton Locomotive Works bubble car  BMW Isetta Oxford Diecast Brighton Locomotive Works bubble car  BMW Isetta Oxford Diecast Brighton Locomotive Works bubble car  BMW Isetta Oxford Diecast Brighton Locomotive Works bubble car MW Isetta Oxford Diecast Brighton Locomotive Works bubble car  BMW Isetta Oxford Diecast Brighton Locomotive Works bubble car  BMW Isetta Oxford Diecast Brighton Locomotive Works bubble car  BMW Isetta Oxford Diecast Brighton Locomotive Works bubble car  BMW Isetta Oxford Diecast Brighton Locomotive Works bubble car  BMW Isetta Oxford Diecast Brighton Locomotive Works bubble car  BMW Isetta Oxford Diecast Brighton Locomotive Works bubble car  BMW Isetta Oxford Diecast Brighton Locomotive Works bubble car  BMW Isetta Oxford Diecast Brighton Locomotive Works bubble car  BMW Isetta Oxford Diecast Brighton Locomotive Works bubble car MW Isetta Oxford Diecast Brighton Locomotive Works bubble car  BMW Isetta Oxford Diecast Brighton Locomotive Works bubble car  BMW Isetta Oxford Diecast Brighton Locomotive Works bubble car  BMW Isetta Oxford Diecast Brighton Locomotive Works bubble car  BMW Isetta Oxford Diecast Brighton Locomotive Works bubble car  BMW Isetta Oxford Diecast Brighton Locomotive Works bubble car  BMW Isetta Oxford Diecast Brighton Locomotive Works bubble car  BMW Isetta Oxford Diecast Brighton Locomotive Works bubble car  BMW Isetta Oxford Diecast Brighton Locomotive Works bubble car  BMW Isetta Oxford Diecast Brighton Locomotive Works bubble car MW Isetta Oxford Diecast Brighton Locomotive Works bubble car  BMW Isetta Oxford Diecast Brighton Locomotive Works bubble car  BMW Isetta Oxford Diecast Brighton Locomotive Works bubble car  BMW Isetta Oxford Diecast Brighton Locomotive Works bubble car  BMW Isetta Oxford Diecast Brighton Locomotive Works bubble car  BMW Isetta Oxford Diecast Brighton Locomotive Works bubble car  BMW Isetta Oxford Diecast Brighton Locomotive Works bubble car  BMW Isetta Oxford Diecast Brighton Locomotive Works bubble car  BMW Isetta Oxford Diecast Brighton Locomotive Works bubble car  BMW Isetta Oxford Diecast Brighton Locomotive Works bubble car MW Isetta Oxford Diecast Brighton Locomotive Works bubble car  BMW Isetta Oxford Diecast Brighton Locomotive Works bubble car  BMW Isetta Oxford Diecast Brighton Locomotive Works bubble car  BMW Isetta Oxford Diecast Brighton Locomotive Works bubble car  BMW Isetta Oxford Diecast Brighton Locomotive Works bubble car  BMW Isetta Oxford Diecast Brighton Locomotive Works bubble car  BMW Isetta Oxford Diecast Brighton Locomotive Works bubble car  BMW Isetta Oxford Diecast Brighton Locomotive Works bubble car  BMW Isetta Oxford Diecast Brighton Locomotive Works bubble car  BMW Isetta Oxford Diecast Brighton Locomotive Works bubble car MW Isetta Oxford Diecast Brighton Locomotive Works bubble car  BMW Isetta Oxford Diecast Brighton Locomotive Works bubble car  BMW Isetta Oxford Diecast Brighton Locomotive Works bubble car  BMW Isetta Oxford Diecast Brighton Locomotive Works bubble car  BMW Isetta Oxford Diecast Brighton Locomotive Works bubble car  BMW Isetta Oxford Diecast Brighton Locomotive Works bubble car  BMW Isetta Oxford Diecast Brighton Locomotive Works bubble car  BMW Isetta Oxford Diecast Brighton Locomotive Works bubble car  BMW Isetta Oxford Diecast Brighton Locomotive Works bubble car  BMW Isetta Oxford Diecast Brighton Locomotive Works bubble car MW Isetta Oxford Diecast Brighton Locomotive Works bubble car  BMW Isetta Oxford Diecast Brighton Locomotive Works bubble car  BMW Isetta Oxford Diecast Brighton Locomotive Works bubble car  BMW Isetta Oxford Diecast Brighton Locomotive Works bubble car  BMW Isetta Oxford Diecast Brighton Locomotive Works bubble car  BMW Isetta Oxford Diecast Brighton Locomotive Works bubble car  BMW Isetta Oxford Diecast Brighton Locomotive Works bubble car  BMW Isetta Oxford Diecast Brighton Locomotive Works bubble car  BMW Isetta Oxford Diecast Brighton Locomotive Works bubble car  BMW Isetta Oxford Diecast Brighton Locomotive Works bubble car MW Isetta Oxford Diecast Brighton Locomotive Works bubble car  BMW Isetta Oxford Diecast Brighton Locomotive Works bubble car  BMW Isetta Oxford Diecast Brighton Locomotive Works bubble car  BMW Isetta Oxford Diecast Brighton Locomotive Works bubble car  BMW Isetta Oxford Diecast Brighton Locomotive Works bubble car  BMW Isetta Oxford Diecast Brighton Locomotive Works bubble car  BMW Isetta Oxford Diecast Brighton Locomotive Works bubble car  BMW Isetta Oxford Diecast Brighton Locomotive Works bubble car  BMW Isetta Oxford Diecast Brighton Locomotive Works bubble car  BMW Isetta Oxford Diecast Brighton Locomotive Works bubble car MW Isetta Oxford Diecast Brighton Locomotive Works bubble car  BMW Isetta Oxford Diecast Brighton Locomotive Works bubble car  BMW Isetta Oxford Diecast Brighton Locomotive Works bubble car  BMW Isetta Oxford Diecast Brighton Locomotive Works bubble car  BMW Isetta Oxford Diecast Brighton Locomotive Works bubble car  BMW Isetta Oxford Diecast Brighton Locomotive Works bubble car  BMW Isetta Oxford Diecast Brighton Locomotive Works bubble car  BMW Isetta Oxford Diecast Brighton Locomotive Works bubble car  BMW Isetta Oxford Diecast Brighton Locomotive Works bubble car  BMW Isetta Oxford Diecast Brighton Locomotive Works bubble car MW Isetta Oxford Diecast Brighton Locomotive Works bubble car  BMW Isetta Oxford Diecast Brighton Locomotive Works bubble car  BMW Isetta Oxford Diecast Brighton Locomotive Works bubble car  BMW Isetta Oxford Diecast Brighton Locomotive Works bubble car  BMW Isetta Oxford Diecast Brighton Locomotive Works bubble car  BMW Isetta Oxford Diecast Brighton Locomotive Works bubble car  BMW Isetta Oxford Diecast Brighton Locomotive Works bubble car  BMW Isetta Oxford Diecast Brighton Locomotive Works bubble car  BMW Isetta Oxford Diecast Brighton Locomotive Works bubble car  BMW Isetta Oxford Diecast Brighton Locomotive Works bubble car MW Isetta Oxford Diecast Brighton Locomotive Works bubble car  BMW Isetta Oxford Diecast Brighton Locomotive Works bubble car  BMW Isetta Oxford Diecast Brighton Locomotive Works bubble car  BMW Isetta Oxford Diecast Brighton Locomotive Works bubble car  BMW Isetta Oxford Diecast Brighton Locomotive Works bubble car  BMW Isetta Oxford Diecast Brighton Locomotive Works bubble car  BMW Isetta Oxford Diecast Brighton Locomotive Works bubble car  BMW Isetta Oxford Diecast Brighton Locomotive Works bubble car  BMW Isetta Oxford Diecast Brighton Locomotive Works bubble car  BMW Isetta Oxford Diecast Brighton Locomotive Works bubble car MW Isetta Oxford Diecast Brighton Locomotive Works bubble car  BMW Isetta Oxford Diecast Brighton Locomotive Works bubble car  BMW Isetta Oxford Diecast Brighton Locomotive Works bubble car  BMW Isetta Oxford Diecast Brighton Locomotive Works bubble car  BMW Isetta Oxford Diecast Brighton Locomotive Works bubble car  BMW Isetta Oxford Diecast Brighton Locomotive Works bubble car  BMW Isetta Oxford Diecast Brighton Locomotive Works bubble car  BMW Isetta Oxford Diecast Brighton Locomotive Works bubble car  BMW Isetta Oxford Diecast Brighton Locomotive Works bubble car  BMW Isetta Oxford Diecast Brighton Locomotive Works bubble car MW Isetta Oxford Diecast Brighton Locomotive Works bubble car  BMW Isetta Oxford Diecast Brighton Locomotive Works bubble car  BMW Isetta Oxford Diecast Brighton Locomotive Works bubble car  BMW Isetta Oxford Diecast Brighton Locomotive Works bubble car  BMW Isetta Oxford Diecast Brighton Locomotive Works bubble car  BMW Isetta Oxford Diecast Brighton Locomotive Works bubble car  BMW Isetta Oxford Diecast Brighton Locomotive Works bubble car  BMW Isetta Oxford Diecast Brighton Locomotive Works bubble car  BMW Isetta Oxford Diecast Brighton Locomotive Works bubble car  BMW Isetta Oxford Diecast Brighton Locomotive Works bubble car MW Isetta Oxford Diecast Brighton Locomotive Works bubble car  BMW Isetta Oxford Diecast Brighton Locomotive Works bubble car  BMW Isetta Oxford Diecast Brighton Locomotive Works bubble car  BMW Isetta Oxford Diecast Brighton Locomotive Works bubble car  BMW Isetta Oxford Diecast Brighton Locomotive Works bubble car  BMW Isetta Oxford Diecast Brighton Locomotive Works bubble car  BMW Isetta Oxford Diecast Brighton Locomotive Works bubble car  BMW Isetta Oxford Diecast Brighton Locomotive Works bubble car  BMW Isetta Oxford Diecast Brighton Locomotive Works bubble car  BMW Isetta Oxford Diecast Brighton Locomotive Works bubble car MW Isetta Oxford Diecast Brighton Locomotive Works bubble car  BMW Isetta Oxford Diecast Brighton Locomotive Works bubble car  BMW Isetta Oxford Diecast Brighton Locomotive Works bubble car  BMW Isetta Oxford Diecast Brighton Locomotive Works bubble car  BMW Isetta Oxford Diecast Brighton Locomotive Works bubble car  BMW Isetta Oxford Diecast Brighton Locomotive Works bubble car  BMW Isetta Oxford Diecast Brighton Locomotive Works bubble car  BMW Isetta Oxford Diecast Brighton Locomotive Works bubble car  BMW Isetta Oxford Diecast Brighton Locomotive Works bubble car  BMW Isetta Oxford Diecast Brighton Locomotive Works bubble car MW Isetta Oxford Diecast Brighton Locomotive Works bubble car  BMW Isetta Oxford Diecast Brighton Locomotive Works bubble car  BMW Isetta Oxford Diecast Brighton Locomotive Works bubble car  BMW Isetta Oxford Diecast Brighton Locomotive Works bubble car  BMW Isetta Oxford Diecast Brighton Locomotive Works bubble car  BMW Isetta Oxford Diecast Brighton Locomotive Works bubble car  BMW Isetta Oxford Diecast Brighton Locomotive Works bubble car  BMW Isetta Oxford Diecast Brighton Locomotive Works bubble car  BMW Isetta Oxford Diecast Brighton Locomotive Works bubble car  BMW Isetta Oxford Diecast Brighton Locomotive Works bubble car MW Isetta Oxford Diecast Brighton Locomotive Works bubble car  BMW Isetta Oxford Diecast Brighton Locomotive Works bubble car  BMW Isetta Oxford Diecast Brighton Locomotive Works bubble car  BMW Isetta Oxford Diecast Brighton Locomotive Works bubble car  BMW Isetta Oxford Diecast Brighton Locomotive Works bubble car  BMW Isetta Oxford Diecast Brighton Locomotive Works bubble car  BMW Isetta Oxford Diecast Brighton Locomotive Works bubble car  BMW Isetta Oxford Diecast Brighton Locomotive Works bubble car  BMW Isetta Oxford Diecast Brighton Locomotive Works bubble car  BMW Isetta Oxford Diecast Brighton Locomotive Works bubble car MW Isetta Oxford Diecast Brighton Locomotive Works bubble car  BMW Isetta Oxford Diecast Brighton Locomotive Works bubble car  BMW Isetta Oxford Diecast Brighton Locomotive Works bubble car  BMW Isetta Oxford Diecast Brighton Locomotive Works bubble car  BMW Isetta Oxford Diecast Brighton Locomotive Works bubble car  BMW Isetta Oxford Diecast Brighton Locomotive Works bubble car  BMW Isetta Oxford Diecast Brighton Locomotive Works bubble car  BMW Isetta Oxford Diecast Brighton Locomotive Works bubble car  BMW Isetta Oxford Diecast Brighton Locomotive Works bubble car  BMW Isetta Oxford Diecast Brighton Locomotive Works bubble car MW Isetta Oxford Diecast Brighton Locomotive Works bubble car  BMW Isetta Oxford Diecast Brighton Locomotive Works bubble car  BMW Isetta Oxford Diecast Brighton Locomotive Works bubble car  BMW Isetta Oxford Diecast Brighton Locomotive Works bubble car  BMW Isetta Oxford Diecast Brighton Locomotive Works bubble car  BMW Isetta Oxford Diecast Brighton Locomotive Works bubble car  BMW Isetta Oxford Diecast Brighton Locomotive Works bubble car  BMW Isetta Oxford Diecast Brighton Locomotive Works bubble car  BMW Isetta Oxford Diecast Brighton Locomotive Works bubble car  BMW Isetta Oxford Diecast Brighton Locomotive Works bubble car MW Isetta Oxford Diecast Brighton Locomotive Works bubble car  BMW Isetta Oxford Diecast Brighton Locomotive Works bubble car  BMW Isetta Oxford Diecast Brighton Locomotive Works bubble car  BMW Isetta Oxford Diecast Brighton Locomotive Works bubble car  BMW Isetta Oxford Diecast Brighton Locomotive Works bubble car  BMW Isetta Oxford Diecast Brighton Locomotive Works bubble car  BMW Isetta Oxford Diecast Brighton Locomotive Works bubble car  BMW Isetta Oxford Diecast Brighton Locomotive Works bubble car  BMW Isetta Oxford Diecast Brighton Locomotive Works bubble car  BMW Isetta Oxford Diecast Brighton Locomotive Works bubble car MW Isetta Oxford Diecast Brighton Locomotive Works bubble car  BMW Isetta Oxford Diecast Brighton Locomotive Works bubble car  BMW Isetta Oxford Diecast Brighton Locomotive Works bubble car  BMW Isetta Oxford Diecast Brighton Locomotive Works bubble car  BMW Isetta Oxford Diecast Brighton Locomotive Works bubble car  BMW Isetta Oxford Diecast Brighton Locomotive Works bubble car  BMW Isetta Oxford Diecast Brighton Locomotive Works bubble car  BMW Isetta Oxford Diecast Brighton Locomotive Works bubble car  BMW Isetta Oxford Diecast Brighton Locomotive Works bubble car  BMW Isetta Oxford Diecast Brighton Locomotive Works bubble car MW Isetta Oxford Diecast Brighton Locomotive Works bubble car  BMW Isetta Oxford Diecast Brighton Locomotive Works bubble car  BMW Isetta Oxford Diecast Brighton Locomotive Works bubble car  BMW Isetta Oxford Diecast Brighton Locomotive Works bubble car  BMW Isetta Oxford Diecast Brighton Locomotive Works bubble car  BMW Isetta Oxford Diecast Brighton Locomotive Works bubble car  BMW Isetta Oxford Diecast Brighton Locomotive Works bubble car  BMW Isetta Oxford Diecast Brighton Locomotive Works bubble car  BMW Isetta Oxford Diecast Brighton Locomotive Works bubble car  BMW Isetta Oxford Diecast Brighton Locomotive Works bubble car MW Isetta Oxford Diecast Brighton Locomotive Works bubble car  BMW Isetta Oxford Diecast Brighton Locomotive Works bubble car  BMW Isetta Oxford Diecast Brighton Locomotive Works bubble car  BMW Isetta Oxford Diecast Brighton Locomotive Works bubble car  BMW Isetta Oxford Diecast Brighton Locomotive Works bubble car  BMW Isetta Oxford Diecast Brighton Locomotive Works bubble car  BMW Isetta Oxford Diecast Brighton Locomotive Works bubble car  BMW Isetta Oxford Diecast Brighton Locomotive Works bubble car  BMW Isetta Oxford Diecast Brighton Locomotive Works bubble car  BMW Isetta Oxford Diecast Brighton Locomotive Works bubble car MW Isetta Oxford Diecast Brighton Locomotive Works bubble car  BMW Isetta Oxford Diecast Brighton Locomotive Works bubble car  BMW Isetta Oxford Diecast Brighton Locomotive Works bubble car  BMW Isetta Oxford Diecast Brighton Locomotive Works bubble car  BMW Isetta Oxford Diecast Brighton Locomotive Works bubble car  BMW Isetta Oxford Diecast Brighton Locomotive Works bubble car  BMW Isetta Oxford Diecast Brighton Locomotive Works bubble car  BMW Isetta Oxford Diecast Brighton Locomotive Works bubble car  BMW Isetta Oxford Diecast Brighton Locomotive Works bubble car  BMW Isetta Oxford Diecast Brighton Locomotive Works bubble car MW Isetta Oxford Diecast Brighton Locomotive Works bubble car  BMW Isetta Oxford Diecast Brighton Locomotive Works bubble car  BMW Isetta Oxford Diecast Brighton Locomotive Works bubble car  BMW Isetta Oxford Diecast Brighton Locomotive Works bubble car  BMW Isetta Oxford Diecast Brighton Locomotive Works bubble car  BMW Isetta Oxford Diecast Brighton Locomotive Works bubble car  BMW Isetta Oxford Diecast Brighton Locomotive Works bubble car  BMW Isetta Oxford Diecast Brighton Locomotive Works bubble car  BMW Isetta Oxford Diecast Brighton Locomotive Works bubble car  BMW Isetta Oxford Diecast Brighton Locomotive Works bubble car MW Isetta Oxford Diecast Brighton Locomotive Works bubble car  BMW Isetta Oxford Diecast Brighton Locomotive Works bubble car  BMW Isetta Oxford Diecast Brighton Locomotive Works bubble car  BMW Isetta Oxford Diecast Brighton Locomotive Works bubble car  BMW Isetta Oxford Diecast Brighton Locomotive Works bubble car  BMW Isetta Oxford Diecast Brighton Locomotive Works bubble car  BMW Isetta Oxford Diecast Brighton Locomotive Works bubble car  BMW Isetta Oxford Diecast Brighton Locomotive Works bubble car  BMW Isetta Oxford Diecast Brighton Locomotive Works bubble car  BMW Isetta Oxford Diecast Brighton Locomotive Works bubble car MW Isetta Oxford Diecast Brighton Locomotive Works bubble car  BMW Isetta Oxford Diecast Brighton Locomotive Works bubble car  BMW Isetta Oxford Diecast Brighton Locomotive Works bubble car  BMW Isetta Oxford Diecast Brighton Locomotive Works bubble car  BMW Isetta Oxford Diecast Brighton Locomotive Works bubble car  BMW Isetta Oxford Diecast Brighton Locomotive Works bubble car  BMW Isetta Oxford Diecast Brighton Locomotive Works bubble car  BMW Isetta Oxford Diecast Brighton Locomotive Works bubble car  BMW Isetta Oxford Diecast Brighton Locomotive Works bubble car  BMW Isetta Oxford Diecast Brighton Locomotive Works bubble car MW Isetta Oxford Diecast Brighton Locomotive Works bubble car  BMW Isetta Oxford Diecast Brighton Locomotive Works bubble car  BMW Isetta Oxford Diecast Brighton Locomotive Works bubble car  BMW Isetta Oxford Diecast Brighton Locomotive Works bubble car  BMW Isetta Oxford Diecast Brighton Locomotive Works bubble car  BMW Isetta Oxford Diecast Brighton Locomotive Works bubble car  BMW Isetta Oxford Diecast Brighton Locomotive Works bubble car  BMW Isetta Oxford Diecast Brighton Locomotive Works bubble car  BMW Isetta Oxford Diecast Brighton Locomotive Works bubble car  BMW Isetta Oxford Diecast Brighton Locomotive Works bubble car MW Isetta Oxford Diecast Brighton Locomotive Works bubble car  BMW Isetta Oxford Diecast Brighton Locomotive Works bubble car  BMW Isetta Oxford Diecast Brighton Locomotive Works bubble car  BMW Isetta Oxford Diecast Brighton Locomotive Works bubble car  BMW Isetta Oxford Diecast Brighton Locomotive Works bubble car  BMW Isetta Oxford Diecast Brighton Locomotive Works bubble car  BMW Isetta Oxford Diecast Brighton Locomotive Works bubble car  BMW Isetta Oxford Diecast Brighton Locomotive Works bubble car  BMW Isetta Oxford Diecast Brighton Locomotive Works bubble car  BMW Isetta Oxford Diecast Brighton Locomotive Works bubble car MW Isetta Oxford Diecast Brighton Locomotive Works bubble car  BMW Isetta Oxford Diecast Brighton Locomotive Works bubble car  BMW Isetta Oxford Diecast Brighton Locomotive Works bubble car  BMW Isetta Oxford Diecast Brighton Locomotive Works bubble car  BMW Isetta Oxford Diecast Brighton Locomotive Works bubble car  BMW Isetta Oxford Diecast Brighton Locomotive Works bubble car  BMW Isetta Oxford Diecast Brighton Locomotive Works bubble car  BMW Isetta Oxford Diecast Brighton Locomotive Works bubble car  BMW Isetta Oxford Diecast Brighton Locomotive Works bubble car  BMW Isetta Oxford Diecast Brighton Locomotive Works bubble car MW Isetta Oxford Diecast Brighton Locomotive Works bubble car  BMW Isetta Oxford Diecast Brighton Locomotive Works bubble car  BMW Isetta Oxford Diecast Brighton Locomotive Works bubble car  BMW Isetta Oxford Diecast Brighton Locomotive Works bubble car  BMW Isetta Oxford Diecast Brighton Locomotive Works bubble car  BMW Isetta Oxford Diecast Brighton Locomotive Works bubble car  BMW Isetta Oxford Diecast Brighton Locomotive Works bubble car  BMW Isetta Oxford Diecast Brighton Locomotive Works bubble car  BMW Isetta Oxford Diecast Brighton Locomotive Works bubble car  BMW Isetta Oxford Diecast Brighton Locomotive Works bubble car MW Isetta Oxford Diecast Brighton Locomotive Works bubble car  BMW Isetta Oxford Diecast Brighton Locomotive Works bubble car  BMW Isetta Oxford Diecast Brighton Locomotive Works bubble car  BMW Isetta Oxford Diecast Brighton Locomotive Works bubble car  BMW Isetta Oxford Diecast Brighton Locomotive Works bubble car  BMW Isetta Oxford Diecast Brighton Locomotive Works bubble car  BMW Isetta Oxford Diecast Brighton Locomotive Works bubble car  BMW Isetta Oxford Diecast Brighton Locomotive Works bubble car  BMW Isetta Oxford Diecast Brighton Locomotive Works bubble car  BMW Isetta Oxford Diecast Brighton Locomotive Works bubble car MW Isetta Oxford Diecast Brighton Locomotive Works bubble car  BMW Isetta Oxford Diecast Brighton Locomotive Works bubble car  BMW Isetta Oxford Diecast Brighton Locomotive Works bubble car  BMW Isetta Oxford Diecast Brighton Locomotive Works bubble car  BMW Isetta Oxford Diecast Brighton Locomotive Works bubble car  BMW Isetta Oxford Diecast Brighton Locomotive Works bubble car  BMW Isetta Oxford Diecast Brighton Locomotive Works bubble car  BMW Isetta Oxford Diecast Brighton Locomotive Works bubble car  BMW Isetta Oxford Diecast Brighton Locomotive Works bubble car  BMW Isetta Oxford Diecast Brighton Locomotive Works bubble car MW Isetta Oxford Diecast Brighton Locomotive Works bubble car  BMW Isetta Oxford Diecast Brighton Locomotive Works bubble car  BMW Isetta Oxford Diecast Brighton Locomotive Works bubble car  BMW Isetta Oxford Diecast Brighton Locomotive Works bubble car  BMW Isetta Oxford Diecast Brighton Locomotive Works bubble car  BMW Isetta Oxford Diecast Brighton Locomotive Works bubble car  BMW Isetta Oxford Diecast Brighton Locomotive Works bubble car  BMW Isetta Oxford Diecast Brighton Locomotive Works bubble car  BMW Isetta Oxford Diecast Brighton Locomotive Works bubble car  BMW Isetta Oxford Diecast Brighton Locomotive Works bubble car MW Isetta Oxford Diecast Brighton Locomotive Works bubble car  BMW Isetta Oxford Diecast Brighton Locomotive Works bubble car  BMW Isetta Oxford Diecast Brighton Locomotive Works bubble car  BMW Isetta Oxford Diecast Brighton Locomotive Works bubble car  BMW Isetta Oxford Diecast Brighton Locomotive Works bubble car  BMW Isetta Oxford Diecast Brighton Locomotive Works bubble car  BMW Isetta Oxford Diecast Brighton Locomotive Works bubble car  BMW Isetta Oxford Diecast Brighton Locomotive Works bubble car  BMW Isetta Oxford Diecast Brighton Locomotive Works bubble car  BMW Isetta Oxford Diecast Brighton Locomotive Works bubble car MW Isetta Oxford Diecast Brighton Locomotive Works bubble car  BMW Isetta Oxford Diecast Brighton Locomotive Works bubble car  BMW Isetta Oxford Diecast Brighton Locomotive Works bubble car  BMW Isetta Oxford Diecast Brighton Locomotive Works bubble car  BMW Isetta Oxford Diecast Brighton Locomotive Works bubble car  BMW Isetta Oxford Diecast Brighton Locomotive Works bubble car  BMW Isetta Oxford Diecast Brighton Locomotive Works bubble car  BMW Isetta Oxford Diecast Brighton Locomotive Works bubble car  BMW Isetta Oxford Diecast Brighton Locomotive Works bubble car  BMW Isetta Oxford Diecast Brighton Locomotive Works bubble car MW Isetta Oxford Diecast Brighton Locomotive Works bubble car  BMW Isetta Oxford Diecast Brighton Locomotive Works bubble car  BMW Isetta Oxford Diecast Brighton Locomotive Works bubble car  BMW Isetta Oxford Diecast Brighton Locomotive Works bubble car  BMW Isetta Oxford Diecast Brighton Locomotive Works bubble car  BMW Isetta Oxford Diecast Brighton Locomotive Works bubble car  BMW Isetta Oxford Diecast Brighton Locomotive Works bubble car  BMW Isetta Oxford Diecast Brighton Locomotive Works bubble car  BMW Isetta Oxford Diecast Brighton Locomotive Works bubble car  BMW Isetta Oxford Diecast Brighton Locomotive Works bubble car MW Isetta Oxford Diecast Brighton Locomotive Works bubble car  BMW Isetta Oxford Diecast Brighton Locomotive Works bubble car  BMW Isetta Oxford Diecast Brighton Locomotive Works bubble car  BMW Isetta Oxford Diecast Brighton Locomotive Works bubble car  BMW Isetta Oxford Diecast Brighton Locomotive Works bubble car  BMW Isetta Oxford Diecast Brighton Locomotive Works bubble car  BMW Isetta Oxford Diecast Brighton Locomotive Works bubble car  BMW Isetta Oxford Diecast Brighton Locomotive Works bubble car  BMW Isetta Oxford Diecast Brighton Locomotive Works bubble car  BMW Isetta Oxford Diecast Brighton Locomotive Works bubble car MW Isetta Oxford Diecast Brighton Locomotive Works bubble car  BMW Isetta Oxford Diecast Brighton Locomotive Works bubble car  BMW Isetta Oxford Diecast Brighton Locomotive Works bubble car  BMW Isetta Oxford Diecast Brighton Locomotive Works bubble car  BMW Isetta Oxford Diecast Brighton Locomotive Works bubble car  BMW Isetta Oxford Diecast Brighton Locomotive Works bubble car  BMW Isetta Oxford Diecast Brighton Locomotive Works bubble car  BMW Isetta Oxford Diecast Brighton Locomotive Works bubble car  BMW Isetta Oxford Diecast Brighton Locomotive Works bubble car  BMW Isetta Oxford Diecast Brighton Locomotive Works bubble car MW Isetta Oxford Diecast Brighton Locomotive Works bubble car  BMW Isetta Oxford Diecast Brighton Locomotive Works bubble car  BMW Isetta Oxford Diecast Brighton Locomotive Works bubble car  BMW Isetta Oxford Diecast Brighton Locomotive Works bubble car  BMW Isetta Oxford Diecast Brighton Locomotive Works bubble car  BMW Isetta Oxford Diecast Brighton Locomotive Works bubble car  BMW Isetta Oxford Diecast Brighton Locomotive Works bubble car  BMW Isetta Oxford Diecast Brighton Locomotive Works bubble car  BMW Isetta Oxford Diecast Brighton Locomotive Works bubble car  BMW Isetta Oxford Diecast Brighton Locomotive Works bubble car