Freight Stock
'Blue Spot' INSUL-FISH Vans
on the East Coast
15' wheelbase to Diag. 800 & 801
<![if !vml]>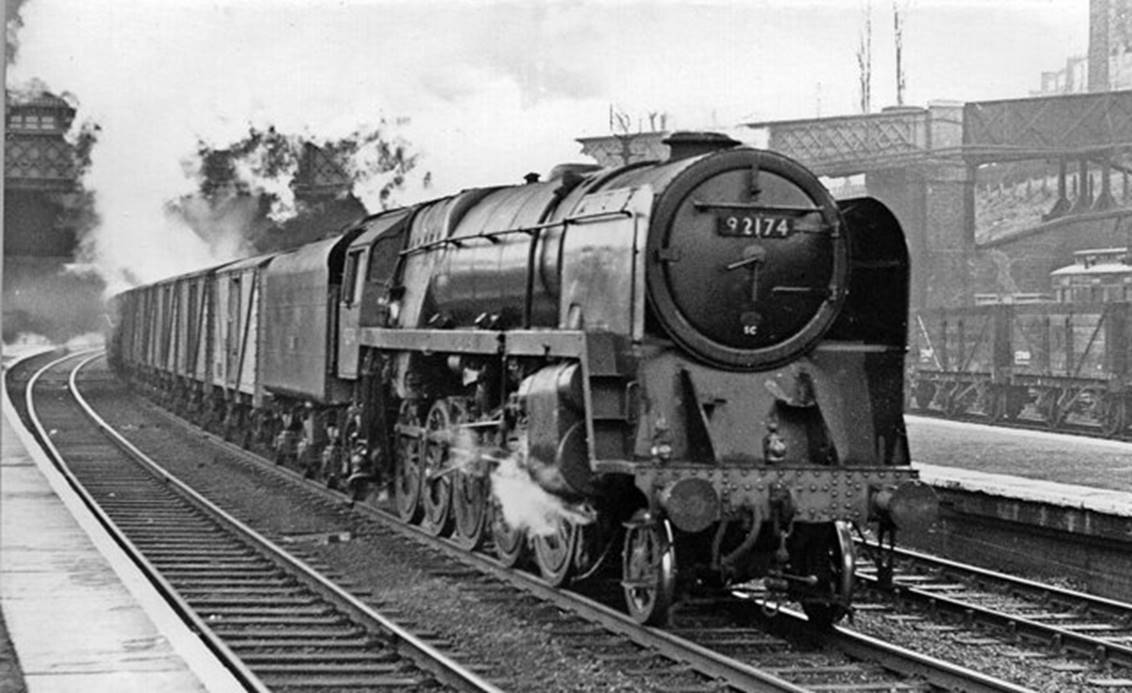 <![endif]>
East Coast 'Blue Spot' INSUL-FISH empties passing Harringay Station
On 3rd April 1958 a train of empty 'Blue Spot' vans is being worked back northward on the Down Fast line through Harringay station by BR Standard 9F 2-10-0 no. 92174.
© Copyright Ben Brooksbank (CC by SA/2.0)
INSUL-FISH vans
British Railway's Insulated Fish Van (INSUL-FISH) was based on a LNER pre-nationalisation design to diagram 214 (the LNER-type hand and asymmetric clasp brakes giving a clear indication of its parentage).
Post nationalisation there were builds of LNER diag. 214 vans thence to BR diag. 800. Following redesign of the body framing, door handles and a vacuum pipe that 'hung' off the buffer beam (instead of an upright standpipe) a new BR diagram (diag. 801) was issued with three further lots being built; these being equipped with roller-bearing axles for express fish workings from ports in Scotland and the North-East to London; some of these working forward the Southern Region via Holloway Yard (ER). A number of these vans were painted with 'NOT TO WORK BETWEEN TONBRIDGE AND BATTLE VIA ROBERTSBRIDGE SOUTHERN REGION'.
Of these BR built some 1,058 fish vans; 500 to diagram 800 and 558 to diagram 801. Running on 3ft 1½in wheels the body of the diag. 801 vans was 21ft 8in long on a 15ft 0in wheelbase. XP-rated they were equipped with Oleo pneumatic buffers, vacuum brakes and a through steam-heat pipe (allowing them to travel in passenger trains). There were minor differences between each of the builds.
The insulated body was constructed from plywood skinned with smooth aluminium sheet; this making the interior easier to clean. The roof was made from two skins of aluminium filled with "Ozanote" rubber insulation: the recessed sliding doors draught-proofed. The interior would have been kept cool by boxes of 'dry ice' (solid carbon dioxide - trade name 'Drikold') and as the boxes of wet fish were packed with water ice, two floor drains were provided to prevent melted ice from flooding the van.
All diagram 800 and 801 vans were built at the former LNER Faverdale Works in Darlington, County Durham (these works closing in 1963). Like milk tankers these vans were numbered in the non-passenger coaching stock series although being an Eastern Region (ex-LNER) design all the running numbers were given an "E" prefix.
These vans were originally painted in freight stock White (the then-current livery for insulated and refrigerated vehicles - so as to reflect heat) with black lettering; their solebars were painted black; the headstocks white. In traffic the white livery rapidly became extremely dirty giving rise to complaints about the state of the vans. In 1963 correspondence between the British Trawlers Federation and Dr Beeching highlighted fears towards a public perception that the interior of these dirty vans being maintained in an insanitary condition. Although this led to the introduction of the Ice Blue livery (in 1964) many vans simply had an Ice Blue panel painted below the 'blue spot'. Although 'TO WORK BETWEEN ABERDEEN & KING'S CROSS' was written within the blue panel vans still strayed to locations such as Leamington Spa General station (September 1964).
Originally using oil-axle boxes (i.e. plain journals) these vans were built for long distance relatively high-speed (70 m.p.h.) running primarily between King's Cross Goods and Aberdeen (a nominal 14hr run); a dedicated pool of 200 vans being specially maintained for these services. However, in order to reduce the inevitable ongoing impact from hot-boxes a programme was initiated in 1957 to fit Timken roller bearing axle-boxes to 275 of the Dia. 800 vans. 100 vans were converted at Cowlairs, 88 at York, and 87 at Doncaster; the first 100 of these vans being complete and ready for traffic out of Aberdeen by 20th January 1958. The other 225 vans of Dia.800 were never converted; nor were any of the earlier Diag. 214 vans.
Because of the roller bearings these vans were marked with a large blue circle on the side which gave rise to the 'blue spot' nickname. When the wet fish traffic by rail effectively ceased in 1968 the 'blue spot' vans were adopted (without renumbering) for other use (diagrams 1/255 and 1/256) included parcels traffic being designated Special Parcels Vehicle (SPV) then NRV under TOPS, engineering vehicles and barrier wagons. The last saw revenue service in the Aylesbury area in 1981 (paper traffic?) with a few retained after this date as 'internal user' vans.
Number Sequence

Diag.

Issue date

Build end-date

Lot.

E75000

E75599

214$1

1950

E87000

E87499
or E87683$2

800

Aug-53

Feb-55

30125

E87500

E87692
or E87683$2

801

Jan-61

30344

E87693
or E87695$2

E87957
or E87654$2

801

Jan-61

30384

E87958

E88057
or E88056$2

801

Nov-56

Oct-61

30442

Notes:

$1

LNER Diag. 214 became BR Diag 800.

$2

Number sequencing sourced from Parkin's British Railways Mk1 Coaches. However, other sources differ and these are provided in italics.
<![if !vml]>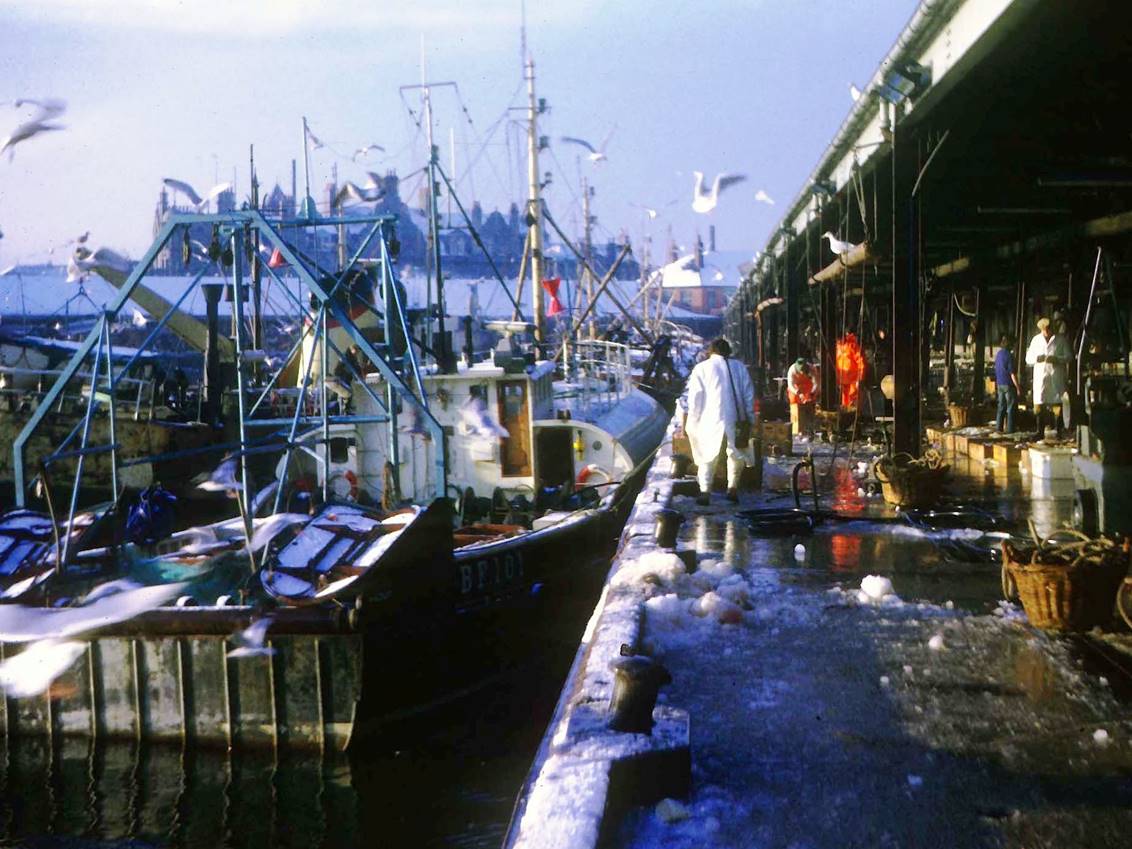 <![endif]>
Aberdeen fish market on a winter's morning
26th December 1967 when Aberdeen was still a major port for white fish trawlers.
© Copyright Robert W. Watt (CC by SA/2.0)
Aberdeen's Fishing Industry
In terms of rail traffic Aberdeen, Grimsby, Fleetwood and Hull were the major fishing ports although even small towns such as Padstow used to dispatch wet fish each day (on its 4:30 p.m. fish van train).
At the time of the 'blue spot' fish vans (and for many decades before) the City of Aberdeen's main commercial activity was the fishing industry; being the chief fishing port in Scotland and the third largest in Britain. Since 1955 progressive improvements had been made to the Aberdeen fishing fleet as diesel power replaced steam; towards the end of 1963 the number of vessels operating was around 105-120 diesel trawlers, 14 oil-burning steam trawlers and one coal burner.
Operated by the Aberdeen Corporation Harbour Authority the fish market and its quay was 2,595ft long with an area of 16,119 sq. yards. Upon arrival at the harbour each trawler was rapidly unloaded (usually between midnight and 4 a.m.) so the fish could be conveyed to the morning market; the unloaded fish being laid out in boxes on the floor of the market for inspection by the fish merchants (there were about 240 operating in 1963) ready for the daily auction at 8 a.m.
Traditionally fish was conveyed to the large inland fish markets such as Billingsgate (London) or those in Manchester, Glasgow, Liverpool, Birmingham (and other cities) with retail traders, fishmongers and fish friers buying direct from these markets. Some fish was sent directly to retail sources such as Mac Fisheries' London railhead distribution depot at Finsbury Park.
However, by 1968 the use of the blue spot vans and the carriage of wet fish by rail would virtually be at an end with very few movements left.
Aberdeen's Deeside Yard
With the exception of a small number of fish vans attached to normal passenger services from Aberdeen (after the main special express fish trains have departed), fish traffic mostly moved as passenger rated traffic on class 3 (later 'C') trains. All the loading of fish was concentrated in Aberdeen's Deeside Yard; generally between 11 a.m. and 6 p.m.
There were three sidings in Deeside Yard and the fish trains were positioned with the brake vans at the rear ready to depart straight on to the main line. A fairly heavy train like the 2.15 p.m. Carstairs (between 25 and 30 vans daily) would be divided over two of the three sidings.
From about 11.30 a.m. onwards the fish merchants' vans would start arriving at Deeside Yard with their consignments for the 12.30 p.m., 1.43 p.m. and 2.15 p.m. departure. The boxes of fish were weighed and labelled at the yard entrance were then transferred directly into the appropriate vans.
Mac Fisheries had their own special stainless-steel containers; these being unloaded at their Finsbury Park depot and returned empty in the same vans back to Aberdeen.
Deeside Yard also undertook the transfer fish traffic from the small northern fishing ports including Fraserburgh and Peterhead. A fish and parcels train left Fraserburgh at 11.20 a.m. arriving 1.9 p.m. at Aberdeen's Deeside Yard in time for an onward connection with the 1.43 p.m. Kings Cross, 2.15 p.m. Carstairs and subsequent trains.
<![if !vml]>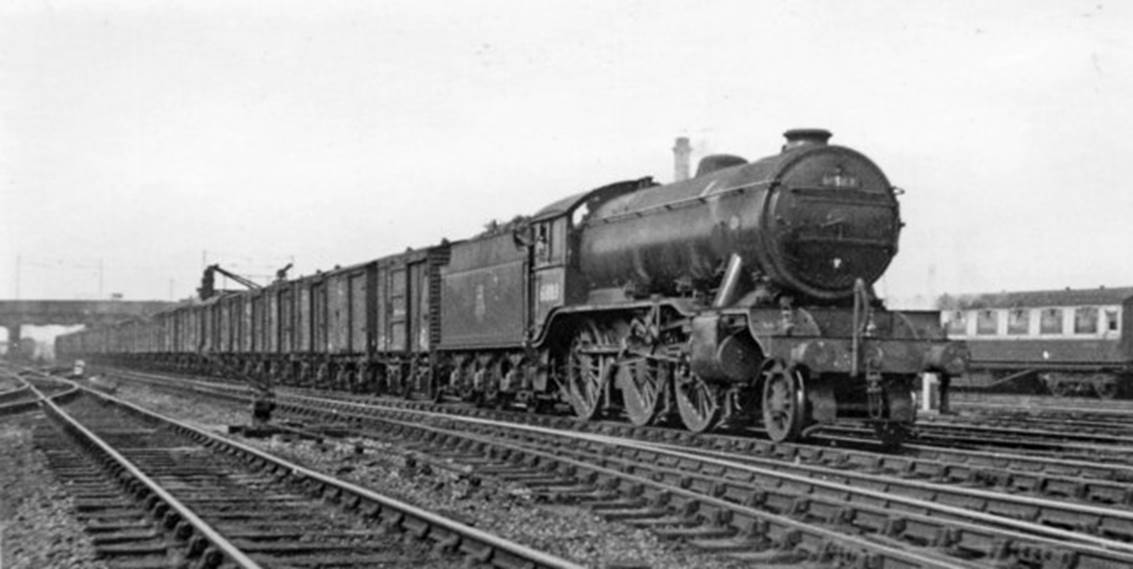 <![endif]>
Up Fish train entering Doncaster on 12th August 1953
At Marshgate Junction with Leeds and Bradford to the left, Hull and Grimsby to the right, this southbound Class C train coming out from under Frenchgate Bridge (A1) is probably from Grimsby or Hull, headed by Gresley K3/3 no.61883 (built October 1929 as no.1391, thence no.1883 from 1946 and withdrawn as 61883 in December 1962).
© Copyright Ben Brooksbank (CC by SA/2.0)
Aberdeen's Fish Trains
In December 1963 five fish trains were operating from Aberdeen on Mondays to Fridays, with adjusted times on Saturdays:
<![if !supportLineBreakNewLine]>
<![endif]>
| | | | |
| --- | --- | --- | --- |
| Dep | Destination | Arr | Notes |
| 12.30 p.m | Kings Cross | 3.2 a.m | Train formed only of XP-rated 'blue spot' wagons for London; vans for Mac Fisheries Finsbury Park depot marshalled at rear for detachment at Finsbury Park |
| 1.43 p.m | Kings Cross | 3.33 a.m | Relief timing for 12.30 p.m. if two trains were not required blue spot vans were held back for this timing. |
| 2.15 p.m | Carstairs | 6.42 p.m. | Train spilt at Carstairs for Birmingham and Manchester Oldham Road |
| 8 p.m*1 | Birmingham Curson Street | 4.3 a.m | *1 departure from Carstairs with detachments at Warrington, Crewe, Stafford and Wolverhampton |
| 8.10 p.m*2 | Manchester Oldham Road & Liverpool portion | 2.55 a.m | *2 departure from Carstairs with detachment at Preston (including a Liverpool portion) thence further detachment at Wigan  |
| 6 p.m | Edinburgh Waverley | | Vans transferred at Edinburgh for onward transit. |
| 6.38 p.m | Manchester Victoria | | |
| 7.33 p.m | Perth | | |
12.30 p.m Aberdeen to King's Cross
Departing Deeside Yard 12.30 p.m. (on the up side /south end of Aberdeen passenger station) the Kings Cross train had no traffic stops until Finsbury Park. However, stops were made at Dundee Tay Bridge station (crew change 2.15 p.m. to 2.21 p.m. followed by a 26min booked stop Edinburgh Waverley (train examined and locomotive change - type 4 diesel in December 1963). Departed Edinburgh Waverley for Finsbury Park with intermediate crew change /examination stops Newcastle Central, Doncaster and Grantham.
Mac Fisheries' vans were quickly detached at Finsbury Park with the train's arrival at Kings Cross timed for 3.2 a.m; the fish being conveyed onwards to Billingsgate market.
Train running arrangements for this and the 1.43 p.m. departure were made by Aberdeen's District Control Office through the East Coast Division control at Edinburgh (which in turn advised N.E.R. York and G.N. Line control Kings Cross).
2.15 p.m. Aberdeen to Carstairs
The 2.15 p.m. Aberdeen to Carstairs conveyed traffic for Manchester and Birmingham along with a number of intermediate stations. In December 1963 steam power was booked to Carstairs (arr. 6.42 p.m.); there being a crew change at Perth.
Following re-marshalling at Carstairs two separate trains left at 8 p.m for Birmingham Curzon Street and at 8.10 p.m. for Manchester Oldham Road (including a portion for Liverpool).
The 8 p.m. to Birmingham Curzon Street stopped at Carlisle before arriving at Warrington (arr. 12.38 – detachment – dep. 12.48 p.m. then Crewe (arr. 1.26 a.m. – detachment dep. 2.4 a.m.), Stafford (arr. 2.38 a.m. – detachment – dep. 2.43 a.m.) and Wolverhampton (further detachment) arriving 4.3 a.m. at Birmingham Curzon Street.
The 8.10 p.m. to Manchester Oldham Road also stopped at Carlisle before arriving Preston (detachments for Preston and Liverpool) thence a further detachment at Wigan before arriving 2.55 a.m. at Manchester Oldham (via Springs Branch Junction).
Return Workings
Each day some forty-number XP-rated fish vans had to be returned from King's Cross Goods to Aberdeen. This return service left King's Cross Goods at 11.40 a.m. arriving 6.49 a.m. the following morning at Aberdeen's Craiginches Yard ready to providing the vans for the 12.30 p.m. and 1.43 p.m. afternoon southbound services from Aberdeen's Deeside Yard to King's Cross Goods. Three sets of vans were thus in circuit between Aberdeen and Kings Cross; with only 150 'blue spot' roller bearing vans being available at Aberdeen any late running of the northbound empties could significantly affect availability of vans.
The fish traffic of the other services was distributed to large number of different destinations, this making the return arrangements fare more complex. After unloading at their destination the empty XP-rated vans were returned by the next express service to Aberdeen. Careful control of these vans was necessary to ensure adequate supply for loading.
In the case of Birmingham, Manchester, Liverpool and stations in this area the fish vans were forwarded to Carlisle then onto Aberdeen by northbound trains at 6.50 a.m., 11.38 a.m. and 8.55 p.m.
<![if !vml]>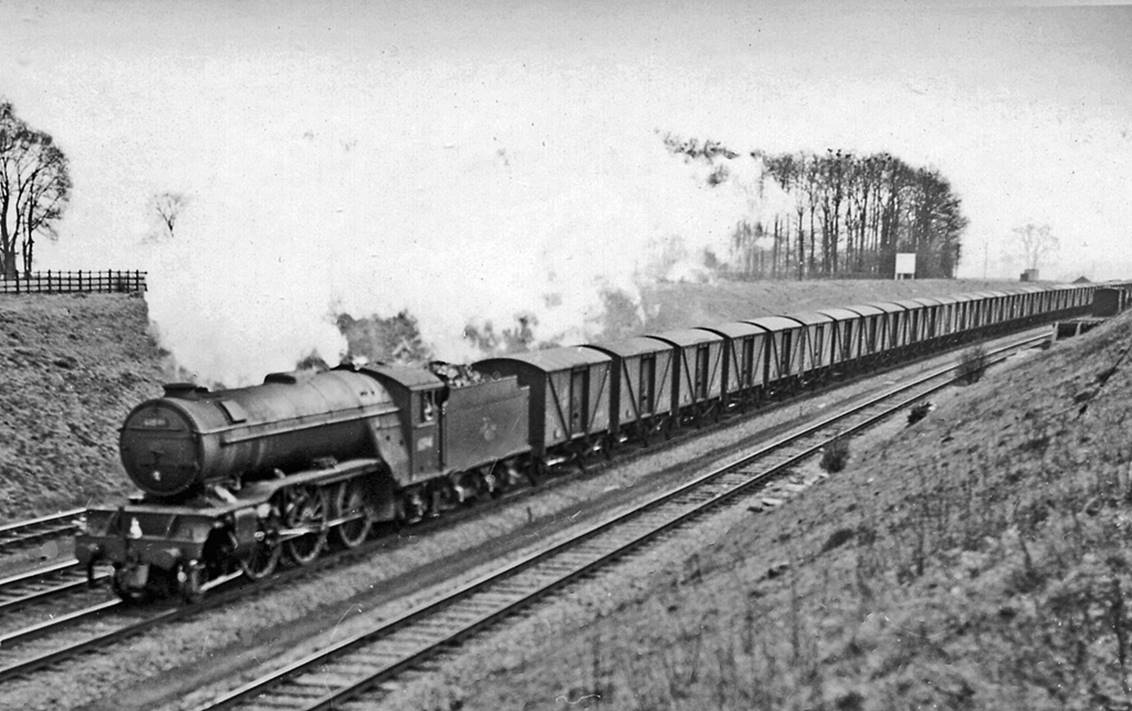 <![endif]>
Down 'Blue Spot' fish empties north of St Neots 28th March 1959
The returning northbound empties of the premier Fish train which rushed North Sea fresh fish from Grimsby etc. to London before the Motorway Age - at much higher speed than can even now be achieved by road. The locomotive is V2 no.60941.
© Copyright Ben Brooksbank (CC by SA/2.0)
Grimsby's Fish Trains
In comparison to the blue spot vans being used on Aberdeen's fish trains to London according to the 1957 Working Time Table (WTT) Grimsby was running the following regular fish trains:
Dep.

Destination.

1.4 p.m.

Banbury

4.48 p.m.

Nottingham (LMR)

5.13 p.m.

Ashton Moss

5.30 p.m.

East Goods

6.13 p.m.

Cambridge

6.25 p.m.

Leicester Central

7.0 p.m.

King's Cross Goods
(return empties dep. 9.40 a.m.)

7.30 p.m.

Guide Bridge

8.25 p.m.

Leeds Central
<![if !vml]>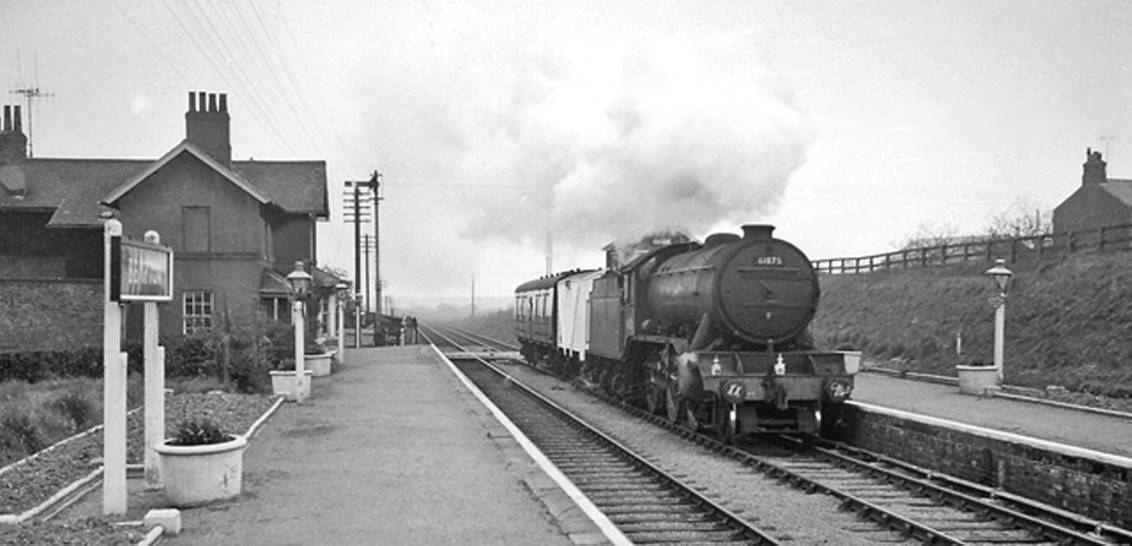 <![endif]>
Fish train at Bempton Station
A Gresley K3 class passes through on a short Class C (Fish) train north from Bridlington towards Filey and Scarborough on 18th April 1961.
© Copyright Ben Brooksbank (CC by SA/2.0)
Decline
in the carriage of Fish by Rail
In late 1963 some seventy-five vans of fish left Aberdeen daily; amounting to over 40,000 tons of fish per year being sent by rail. Of this the quantities from the smaller ports at Buckie, Fraserburgh, Lossiemouth and Peterhead amount to nearly 7,000 tons.
Since the 1950s this traffic was becoming vulnerable to competition from road transport. Although in 1963 road could still not better the transit times to London and Birmingham, the constantly improving UK trunk road and motorway network along with changes in highway legislation (enabling larger improved refrigerated lorries) was starting to make road transport increasingly more attractive particular for shorter hauls and smaller loads.
Although the amount of fish landed at Aberdeen had remained constant (around 120,000 tons per annum) the quantity sent by rail was continuing to decline; five years later this fish traffic by rail having all but come to an end. Nationally rail tonnages of fish forwarded by rail had fallen in the past decade by 55 per cent, whilst landings had fallen by only 22 per cent. A significant factor in this decline were changes in the arrangements around fish processing with the waste part of the fish being removed at the port instead of the inland fish markets.
Instead of the fish being transferred straight to rail, increasing amounts of fish was being conveyed by road to local factories for processing and distribution. After washing the fish was skinned, filleted and cured by smoking; this being the case with Aberdeen specialities such as Finnan haddie (haddocks), golden cutlets and smoked fillets. With the removal of the head, tail and bones during filleting just over half of the fish was retained for public consumption, the waste being sold on for the manufacture of animal feeds.
Following the 1962 Transport Act and Dr Beeching's drive bring the railways back into profitability there was an imperative to identify and develop profitable traffics with loss-making or only marginally profitable to either be reorganised with realistic pricing else withdrawn. Although BR's gross receipts were considerable they were not even covering direct costs, let alone making any contribution to track, signalling, administration etc. The average load on the twenty-five fish trains running was around just two tons per van. So whilst many well-used railway freight operations appeared profitable upon closer scrutiny they were being operated at a net loss. Accordingly 'reshaping' of the railway's fish traffic was deemed necessary.
Under the new BR scheme of 8th May 1964 BR wanted to reduce the number of fish trains that leave the four main ports of Aberdeen, Fleetwood, Grimsby and Hull from twenty-five to about nine basic services. This was intended to rationalize the services into a limited number of railheads with onward distribution by road organized by the fish trade.
Across the previous decade there had been a steady erosion of the railways' fish traffic as more of the better loads had gone to road services. By running fewer services it was intended to obtain higher payloads, reduce costs and enable BR to provide realistic competitive rates.
Outside these main flows BR would still consider the possibility of attaching vans of fish to mixed trains leaving the ports although realistically the movement of individual vans and expensive trans-shipment of fish from van to van to supply scattered destinations and sparsely-populated areas was unlikely to prove commercially viable for either BR or fish merchants.
Fish carriage rates were now to be based on wagonload, rather than the previous consignment charging which had previously been very attractive to fish merchants. For many this new system was far less viable both financially and in terms of the service provided. As a consequence ports such as Hull were left with a solitary fish train to London (thence road distribution around the capital) as fish merchants transferred their traffic to road.
This rapidly led a significant reduction in the total volume of wet fish being moved by rail and ultimately the virtual demise in 1968 of the use of the blue spot vans for the carriage of fish to the point which all that appears to have remained was single bulk train from Aberdeen to London; in the early 1970's (at least) this being supported by vans (from a number of Scotland's fishing ports) attached to passenger trains.
In 1970 this train (4E47) left Aberdeen weekdays at 13:55hrs arriving King's Cross Goods at 01:11hrs; maximum loading being 957 tons (including locomotive).  On Saturdays the train left Aberdeen at 16:45hrs but did not arrive at King's Cross Goods until 00:45hrs Monday; there being a sixteen-hour layover at Doncaster (during which arrangements for keeping the fish cool are unclear). The empties returned on 6S64 the 'Scotch goods' leaving King's Cross at 14:30hrs for Millerhill.
During summer 1974 this fish train had become the 6E45 Aberdeen (16:40hrs) to King's Cross.
It is believed this single bulk fish train from Aberdeen to King's Cross ceased in 1976, just prior to the 1977 start of High Speed Trains on the East Coast Main Line.

Blue Spot Fish Vans
in Model Form
Ready to run models of the 'blue spot' fish vans have certainly been around since Hornby-Dublo's 4mm '1961' model (priced at 6s 9d) which was reintroduced by Wrenn (between 1973 & 1986) and now Dapol.
In 2015 Hornby introduced its own 4mm model of these fish vans Hornby; initially in Freight Stock White and now in Ice Blue (1964-on).
Dapol produced 2mm versions.
Parkside-Dundas also make this van in kit form (cat. No. PC53).
Hornby-Dublo /Wrenn /Dapol '1961' model (4mm)

Maker

Catalogue no.

Livery

Running Number

Notes

Hornby-Dublo

4300

White

E87231

Wrenn

W5001x

White

E87231

Wrenn

W5001

White

E87231

Ross#1

Wrenn

W4300P

White

E87231

Findus#1

Wrenn

W5050

Blue

E67840

North Sea Fish#1

Dapol

B507

White

E87234

Dapol

WR3-13

White

E87234

'Wrenn range'

Non-fish traffic liveries

Wrenn

W5064

Bauxite

E67840

BRT SPV

Wrenn

W5012

BR Blue

E87537

Express Parcels SPV

Notes

#1

Fictitious liveries
Hornby '2015' model (4mm)

Catalogue

Livery

Running Number

Notes

R6624 (1 of 3)

White

E87157

'blue spot'

R6624 (2 of 3)

White

E87158

'blue spot'

R6624 (3 of 3)

White

E87159

'blue spot'

R6624A (1 of 3)

White

E87093

'blue spot'

R6624A (2 of 3)

White

E87094

'blue spot'

R6624A (3 of 3)

White

E87095

'blue spot'

R6638

White

E87003

INSUL-FISH

R6638A

White

E87005

INSUL-FISH

R6692

White

E87085

'blue spot'

R6692A

White

E87086

'blue spot'

R6692B

White

E87087

'blue spot'

R6759

Ice Blue

E87128

'blue spot'

R6759A

Ice Blue

E87129

'blue spot'

R6759B

Ice Blue

E87130

'blue spot'

Hornby '2022' 'TOPS' model

R60114

Ice Blue

E87261­­­

'blue spot'

R60115 (3 pk)

Ice Blue

?

'blue spot'

R60115 (3 pk)

Ice Blue

?

'blue spot'

R60115 (3 pk)

Ice Blue

?­­­

'blue spot'

Non-fish traffic liveries

R6639

BR blue

E87160

Express Parcels SPV

R6647

Weathered BR blue

E87263

RBV Barrier Van
Dapol N-gauge model (2mm)

Maker

Catalogue no.

Livery

Running Number

Notes

Dapol

NB051H

White

E87324

Dapol

2F-019-001

White

E87582

Dapol

2F-019-002

White

E87706

Dapol

2F-019-005

White

E87894

Dapol

2F-019-006

White

E87675

Dapol

2F-019-007

White

E87351

Dapol

2F-019-008

White

E87948

Non-fish traffic liveries

Dapol

2F-019-003

BR Blue

E87537

Express Parcels SPV

Dapol

2F-019-004

BR Blue

E87505

Express Parcels SPV


<![if !supportLineBreakNewLine]>
<![endif]>
C. Watts
February 2016
Contributions to the above are welcomed (thank you Charles) and to the photographs of Ben Brooksbank and Robert W. Watt; especially if this overview is missing details or has errors.
ALL TEXT & PHOTOGRAPHS ARE COPYRIGHT
<![if !vml]>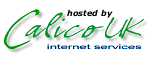 <![endif]>
Blue Spot Fish Vans Blue Spot Fish Vans Blue Spot Fish Vans Blue Spot Fish Vans Blue Spot Fish Vans Blue Spot Fish Vans Blue Spot Fish Vans Blue Spot Fish Vans Blue Spot Fish Vans Blue Spot Fish Vans Blue Spot Fish Vans Blue Spot Fish Vans Blue Spot Fish Vans Blue Spot Fish Vans Blue Spot Fish Vans Blue Spot Fish Vans Blue Spot Fish Vans Blue Spot Fish Vans Blue Spot Fish Vans Blue Spot Fish Vans Blue Spot Fish Vans Blue Spot Fish Vans Blue Spot Fish Vans Blue Spot Fish Vans Blue Spot Fish Vans Blue Spot Fish Vans Blue Spot Fish Vans Blue Spot Fish Vans Blue Spot Fish Vans Blue Spot Fish Vans Blue Spot Fish Vans Blue Spot Fish Vans Blue Spot Fish Vans Blue Spot Fish Vans Blue Spot Fish Vans Blue Spot Fish Vans Blue Spot Fish Vans Blue Spot Fish Vans Blue Spot Fish Vans Blue Spot Fish Vans Blue Spot Fish Vans Blue Spot Fish Vans Blue Spot Fish Vans Blue Spot Fish Vans Blue Spot Fish Vans Blue Spot Fish Vans Blue Spot Fish Vans Blue Spot Fish Vans Blue Spot Fish Vans Blue Spot Fish Vans Blue Spot Fish Vans Blue Spot Fish Vans Blue Spot Fish Vans Blue Spot Fish Vans Blue Spot Fish Vans Blue Spot Fish Vans Blue Spot Fish Vans Blue Spot Fish Vans Blue Spot Fish Vans Blue Spot Fish Vans Blue Spot Fish Vans Blue Spot Fish Vans Blue Spot Fish Vans Blue Spot Fish Vans Blue Spot Fish Vans Blue Spot Fish Vans Blue Spot Fish Vans Blue Spot Fish Vans Blue Spot Fish Vans Blue Spot Fish Vans Blue Spot Fish Vans Blue Spot Fish Vans Blue Spot Fish Vans Blue Spot Fish Vans Blue Spot Fish Vans Blue Spot Fish Vans Blue Spot Fish Vans Blue Spot Fish Vans Blue Spot Fish Vans Blue Spot Fish Vans Blue Spot Fish Vans Blue Spot Fish Vans Blue Spot Fish Vans Blue Spot Fish Vans Blue Spot Fish Vans Blue Spot Fish Vans Blue Spot Fish Vans Blue Spot Fish Vans Blue Spot Fish Vans Blue Spot Fish Vans Blue Spot Fish Vans Blue Spot Fish Vans Blue Spot Fish Vans Blue Spot Fish Vans Blue Spot Fish Vans Blue Spot Fish Vans Blue Spot Fish Vans Blue Spot Fish Vans Blue Spot Fish Vans Blue Spot Fish Vans Blue Spot Fish Vans Blue Spot Fish Vans Blue Spot Fish Vans Blue Spot Fish Vans Blue Spot Fish Vans Blue Spot Fish Vans Blue Spot Fish Vans Blue Spot Fish Vans Blue Spot Fish Vans Blue Spot Fish Vans Blue Spot Fish Vans Blue Spot Fish Vans Blue Spot Fish Vans Blue Spot Fish Vans Blue Spot Fish Vans Blue Spot Fish Vans Blue Spot Fish Vans Blue Spot Fish Vans Blue Spot Fish Vans Blue Spot Fish Vans Blue Spot Fish Vans Blue Spot Fish Vans Blue Spot Fish Vans Blue Spot Fish Vans Blue Spot Fish Vans Blue Spot Fish Vans Blue Spot Fish Vans Blue Spot Fish Vans Blue Spot Fish Vans Blue Spot Fish Vans Blue Spot Fish Vans Blue Spot Fish Vans Blue Spot Fish Vans Blue Spot Fish Vans Blue Spot Fish Vans Blue Spot Fish Vans Blue Spot Fish Vans Blue Spot Fish Vans Blue Spot Fish Vans Blue Spot Fish Vans Blue Spot Fish Vans Blue Spot Fish Vans Blue Spot Fish Vans Blue Spot Fish Vans Blue Spot Fish Vans Blue Spot Fish Vans Blue Spot Fish Vans Blue Spot Fish Vans Blue Spot Fish Vans Blue Spot Fish Vans Blue Spot Fish Vans Blue Spot Fish Vans Blue Spot Fish Vans Blue Spot Fish Vans Blue Spot Fish Vans Blue Spot Fish Vans Blue Spot Fish Vans Blue Spot Fish Vans Blue Spot Fish Vans Blue Spot Fish Vans Blue Spot Fish Vans Blue Spot Fish Vans Blue Spot Fish Vans Blue Spot Fish Vans Blue Spot Fish Vans Blue Spot Fish Vans Blue Spot Fish Vans Blue Spot Fish Vans Blue Spot Fish Vans Blue Spot Fish Vans Blue Spot Fish Vans Blue Spot Fish Vans Blue Spot Fish Vans Blue Spot Fish Vans Blue Spot Fish Vans Blue Spot Fish Vans Blue Spot Fish Vans Blue Spot Fish Vans Blue Spot Fish Vans Blue Spot Fish Vans Blue Spot Fish Vans Blue Spot Fish Vans Blue Spot Fish Vans Blue Spot Fish Vans Blue Spot Fish Vans Blue Spot Fish Vans Blue Spot Fish Vans Blue Spot Fish Vans Blue Spot Fish Vans Blue Spot Fish Vans Blue Spot Fish Vans Blue Spot Fish Vans Blue Spot Fish Vans Blue Spot Fish Vans Blue Spot Fish Vans Blue Spot Fish Vans Blue Spot Fish Vans Blue Spot Fish Vans Blue Spot Fish Vans Blue Spot Fish Vans Blue Spot Fish Vans Blue Spot Fish Vans Blue Spot Fish Vans Blue Spot Fish Vans Blue Spot Fish Vans Blue Spot Fish Vans Blue Spot Fish Vans Blue Spot Fish Vans Blue Spot Fish Vans Blue Spot Fish Vans Blue Spot Fish Vans Blue Spot Fish Vans Blue Spot Fish Vans Blue Spot Fish Vans Blue Spot Fish Vans Blue Spot Fish Vans Blue Spot Fish Vans Blue Spot Fish Vans Blue Spot Fish Vans Blue Spot Fish Vans Blue Spot Fish Vans Blue Spot Fish Vans Blue Spot Fish Vans Blue Spot Fish Vans Blue Spot Fish Vans Blue Spot Fish Vans Blue Spot Fish Vans Blue Spot Fish Vans Blue Spot Fish Vans Blue Spot Fish Vans Blue Spot Fish Vans Blue Spot Fish Vans Blue Spot Fish Vans Blue Spot Fish Vans Blue Spot Fish Vans Blue Spot Fish Vans Blue Spot Fish Vans Blue Spot Fish Vans Blue Spot Fish Vans Blue Spot Fish Vans Blue Spot Fish Vans Blue Spot Fish Vans Blue Spot Fish Vans Blue Spot Fish Vans Blue Spot Fish Vans Blue Spot Fish Vans Blue Spot Fish Vans Blue Spot Fish Vans Blue Spot Fish Vans Blue Spot Fish Vans Blue Spot Fish Vans Blue Spot Fish Vans Blue Spot Fish Vans Blue Spot Fish Vans Blue Spot Fish Vans Blue Spot Fish Vans Blue Spot Fish Vans Blue Spot Fish Vans Blue Spot Fish Vans Blue Spot Fish Vans Blue Spot Fish Vans Blue Spot Fish Vans Blue Spot Fish Vans Blue Spot Fish Vans Blue Spot Fish Vans Blue Spot Fish Vans Blue Spot Fish Vans Blue Spot Fish Vans Blue Spot Fish Vans Blue Spot Fish Vans Blue Spot Fish Vans Blue Spot Fish Vans Blue Spot Fish Vans Blue Spot Fish Vans Blue Spot Fish Vans Blue Spot Fish Vans Blue Spot Fish Vans Blue Spot Fish Vans Blue Spot Fish Vans Blue Spot Fish Vans Blue Spot Fish Vans Blue Spot Fish Vans Blue Spot Fish Vans Blue Spot Fish Vans Blue Spot Fish Vans Blue Spot Fish Vans Blue Spot Fish Vans Blue Spot Fish Vans Blue Spot Fish Vans Blue Spot Fish Vans Blue Spot Fish Vans Blue Spot Fish Vans Blue Spot Fish Vans Blue Spot Fish Vans Blue Spot Fish Vans Blue Spot Fish Vans Blue Spot Fish Vans Blue Spot Fish Vans Blue Spot Fish Vans Blue Spot Fish Vans Blue Spot Fish Vans Blue Spot Fish Vans Blue Spot Fish Vans Blue Spot Fish Vans Blue Spot Fish Vans Blue Spot Fish Vans Blue Spot Fish Vans Blue Spot Fish Vans Blue Spot Fish Vans Blue Spot Fish Vans Blue Spot Fish Vans Blue Spot Fish Vans Blue Spot Fish Vans Blue Spot Fish Vans Blue Spot Fish Vans Blue Spot Fish Vans Blue Spot Fish Vans Blue Spot Fish Vans Blue Spot Fish Vans Blue Spot Fish Vans Blue Spot Fish Vans Blue Spot Fish Vans Blue Spot Fish Vans Blue Spot Fish Vans Blue Spot Fish Vans Blue Spot Fish Vans Blue Spot Fish Vans Blue Spot Fish Vans Blue Spot Fish Vans Blue Spot Fish Vans Blue Spot Fish Vans Blue Spot Fish Vans Blue Spot Fish Vans Blue Spot Fish Vans Blue Spot Fish Vans Blue Spot Fish Vans Blue Spot Fish Vans Blue Spot Fish Vans Blue Spot Fish Vans Blue Spot Fish Vans Blue Spot Fish Vans Blue Spot Fish Vans Blue Spot Fish Vans Blue Spot Fish Vans Blue Spot Fish Vans Blue Spot Fish Vans Blue Spot Fish Vans Blue Spot Fish Vans Blue Spot Fish Vans Blue Spot Fish Vans Blue Spot Fish Vans Blue Spot Fish Vans Blue Spot Fish Vans Blue Spot Fish Vans Blue Spot Fish Vans Blue Spot Fish Vans Blue Spot Fish Vans Blue Spot Fish Vans Blue Spot Fish Vans Blue Spot Fish Vans Blue Spot Fish Vans Blue Spot Fish Vans Blue Spot Fish Vans Blue Spot Fish Vans Blue Spot Fish Vans Blue Spot Fish Vans Blue Spot Fish Vans Blue Spot Fish Vans Blue Spot Fish Vans Blue Spot Fish Vans Blue Spot Fish Vans Blue Spot Fish Vans Blue Spot Fish Vans Blue Spot Fish Vans Blue Spot Fish Vans Blue Spot Fish Vans Blue Spot Fish Vans Blue Spot Fish Vans Blue Spot Fish Vans Blue Spot Fish Vans Blue Spot Fish Vans Blue Spot Fish Vans Blue Spot Fish Vans Blue Spot Fish Vans Blue Spot Fish Vans Blue Spot Fish Vans Blue Spot Fish Vans Blue Spot Fish Vans Blue Spot Fish Vans Blue Spot Fish Vans Blue Spot Fish Vans Blue Spot Fish Vans Blue Spot Fish Vans Blue Spot Fish Vans Blue Spot Fish Vans Blue Spot Fish Vans Blue Spot Fish Vans Blue Spot Fish Vans Blue Spot Fish Vans Blue Spot Fish Vans Blue Spot Fish Vans Blue Spot Fish Vans Blue Spot Fish Vans Blue Spot Fish Vans Blue Spot Fish Vans Blue Spot Fish Vans Blue Spot Fish Vans Blue Spot Fish Vans Blue Spot Fish Vans Blue Spot Fish Vans Blue Spot Fish Vans Blue Spot Fish Vans Blue Spot Fish Vans Blue Spot Fish Vans Blue Spot Fish Vans Blue Spot Fish Vans Blue Spot Fish Vans Blue Spot Fish Vans Blue Spot Fish Vans Blue Spot Fish Vans Blue Spot Fish Vans Blue Spot Fish Vans Blue Spot Fish Vans Blue Spot Fish Vans Blue Spot Fish Vans Blue Spot Fish Vans Blue Spot Fish Vans Blue Spot Fish Vans Blue Spot Fish Vans Blue Spot Fish Vans Blue Spot Fish Vans Blue Spot Fish Vans Blue Spot Fish Vans Blue Spot Fish Vans Blue Spot Fish Vans Blue Spot Fish Vans Blue Spot Fish Vans Blue Spot Fish Vans Blue Spot Fish Vans Blue Spot Fish Vans Blue Spot Fish Vans Blue Spot Fish Vans Blue Spot Fish Vans Blue Spot Fish Vans Blue Spot Fish Vans Blue Spot Fish Vans Blue Spot Fish Vans Blue Spot Fish Vans Blue Spot Fish Vans Blue Spot Fish Vans Blue Spot Fish Vans Blue Spot Fish Vans Blue Spot Fish Vans Blue Spot Fish Vans Blue Spot Fish Vans Blue Spot Fish Vans Blue Spot Fish Vans Blue Spot Fish Vans Blue Spot Fish Vans Blue Spot Fish Vans Blue Spot Fish Vans Blue Spot Fish Vans Blue Spot Fish Vans Blue Spot Fish Vans Blue Spot Fish Vans Blue Spot Fish Vans Blue Spot Fish Vans Blue Spot Fish Vans Blue Spot Fish Vans Blue Spot Fish Vans Blue Spot Fish Vans Blue Spot Fish Vans Blue Spot Fish Vans Blue Spot Fish Vans Blue Spot Fish Vans Blue Spot Fish Vans Blue Spot Fish Vans Blue Spot Fish Vans Blue Spot Fish Vans Blue Spot Fish Vans Blue Spot Fish Vans Blue Spot Fish Vans Blue Spot Fish Vans Blue Spot Fish Vans Blue Spot Fish Vans Blue Spot Fish Vans Blue Spot Fish Vans Blue Spot Fish Vans Blue Spot Fish Vans Blue Spot Fish Vans Blue Spot Fish Vans Blue Spot Fish Vans Blue Spot Fish Vans Blue Spot Fish Vans Blue Spot Fish Vans Blue Spot Fish Vans Blue Spot Fish Vans Blue Spot Fish Vans Blue Spot Fish Vans Blue Spot Fish Vans Blue Spot Fish Vans Blue Spot Fish Vans Blue Spot Fish Vans Blue Spot Fish Vans Blue Spot Fish Vans Blue Spot Fish Vans Blue Spot Fish Vans Blue Spot Fish Vans Blue Spot Fish Vans Blue Spot Fish Vans Blue Spot Fish Vans Blue Spot Fish Vans Blue Spot Fish Vans Blue Spot Fish Vans Blue Spot Fish Vans Blue Spot Fish Vans Blue Spot Fish Vans Blue Spot Fish Vans Blue Spot Fish Vans Blue Spot Fish Vans Blue Spot Fish Vans Blue Spot Fish Vans Blue Spot Fish Vans Blue Spot Fish Vans Blue Spot Fish Vans Blue Spot Fish Vans Blue Spot Fish Vans Blue Spot Fish Vans Blue Spot Fish Vans Blue Spot Fish Vans Blue Spot Fish Vans Blue Spot Fish Vans Blue Spot Fish Vans Blue Spot Fish Vans Blue Spot Fish Vans Blue Spot Fish Vans Blue Spot Fish Vans Blue Spot Fish Vans Blue Spot Fish Vans Blue Spot Fish Vans Blue Spot Fish Vans Blue Spot Fish Vans Blue Spot Fish Vans Blue Spot Fish Vans Blue Spot Fish Vans Blue Spot Fish Vans Blue Spot Fish Vans Blue Spot Fish Vans Blue Spot Fish Vans Blue Spot Fish Vans Blue Spot Fish Vans Blue Spot Fish Vans Blue Spot Fish Vans Blue Spot Fish Vans Blue Spot Fish Vans Blue Spot Fish Vans Blue Spot Fish Vans Blue Spot Fish Vans Blue Spot Fish Vans Blue Spot Fish Vans Blue Spot Fish Vans Blue Spot Fish Vans Blue Spot Fish Vans Blue Spot Fish Vans Blue Spot Fish Vans Blue Spot Fish Vans Blue Spot Fish Vans Blue Spot Fish Vans Blue Spot Fish Vans Blue Spot Fish Vans Blue Spot Fish Vans Blue Spot Fish Vans Blue Spot Fish Vans Blue Spot Fish Vans Blue Spot Fish Vans Blue Spot Fish Vans Blue Spot Fish Vans Blue Spot Fish Vans Blue Spot Fish Vans Blue Spot Fish Vans Blue Spot Fish Vans Blue Spot Fish Vans Blue Spot Fish Vans Blue Spot Fish Vans Blue Spot Fish Vans Blue Spot Fish Vans Blue Spot Fish Vans Blue Spot Fish Vans Blue Spot Fish Vans Blue Spot Fish Vans Blue Spot Fish Vans Blue Spot Fish Vans Blue Spot Fish Vans Blue Spot Fish Vans Blue Spot Fish Vans Blue Spot Fish Vans Blue Spot Fish Vans Blue Spot Fish Vans Blue Spot Fish Vans Blue Spot Fish Vans Blue Spot Fish Vans Blue Spot Fish Vans Blue Spot Fish Vans Blue Spot Fish Vans Blue Spot Fish Vans Blue Spot Fish Vans Blue Spot Fish Vans Blue Spot Fish Vans Blue Spot Fish Vans Blue Spot Fish Vans Blue Spot Fish Vans Blue Spot Fish Vans Blue Spot Fish Vans Blue Spot Fish Vans Blue Spot Fish Vans Blue Spot Fish Vans Blue Spot Fish Vans Blue Spot Fish Vans Blue Spot Fish Vans Blue Spot Fish Vans Blue Spot Fish Vans Blue Spot Fish Vans Blue Spot Fish Vans Blue Spot Fish Vans Blue Spot Fish Vans Blue Spot Fish Vans Blue Spot Fish Vans Blue Spot Fish Vans Blue Spot Fish Vans Blue Spot Fish Vans Blue Spot Fish Vans Blue Spot Fish Vans Blue Spot Fish Vans Blue Spot Fish Vans Blue Spot Fish Vans Blue Spot Fish Vans Blue Spot Fish Vans Blue Spot Fish Vans Blue Spot Fish Vans Blue Spot Fish Vans Blue Spot Fish Vans Blue Spot Fish Vans Blue Spot Fish Vans Blue Spot Fish Vans Blue Spot Fish Vans Blue Spot Fish Vans Blue Spot Fish Vans Blue Spot Fish Vans Blue Spot Fish Vans Blue Spot Fish Vans Blue Spot Fish Vans Blue Spot Fish Vans Blue Spot Fish Vans Blue Spot Fish Vans Blue Spot Fish Vans Blue Spot Fish Vans Blue Spot Fish Vans Blue Spot Fish Vans Blue Spot Fish Vans Blue Spot Fish Vans Blue Spot Fish Vans Blue Spot Fish Vans Blue Spot Fish Vans Blue Spot Fish Vans Blue Spot Fish Vans Blue Spot Fish Vans Blue Spot Fish Vans Blue Spot Fish Vans Blue Spot Fish Vans Blue Spot Fish Vans Blue Spot Fish Vans Blue Spot Fish Vans Blue Spot Fish Vans Blue Spot Fish Vans Blue Spot Fish Vans Blue Spot Fish Vans Blue Spot Fish Vans Blue Spot Fish Vans Blue Spot Fish Vans Blue Spot Fish Vans Blue Spot Fish Vans Blue Spot Fish Vans Blue Spot Fish Vans Blue Spot Fish Vans Blue Spot Fish Vans Blue Spot Fish Vans Blue Spot Fish Vans Blue Spot Fish Vans Blue Spot Fish Vans Blue Spot Fish Vans Blue Spot Fish Vans Blue Spot Fish Vans Blue Spot Fish Vans Blue Spot Fish Vans Blue Spot Fish Vans Blue Spot Fish Vans Blue Spot Fish Vans Blue Spot Fish Vans Blue Spot Fish Vans Blue Spot Fish Vans Blue Spot Fish Vans Blue Spot Fish Vans Blue Spot Fish Vans Blue Spot Fish Vans Blue Spot Fish Vans Blue Spot Fish Vans Blue Spot Fish Vans Blue Spot Fish Vans Blue Spot Fish Vans Blue Spot Fish Vans Blue Spot Fish Vans Blue Spot Fish Vans Blue Spot Fish Vans Blue Spot Fish Vans Blue Spot Fish Vans Blue Spot Fish Vans Blue Spot Fish Vans Blue Spot Fish Vans Blue Spot Fish Vans Blue Spot Fish Vans Blue Spot Fish Vans Blue Spot Fish Vans Blue Spot Fish Vans Blue Spot Fish Vans Blue Spot Fish Vans Blue Spot Fish Vans Blue Spot Fish Vans Blue Spot Fish Vans Blue Spot Fish Vans Blue Spot Fish Vans Blue Spot Fish Vans Blue Spot Fish Vans Blue Spot Fish Vans Blue Spot Fish Vans Blue Spot Fish Vans Blue Spot Fish Vans Blue Spot Fish Vans Blue Spot Fish Vans Blue Spot Fish Vans Blue Spot Fish Vans Blue Spot Fish Vans Blue Spot Fish Vans Blue Spot Fish Vans Blue Spot Fish Vans Blue Spot Fish Vans Blue Spot Fish Vans Blue Spot Fish Vans Blue Spot Fish Vans Blue Spot Fish Vans Blue Spot Fish Vans Blue Spot Fish Vans Blue Spot Fish Vans Blue Spot Fish Vans Blue Spot Fish Vans Blue Spot Fish Vans Blue Spot Fish Vans Blue Spot Fish Vans Blue Spot Fish Vans Blue Spot Fish Vans Blue Spot Fish Vans Blue Spot Fish Vans Blue Spot Fish Vans Blue Spot Fish Vans Blue Spot Fish Vans Blue Spot Fish Vans Blue Spot Fish Vans Blue Spot Fish Vans Blue Spot Fish Vans Blue Spot Fish Vans Blue Spot Fish Vans Blue Spot Fish Vans Blue Spot Fish Vans Blue Spot Fish Vans Blue Spot Fish Vans Blue Spot Fish Vans Blue Spot Fish Vans Blue Spot Fish Vans Blue Spot Fish Vans Blue Spot Fish Vans Blue Spot Fish Vans Blue Spot Fish Vans Blue Spot Fish Vans Blue Spot Fish Vans Blue Spot Fish Vans Blue Spot Fish Vans Blue Spot Fish Vans Blue Spot Fish Vans Blue Spot Fish Vans Blue Spot Fish Vans Blue Spot Fish Vans Blue Spot Fish Vans Blue Spot Fish Vans Blue Spot Fish Vans Blue Spot Fish Vans Blue Spot Fish Vans Blue Spot Fish Vans Blue Spot Fish Vans Blue Spot Fish Vans Blue Spot Fish Vans Blue Spot Fish Vans Blue Spot Fish Vans Blue Spot Fish Vans Blue Spot Fish Vans Blue Spot Fish Vans Blue Spot Fish Vans Blue Spot Fish Vans Blue Spot Fish Vans Blue Spot Fish Vans Blue Spot Fish Vans Blue Spot Fish Vans Blue Spot Fish Vans Blue Spot Fish Vans Blue Spot Fish Vans Blue Spot Fish Vans Blue Spot Fish Vans Blue Spot Fish Vans Blue Spot Fish Vans Blue Spot Fish Vans Blue Spot Fish Vans Blue Spot Fish Vans Blue Spot Fish Vans Blue Spot Fish Vans Blue Spot Fish Vans Blue Spot Fish Vans Blue Spot Fish Vans Blue Spot Fish Vans Blue Spot Fish Vans Blue Spot Fish Vans Blue Spot Fish Vans Blue Spot Fish Vans Blue Spot Fish Vans Blue Spot Fish Vans Blue Spot Fish Vans Blue Spot Fish Vans Blue Spot Fish Vans Blue Spot Fish Vans Blue Spot Fish Vans Blue Spot Fish Vans Blue Spot Fish Vans Blue Spot Fish Vans Blue Spot Fish Vans Blue Spot Fish Vans Blue Spot Fish Vans Blue Spot Fish Vans Blue Spot Fish Vans Blue Spot Fish Vans Blue Spot Fish Vans Blue Spot Fish Vans Blue Spot Fish Vans Blue Spot Fish Vans Blue Spot Fish Vans Blue Spot Fish Vans Blue Spot Fish Vans Blue Spot Fish Vans Blue Spot Fish Vans Blue Spot Fish Vans Blue Spot Fish Vans Blue Spot Fish Vans Blue Spot Fish Vans Blue Spot Fish Vans Blue Spot Fish Vans Blue Spot Fish Vans Blue Spot Fish Vans Blue Spot Fish Vans Blue Spot Fish Vans Blue Spot Fish Vans Blue Spot Fish Vans Blue Spot Fish Vans Blue Spot Fish Vans Blue Spot Fish Vans Blue Spot Fish Vans Blue Spot Fish Vans Blue Spot Fish Vans Blue Spot Fish Vans Blue Spot Fish Vans Blue Spot Fish Vans Blue Spot Fish Vans Blue Spot Fish Vans Blue Spot Fish Vans Blue Spot Fish Vans Blue Spot Fish Vans Blue Spot Fish Vans Blue Spot Fish Vans Blue Spot Fish Vans Blue Spot Fish Vans Blue Spot Fish Vans Blue Spot Fish Vans Blue Spot Fish Vans Blue Spot Fish Vans Blue Spot Fish Vans Blue Spot Fish Vans Blue Spot Fish Vans Blue Spot Fish Vans Blue Spot Fish Vans Blue Spot Fish Vans Blue Spot Fish Vans Blue Spot Fish Vans Blue Spot Fish Vans Blue Spot Fish Vans Blue Spot Fish Vans Blue Spot Fish Vans Blue Spot Fish Vans Blue Spot Fish Vans Blue Spot Fish Vans Blue Spot Fish Vans Blue Spot Fish Vans Blue Spot Fish Vans Blue Spot Fish Vans Blue Spot Fish Vans Blue Spot Fish Vans Blue Spot Fish Vans Blue Spot Fish Vans Blue Spot Fish Vans Blue Spot Fish Vans Blue Spot Fish Vans Blue Spot Fish Vans Blue Spot Fish Vans Blue Spot Fish Vans Blue Spot Fish Vans Blue Spot Fish Vans Blue Spot Fish Vans Blue Spot Fish Vans Blue Spot Fish Vans Blue Spot Fish Vans Blue Spot Fish Vans Blue Spot Fish Vans Blue Spot Fish Vans Blue Spot Fish Vans Blue Spot Fish Vans Blue Spot Fish Vans Blue Spot Fish Vans Blue Spot Fish Vans Blue Spot Fish Vans Blue Spot Fish Vans Blue Spot Fish Vans Blue Spot Fish Vans Blue Spot Fish Vans Blue Spot Fish Vans Blue Spot Fish Vans Blue Spot Fish Vans Blue Spot Fish Vans Blue Spot Fish Vans Blue Spot Fish Vans Blue Spot Fish Vans Blue Spot Fish Vans Blue Spot Fish Vans Blue Spot Fish Vans Blue Spot Fish Vans Blue Spot Fish Vans Blue Spot Fish Vans Blue Spot Fish Vans Blue Spot Fish Vans Blue Spot Fish Vans Blue Spot Fish Vans Blue Spot Fish Vans Blue Spot Fish Vans Blue Spot Fish Vans Blue Spot Fish Vans Blue Spot Fish Vans Blue Spot Fish Vans Blue Spot Fish Vans Blue Spot Fish Vans Blue Spot Fish Vans Blue Spot Fish Vans Blue Spot Fish Vans Blue Spot Fish Vans Blue Spot Fish Vans Blue Spot Fish Vans Blue Spot Fish Vans Blue Spot Fish Vans Blue Spot Fish Vans Blue Spot Fish Vans Blue Spot Fish Vans Blue Spot Fish Vans Blue Spot Fish Vans Blue Spot Fish Vans Blue Spot Fish Vans Blue Spot Fish Vans Blue Spot Fish Vans Blue Spot Fish Vans Blue Spot Fish Vans Blue Spot Fish Vans Blue Spot Fish Vans Blue Spot Fish Vans Blue Spot Fish Vans Blue Spot Fish Vans Blue Spot Fish Vans Blue Spot Fish Vans Blue Spot Fish Vans Blue Spot Fish Vans Blue Spot Fish Vans Blue Spot Fish Vans Blue Spot Fish Vans Blue Spot Fish Vans Blue Spot Fish Vans Blue Spot Fish Vans Blue Spot Fish Vans Blue Spot Fish Vans Blue Spot Fish Vans Blue Spot Fish Vans Blue Spot Fish Vans Blue Spot Fish Vans Blue Spot Fish Vans Blue Spot Fish Vans Blue Spot Fish Vans Blue Spot Fish Vans Blue Spot Fish Vans Blue Spot Fish Vans Blue Spot Fish Vans Blue Spot Fish Vans Blue Spot Fish Vans Blue Spot Fish Vans Blue Spot Fish Vans Blue Spot Fish Vans Blue Spot Fish Vans Blue Spot Fish Vans Blue Spot Fish Vans Blue Spot Fish Vans Blue Spot Fish Vans Blue Spot Fish Vans Blue Spot Fish Vans Blue Spot Fish Vans Blue Spot Fish Vans Blue Spot Fish Vans Blue Spot Fish Vans Blue Spot Fish Vans Blue Spot Fish Vans Blue Spot Fish Vans Blue Spot Fish Vans Blue Spot Fish Vans Blue Spot Fish Vans Blue Spot Fish Vans Blue Spot Fish Vans Blue Spot Fish Vans Blue Spot Fish Vans Blue Spot Fish Vans Blue Spot Fish Vans Blue Spot Fish Vans Blue Spot Fish Vans Blue Spot Fish Vans Blue Spot Fish Vans Blue Spot Fish Vans Blue Spot Fish Vans Blue Spot Fish Vans Blue Spot Fish Vans Blue Spot Fish Vans Blue Spot Fish Vans Blue Spot Fish Vans Blue Spot Fish Vans Blue Spot Fish Vans Blue Spot Fish Vans Blue Spot Fish Vans Blue Spot Fish Vans Blue Spot Fish Vans Blue Spot Fish Vans Blue Spot Fish Vans Blue Spot Fish Vans Blue Spot Fish Vans Blue Spot Fish Vans Blue Spot Fish Vans Blue Spot Fish Vans Blue Spot Fish Vans Blue Spot Fish Vans Blue Spot Fish Vans Blue Spot Fish Vans Blue Spot Fish Vans Blue Spot Fish Vans Blue Spot Fish Vans Blue Spot Fish Vans Blue Spot Fish Vans Blue Spot Fish Vans Blue Spot Fish Vans Blue Spot Fish Vans Blue Spot Fish Vans Blue Spot Fish Vans Blue Spot Fish Vans Blue Spot Fish Vans Blue Spot Fish Vans Blue Spot Fish Vans Blue Spot Fish Vans Blue Spot Fish Vans Blue Spot Fish Vans Blue Spot Fish Vans Blue Spot Fish Vans Blue Spot Fish Vans Blue Spot Fish Vans Blue Spot Fish Vans Blue Spot Fish Vans Blue Spot Fish Vans Blue Spot Fish Vans Blue Spot Fish Vans Blue Spot Fish Vans Blue Spot Fish Vans Blue Spot Fish Vans Blue Spot Fish Vans Blue Spot Fish Vans Blue Spot Fish Vans Blue Spot Fish Vans Blue Spot Fish Vans Blue Spot Fish Vans Blue Spot Fish Vans Blue Spot Fish Vans Blue Spot Fish Vans Blue Spot Fish Vans Blue Spot Fish Vans Blue Spot Fish Vans Blue Spot Fish Vans Blue Spot Fish Vans Blue Spot Fish Vans Blue Spot Fish Vans Blue Spot Fish Vans Blue Spot Fish Vans Blue Spot Fish Vans Blue Spot Fish Vans Blue Spot Fish Vans Blue Spot Fish Vans Blue Spot Fish Vans Blue Spot Fish Vans Blue Spot Fish Vans Blue Spot Fish Vans Blue Spot Fish Vans Blue Spot Fish Vans Blue Spot Fish Vans Blue Spot Fish Vans Blue Spot Fish Vans Blue Spot Fish Vans Blue Spot Fish Vans Blue Spot Fish Vans Blue Spot Fish Vans Blue Spot Fish Vans Blue Spot Fish Vans Blue Spot Fish Vans Blue Spot Fish Vans Blue Spot Fish Vans Blue Spot Fish Vans Blue Spot Fish Vans Blue Spot Fish Vans Blue Spot Fish Vans Blue Spot Fish Vans Blue Spot Fish Vans Blue Spot Fish Vans Blue Spot Fish Vans Blue Spot Fish Vans Blue Spot Fish Vans Blue Spot Fish Vans Blue Spot Fish Vans Blue Spot Fish Vans Blue Spot Fish Vans Blue Spot Fish Vans Blue Spot Fish Vans Blue Spot Fish Vans Blue Spot Fish Vans Blue Spot Fish Vans Blue Spot Fish Vans Blue Spot Fish Vans Blue Spot Fish Vans Blue Spot Fish Vans Blue Spot Fish Vans Blue Spot Fish Vans Blue Spot Fish Vans Blue Spot Fish Vans Blue Spot Fish Vans Blue Spot Fish Vans Blue Spot Fish Vans Blue Spot Fish Vans Blue Spot Fish Vans Blue Spot Fish Vans Blue Spot Fish Vans Blue Spot Fish Vans Blue Spot Fish Vans Blue Spot Fish Vans Blue Spot Fish Vans Blue Spot Fish Vans Blue Spot Fish Vans Blue Spot Fish Vans Blue Spot Fish Vans Blue Spot Fish Vans Blue Spot Fish Vans Blue Spot Fish Vans Blue Spot Fish Vans Blue Spot Fish Vans Blue Spot Fish Vans Blue Spot Fish Vans Blue Spot Fish Vans Blue Spot Fish Vans Blue Spot Fish Vans Blue Spot Fish Vans Blue Spot Fish Vans Blue Spot Fish Vans Blue Spot Fish Vans Blue Spot Fish Vans Blue Spot Fish Vans Blue Spot Fish Vans Blue Spot Fish Vans Blue Spot Fish Vans Blue Spot Fish Vans Blue Spot Fish Vans Blue Spot Fish Vans Blue Spot Fish Vans Blue Spot Fish Vans Blue Spot Fish Vans Blue Spot Fish Vans Blue Spot Fish Vans Blue Spot Fish Vans Blue Spot Fish Vans Blue Spot Fish Vans Blue Spot Fish Vans Blue Spot Fish Vans Blue Spot Fish Vans Blue Spot Fish Vans Blue Spot Fish Vans Blue Spot Fish Vans Blue Spot Fish Vans Blue Spot Fish Vans Blue Spot Fish Vans Blue Spot Fish Vans Blue Spot Fish Vans Blue Spot Fish Vans Blue Spot Fish Vans Blue Spot Fish Vans Blue Spot Fish Vans Blue Spot Fish Vans Blue Spot Fish Vans Blue Spot Fish Vans Blue Spot Fish Vans Blue Spot Fish Vans Blue Spot Fish Vans Blue Spot Fish Vans Blue Spot Fish Vans Blue Spot Fish Vans Blue Spot Fish Vans Blue Spot Fish Vans Blue Spot Fish Vans Blue Spot Fish Vans Blue Spot Fish Vans Blue Spot Fish Vans Blue Spot Fish Vans Blue Spot Fish Vans Blue Spot Fish Vans Blue Spot Fish Vans Blue Spot Fish Vans Blue Spot Fish Vans Blue Spot Fish Vans Blue Spot Fish Vans Blue Spot Fish Vans Blue Spot Fish Vans Blue Spot Fish Vans Blue Spot Fish Vans Blue Spot Fish Vans Blue Spot Fish Vans Blue Spot Fish Vans Blue Spot Fish Vans Blue Spot Fish Vans Blue Spot Fish Vans Blue Spot Fish Vans Blue Spot Fish Vans Blue Spot Fish Vans Blue Spot Fish Vans Blue Spot Fish Vans Blue Spot Fish Vans Blue Spot Fish Vans Blue Spot Fish Vans Blue Spot Fish Vans Blue Spot Fish Vans Blue Spot Fish Vans Blue Spot Fish Vans Blue Spot Fish Vans Blue Spot Fish Vans Blue Spot Fish Vans Blue Spot Fish Vans Blue Spot Fish Vans Blue Spot Fish Vans Blue Spot Fish Vans Blue Spot Fish Vans Blue Spot Fish Vans Blue Spot Fish Vans Blue Spot Fish Vans Blue Spot Fish Vans Blue Spot Fish Vans Blue Spot Fish Vans Blue Spot Fish Vans Blue Spot Fish Vans Blue Spot Fish Vans Blue Spot Fish Vans Blue Spot Fish Vans Blue Spot Fish Vans Blue Spot Fish Vans Blue Spot Fish Vans Blue Spot Fish Vans Blue Spot Fish Vans Blue Spot Fish Vans Blue Spot Fish Vans Blue Spot Fish Vans Blue Spot Fish Vans Blue Spot Fish Vans Blue Spot Fish Vans Blue Spot Fish Vans Blue Spot Fish Vans Blue Spot Fish Vans Blue Spot Fish Vans Blue Spot Fish Vans Blue Spot Fish Vans Blue Spot Fish Vans Blue Spot Fish Vans Blue Spot Fish Vans Blue Spot Fish Vans Blue Spot Fish Vans Blue Spot Fish Vans Blue Spot Fish Vans Blue Spot Fish Vans Blue Spot Fish Vans Blue Spot Fish Vans Blue Spot Fish Vans Blue Spot Fish Vans Blue Spot Fish Vans Blue Spot Fish Vans Blue Spot Fish Vans Blue Spot Fish Vans Blue Spot Fish Vans Blue Spot Fish Vans Blue Spot Fish Vans Blue Spot Fish Vans Blue Spot Fish Vans Blue Spot Fish Vans Blue Spot Fish Vans Blue Spot Fish Vans Blue Spot Fish Vans Blue Spot Fish Vans Blue Spot Fish Vans Blue Spot Fish Vans Blue Spot Fish Vans Blue Spot Fish Vans Blue Spot Fish Vans Blue Spot Fish Vans Blue Spot Fish Vans Blue Spot Fish Vans Blue Spot Fish Vans Blue Spot Fish Vans Blue Spot Fish Vans Blue Spot Fish Vans Blue Spot Fish Vans Blue Spot Fish Vans Blue Spot Fish Vans Blue Spot Fish Vans Blue Spot Fish Vans Blue Spot Fish Vans Blue Spot Fish Vans Blue Spot Fish Vans Blue Spot Fish Vans Blue Spot Fish Vans Blue Spot Fish Vans Blue Spot Fish Vans Blue Spot Fish Vans Blue Spot Fish Vans Blue Spot Fish Vans Blue Spot Fish Vans Blue Spot Fish Vans Blue Spot Fish Vans Blue Spot Fish Vans Blue Spot Fish Vans Blue Spot Fish Vans Blue Spot Fish Vans Blue Spot Fish Vans Blue Spot Fish Vans Blue Spot Fish Vans Blue Spot Fish Vans Blue Spot Fish Vans Blue Spot Fish Vans Blue Spot Fish Vans Blue Spot Fish Vans Blue Spot Fish Vans Blue Spot Fish Vans Blue Spot Fish Vans Blue Spot Fish Vans Blue Spot Fish Vans Blue Spot Fish Vans Blue Spot Fish Vans Blue Spot Fish Vans Blue Spot Fish Vans Blue Spot Fish Vans Blue Spot Fish Vans Blue Spot Fish Vans Blue Spot Fish Vans Blue Spot Fish Vans Blue Spot Fish Vans Blue Spot Fish Vans Blue Spot Fish Vans Blue Spot Fish Vans Blue Spot Fish Vans Blue Spot Fish Vans Blue Spot Fish Vans Blue Spot Fish Vans Blue Spot Fish Vans Blue Spot Fish Vans Blue Spot Fish Vans Blue Spot Fish Vans Blue Spot Fish Vans Blue Spot Fish Vans Blue Spot Fish Vans Blue Spot Fish Vans Blue Spot Fish Vans Blue Spot Fish Vans Blue Spot Fish Vans Blue Spot Fish Vans Blue Spot Fish Vans Blue Spot Fish Vans Blue Spot Fish Vans Blue Spot Fish Vans Blue Spot Fish Vans Blue Spot Fish Vans Blue Spot Fish Vans Blue Spot Fish Vans Blue Spot Fish Vans Blue Spot Fish Vans Blue Spot Fish Vans Blue Spot Fish Vans Blue Spot Fish Vans Blue Spot Fish Vans Blue Spot Fish Vans Blue Spot Fish Vans Blue Spot Fish Vans Blue Spot Fish Vans Blue Spot Fish Vans Blue Spot Fish Vans Blue Spot Fish Vans Blue Spot Fish Vans Blue Spot Fish Vans Blue Spot Fish Vans Blue Spot Fish Vans Blue Spot Fish Vans Blue Spot Fish Vans Blue Spot Fish Vans Blue Spot Fish Vans Blue Spot Fish Vans Blue Spot Fish Vans Blue Spot Fish Vans Blue Spot Fish Vans Blue Spot Fish Vans Blue Spot Fish Vans Blue Spot Fish Vans Blue Spot Fish Vans Blue Spot Fish Vans Blue Spot Fish Vans Blue Spot Fish Vans Blue Spot Fish Vans Blue Spot Fish Vans Blue Spot Fish Vans Blue Spot Fish Vans Blue Spot Fish Vans Blue Spot Fish Vans Blue Spot Fish Vans Blue Spot Fish Vans Blue Spot Fish Vans Blue Spot Fish Vans Blue Spot Fish Vans Blue Spot Fish Vans Blue Spot Fish Vans Blue Spot Fish Vans Blue Spot Fish Vans Blue Spot Fish Vans Blue Spot Fish Vans Blue Spot Fish Vans Blue Spot Fish Vans Blue Spot Fish Vans Blue Spot Fish Vans Blue Spot Fish Vans Blue Spot Fish Vans Blue Spot Fish Vans Blue Spot Fish Vans Blue Spot Fish Vans Blue Spot Fish Vans Blue Spot Fish Vans Blue Spot Fish Vans Blue Spot Fish Vans Blue Spot Fish Vans Blue Spot Fish Vans Blue Spot Fish Vans Blue Spot Fish Vans Blue Spot Fish Vans Blue Spot Fish Vans Blue Spot Fish Vans Blue Spot Fish Vans Blue Spot Fish Vans Blue Spot Fish Vans Blue Spot Fish Vans Blue Spot Fish Vans Blue Spot Fish Vans Blue Spot Fish Vans Blue Spot Fish Vans Blue Spot Fish Vans Blue Spot Fish Vans Blue Spot Fish Vans Blue Spot Fish Vans Blue Spot Fish Vans Blue Spot Fish Vans Blue Spot Fish Vans Blue Spot Fish Vans Blue Spot Fish Vans Blue Spot Fish Vans Blue Spot Fish Vans Blue Spot Fish Vans Blue Spot Fish Vans Blue Spot Fish Vans Blue Spot Fish Vans Blue Spot Fish Vans Blue Spot Fish Vans Blue Spot Fish Vans Blue Spot Fish Vans Blue Spot Fish Vans Blue Spot Fish Vans Blue Spot Fish Vans Blue Spot Fish Vans Blue Spot Fish Vans Blue Spot Fish Vans Blue Spot Fish Vans Blue Spot Fish Vans Blue Spot Fish Vans Blue Spot Fish Vans Blue Spot Fish Vans Blue Spot Fish Vans Blue Spot Fish Vans Blue Spot Fish Vans Blue Spot Fish Vans Blue Spot Fish Vans Blue Spot Fish Vans Blue Spot Fish Vans Blue Spot Fish Vans Blue Spot Fish Vans Blue Spot Fish Vans Blue Spot Fish Vans Blue Spot Fish Vans Blue Spot Fish Vans Blue Spot Fish Vans Blue Spot Fish Vans Blue Spot Fish Vans Blue Spot Fish Vans Blue Spot Fish Vans Blue Spot Fish Vans Blue Spot Fish Vans Blue Spot Fish Vans Blue Spot Fish Vans Blue Spot Fish Vans Blue Spot Fish Vans Blue Spot Fish Vans Blue Spot Fish Vans Blue Spot Fish Vans Blue Spot Fish Vans Blue Spot Fish Vans Blue Spot Fish Vans Blue Spot Fish Vans Blue Spot Fish Vans Blue Spot Fish Vans Blue Spot Fish Vans Blue Spot Fish Vans Blue Spot Fish Vans Blue Spot Fish Vans Blue Spot Fish Vans Blue Spot Fish Vans Blue Spot Fish Vans Blue Spot Fish Vans Blue Spot Fish Vans Blue Spot Fish Vans Blue Spot Fish Vans Blue Spot Fish Vans Blue Spot Fish Vans Blue Spot Fish Vans Blue Spot Fish Vans Blue Spot Fish Vans Blue Spot Fish Vans Blue Spot Fish Vans Blue Spot Fish Vans Blue Spot Fish Vans Blue Spot Fish Vans Blue Spot Fish Vans Blue Spot Fish Vans Blue Spot Fish Vans Blue Spot Fish Vans Blue Spot Fish Vans Blue Spot Fish Vans Blue Spot Fish Vans Blue Spot Fish Vans Blue Spot Fish Vans Blue Spot Fish Vans Blue Spot Fish Vans Blue Spot Fish Vans Blue Spot Fish Vans Blue Spot Fish Vans Blue Spot Fish Vans Blue Spot Fish Vans Blue Spot Fish Vans Blue Spot Fish Vans Blue Spot Fish Vans Blue Spot Fish Vans Blue Spot Fish Vans Blue Spot Fish Vans Blue Spot Fish Vans Blue Spot Fish Vans Blue Spot Fish Vans Blue Spot Fish Vans Blue Spot Fish Vans Blue Spot Fish Vans Blue Spot Fish Vans Blue Spot Fish Vans Blue Spot Fish Vans Blue Spot Fish Vans Blue Spot Fish Vans Blue Spot Fish Vans Blue Spot Fish Vans Blue Spot Fish Vans Blue Spot Fish Vans Blue Spot Fish Vans Blue Spot Fish Vans Blue Spot Fish Vans Blue Spot Fish Vans Blue Spot Fish Vans Blue Spot Fish Vans Blue Spot Fish Vans Blue Spot Fish Vans Blue Spot Fish Vans Blue Spot Fish Vans Blue Spot Fish Vans Blue Spot Fish Vans Blue Spot Fish Vans Blue Spot Fish Vans Blue Spot Fish Vans Blue Spot Fish Vans Blue Spot Fish Vans Blue Spot Fish Vans Blue Spot Fish Vans Blue Spot Fish Vans Blue Spot Fish Vans Blue Spot Fish Vans Blue Spot Fish Vans Blue Spot Fish Vans Blue Spot Fish Vans Blue Spot Fish Vans Blue Spot Fish Vans Blue Spot Fish Vans Blue Spot Fish Vans Blue Spot Fish Vans Blue Spot Fish Vans Blue Spot Fish Vans Blue Spot Fish Vans Blue Spot Fish Vans Blue Spot Fish Vans Blue Spot Fish Vans Blue Spot Fish Vans Blue Spot Fish Vans Blue Spot Fish Vans Blue Spot Fish Vans Blue Spot Fish Vans Blue Spot Fish Vans Blue Spot Fish Vans Blue Spot Fish Vans Blue Spot Fish Vans Blue Spot Fish Vans Blue Spot Fish Vans Blue Spot Fish Vans Blue Spot Fish Vans Blue Spot Fish Vans Blue Spot Fish Vans Blue Spot Fish Vans Blue Spot Fish Vans Blue Spot Fish Vans Blue Spot Fish Vans Blue Spot Fish Vans Blue Spot Fish Vans Blue Spot Fish Vans Blue Spot Fish Vans Blue Spot Fish Vans Blue Spot Fish Vans Blue Spot Fish Vans Blue Spot Fish Vans Blue Spot Fish Vans Blue Spot Fish Vans Blue Spot Fish Vans Blue Spot Fish Vans Blue Spot Fish Vans Blue Spot Fish Vans Blue Spot Fish Vans Blue Spot Fish Vans Blue Spot Fish Vans Blue Spot Fish Vans Blue Spot Fish Vans Blue Spot Fish Vans Blue Spot Fish Vans Blue Spot Fish Vans Blue Spot Fish Vans Blue Spot Fish Vans Blue Spot Fish Vans Blue Spot Fish Vans Blue Spot Fish Vans Blue Spot Fish Vans Blue Spot Fish Vans Blue Spot Fish Vans Blue Spot Fish Vans Blue Spot Fish Vans Blue Spot Fish Vans Blue Spot Fish Vans Blue Spot Fish Vans Blue Spot Fish Vans Blue Spot Fish Vans Blue Spot Fish Vans Blue Spot Fish Vans Blue Spot Fish Vans Blue Spot Fish Vans Blue Spot Fish Vans Blue Spot Fish Vans Blue Spot Fish Vans Blue Spot Fish Vans Blue Spot Fish Vans Blue Spot Fish Vans Blue Spot Fish Vans Blue Spot Fish Vans Blue Spot Fish Vans Blue Spot Fish Vans Blue Spot Fish Vans Blue Spot Fish Vans Blue Spot Fish Vans Blue Spot Fish Vans Blue Spot Fish Vans Blue Spot Fish Vans Blue Spot Fish Vans Blue Spot Fish Vans Blue Spot Fish Vans Blue Spot Fish Vans Blue Spot Fish Vans Blue Spot Fish Vans Blue Spot Fish Vans Blue Spot Fish Vans Blue Spot Fish Vans Blue Spot Fish Vans Blue Spot Fish Vans Blue Spot Fish Vans Blue Spot Fish Vans Blue Spot Fish Vans Blue Spot Fish Vans Blue Spot Fish Vans Blue Spot Fish Vans Blue Spot Fish Vans Blue Spot Fish Vans Blue Spot Fish Vans Blue Spot Fish Vans Blue Spot Fish Vans Blue Spot Fish Vans Blue Spot Fish Vans Blue Spot Fish Vans Blue Spot Fish Vans Blue Spot Fish Vans Blue Spot Fish Vans Blue Spot Fish Vans Blue Spot Fish Vans Blue Spot Fish Vans Blue Spot Fish Vans Blue Spot Fish Vans Blue Spot Fish Vans Blue Spot Fish Vans Blue Spot Fish Vans Blue Spot Fish Vans Blue Spot Fish Vans Blue Spot Fish Vans Blue Spot Fish Vans Blue Spot Fish Vans Blue Spot Fish Vans Blue Spot Fish Vans Blue Spot Fish Vans Blue Spot Fish Vans Blue Spot Fish Vans Blue Spot Fish Vans Blue Spot Fish Vans Blue Spot Fish Vans Blue Spot Fish Vans Blue Spot Fish Vans Blue Spot Fish Vans Blue Spot Fish Vans Blue Spot Fish Vans Blue Spot Fish Vans Blue Spot Fish Vans Blue Spot Fish Vans Blue Spot Fish Vans Blue Spot Fish Vans Blue Spot Fish Vans Blue Spot Fish Vans Blue Spot Fish Vans Blue Spot Fish Vans Blue Spot Fish Vans Blue Spot Fish Vans Blue Spot Fish Vans Blue Spot Fish Vans Blue Spot Fish Vans Blue Spot Fish Vans Blue Spot Fish Vans Blue Spot Fish Vans Blue Spot Fish Vans Blue Spot Fish Vans Blue Spot Fish Vans Blue Spot Fish Vans Blue Spot Fish Vans Blue Spot Fish Vans Blue Spot Fish Vans Blue Spot Fish Vans Blue Spot Fish Vans Blue Spot Fish Vans Blue Spot Fish Vans Blue Spot Fish Vans Blue Spot Fish Vans Blue Spot Fish Vans Blue Spot Fish Vans Blue Spot Fish Vans Blue Spot Fish Vans Blue Spot Fish Vans Blue Spot Fish Vans Blue Spot Fish Vans Blue Spot Fish Vans Blue Spot Fish Vans Blue Spot Fish Vans Blue Spot Fish Vans Blue Spot Fish Vans Blue Spot Fish Vans Blue Spot Fish Vans Blue Spot Fish Vans Blue Spot Fish Vans Blue Spot Fish Vans Blue Spot Fish Vans Blue Spot Fish Vans Blue Spot Fish Vans Blue Spot Fish Vans Blue Spot Fish Vans Blue Spot Fish Vans Blue Spot Fish Vans Blue Spot Fish Vans Blue Spot Fish Vans Blue Spot Fish Vans Blue Spot Fish Vans Blue Spot Fish Vans Blue Spot Fish Vans Blue Spot Fish Vans Blue Spot Fish Vans Blue Spot Fish Vans Blue Spot Fish Vans Blue Spot Fish Vans Blue Spot Fish Vans Blue Spot Fish Vans Blue Spot Fish Vans Blue Spot Fish Vans Blue Spot Fish Vans Blue Spot Fish Vans Blue Spot Fish Vans Blue Spot Fish Vans Blue Spot Fish Vans Blue Spot Fish Vans Blue Spot Fish Vans Blue Spot Fish Vans Blue Spot Fish Vans Blue Spot Fish Vans Blue Spot Fish Vans Blue Spot Fish Vans Blue Spot Fish Vans Blue Spot Fish Vans Blue Spot Fish Vans Blue Spot Fish Vans Blue Spot Fish Vans Blue Spot Fish Vans Blue Spot Fish Vans Blue Spot Fish Vans Blue Spot Fish Vans Blue Spot Fish Vans Blue Spot Fish Vans Blue Spot Fish Vans Blue Spot Fish Vans Blue Spot Fish Vans Blue Spot Fish Vans Blue Spot Fish Vans Blue Spot Fish Vans Blue Spot Fish Vans Blue Spot Fish Vans Blue Spot Fish Vans Blue Spot Fish Vans Blue Spot Fish Vans Blue Spot Fish Vans Blue Spot Fish Vans Blue Spot Fish Vans Blue Spot Fish Vans Blue Spot Fish Vans Blue Spot Fish Vans Blue Spot Fish Vans Blue Spot Fish Vans Blue Spot Fish Vans Blue Spot Fish Vans Blue Spot Fish Vans Blue Spot Fish Vans Blue Spot Fish Vans Blue Spot Fish Vans Blue Spot Fish Vans Blue Spot Fish Vans Blue Spot Fish Vans Blue Spot Fish Vans Blue Spot Fish Vans Blue Spot Fish Vans Blue Spot Fish Vans Blue Spot Fish Vans Blue Spot Fish Vans Blue Spot Fish Vans Blue Spot Fish Vans Blue Spot Fish Vans Blue Spot Fish Vans Blue Spot Fish Vans Blue Spot Fish Vans Blue Spot Fish Vans Blue Spot Fish Vans Blue Spot Fish Vans Blue Spot Fish Vans Blue Spot Fish Vans Blue Spot Fish Vans Blue Spot Fish Vans Blue Spot Fish Vans Blue Spot Fish Vans Blue Spot Fish Vans Blue Spot Fish Vans Blue Spot Fish Vans Blue Spot Fish Vans Blue Spot Fish Vans Blue Spot Fish Vans Blue Spot Fish Vans Blue Spot Fish Vans Blue Spot Fish Vans Blue Spot Fish Vans Blue Spot Fish Vans Blue Spot Fish Vans Blue Spot Fish Vans Blue Spot Fish Vans Blue Spot Fish Vans Blue Spot Fish Vans Blue Spot Fish Vans Blue Spot Fish Vans Blue Spot Fish Vans Blue Spot Fish Vans Blue Spot Fish Vans Blue Spot Fish Vans Blue Spot Fish Vans Blue Spot Fish Vans Blue Spot Fish Vans Blue Spot Fish Vans Blue Spot Fish Vans Blue Spot Fish Vans Blue Spot Fish Vans Blue Spot Fish Vans Blue Spot Fish Vans Blue Spot Fish Vans Blue Spot Fish Vans Blue Spot Fish Vans Blue Spot Fish Vans Blue Spot Fish Vans Blue Spot Fish Vans Blue Spot Fish Vans Blue Spot Fish Vans Blue Spot Fish Vans Blue Spot Fish Vans Blue Spot Fish Vans Blue Spot Fish Vans Blue Spot Fish Vans Blue Spot Fish Vans Blue Spot Fish Vans Blue Spot Fish Vans Blue Spot Fish Vans Blue Spot Fish Vans Blue Spot Fish Vans Blue Spot Fish Vans Blue Spot Fish Vans Blue Spot Fish Vans Blue Spot Fish Vans Blue Spot Fish Vans Blue Spot Fish Vans Blue Spot Fish Vans Blue Spot Fish Vans Blue Spot Fish Vans Blue Spot Fish Vans Blue Spot Fish Vans Blue Spot Fish Vans Blue Spot Fish Vans Blue Spot Fish Vans Blue Spot Fish Vans Blue Spot Fish Vans Blue Spot Fish Vans Blue Spot Fish Vans Blue Spot Fish Vans Blue Spot Fish Vans Blue Spot Fish Vans Blue Spot Fish Vans Blue Spot Fish Vans Blue Spot Fish Vans Blue Spot Fish Vans Blue Spot Fish Vans Blue Spot Fish Vans Blue Spot Fish Vans Blue Spot Fish Vans Blue Spot Fish Vans Blue Spot Fish Vans Blue Spot Fish Vans Blue Spot Fish Vans Blue Spot Fish Vans Blue Spot Fish Vans Blue Spot Fish Vans Blue Spot Fish Vans Blue Spot Fish Vans Blue Spot Fish Vans Blue Spot Fish Vans Blue Spot Fish Vans Blue Spot Fish Vans Blue Spot Fish Vans Blue Spot Fish Vans Blue Spot Fish Vans Blue Spot Fish Vans Blue Spot Fish Vans Blue Spot Fish Vans Blue Spot Fish Vans Blue Spot Fish Vans Blue Spot Fish Vans Blue Spot Fish Vans Blue Spot Fish Vans Blue Spot Fish Vans Blue Spot Fish Vans Blue Spot Fish Vans Blue Spot Fish Vans Blue Spot Fish Vans Blue Spot Fish Vans Blue Spot Fish Vans Blue Spot Fish Vans Blue Spot Fish Vans Blue Spot Fish Vans Blue Spot Fish Vans Blue Spot Fish Vans Blue Spot Fish Vans Blue Spot Fish Vans Blue Spot Fish Vans Blue Spot Fish Vans Blue Spot Fish Vans Blue Spot Fish Vans Blue Spot Fish Vans Blue Spot Fish Vans Blue Spot Fish Vans Blue Spot Fish Vans Blue Spot Fish Vans Blue Spot Fish Vans Blue Spot Fish Vans Blue Spot Fish Vans Blue Spot Fish Vans Blue Spot Fish Vans Blue Spot Fish Vans Blue Spot Fish Vans Blue Spot Fish Vans Blue Spot Fish Vans Blue Spot Fish Vans Blue Spot Fish Vans Blue Spot Fish Vans Blue Spot Fish Vans Blue Spot Fish Vans Blue Spot Fish Vans Blue Spot Fish Vans Blue Spot Fish Vans Blue Spot Fish Vans Blue Spot Fish Vans Blue Spot Fish Vans Blue Spot Fish Vans Blue Spot Fish Vans Blue Spot Fish Vans Blue Spot Fish Vans Blue Spot Fish Vans Blue Spot Fish Vans Blue Spot Fish Vans Blue Spot Fish Vans Blue Spot Fish Vans Blue Spot Fish Vans Blue Spot Fish Vans Blue Spot Fish Vans Blue Spot Fish Vans Blue Spot Fish Vans Blue Spot Fish Vans Blue Spot Fish Vans Blue Spot Fish Vans Blue Spot Fish Vans Blue Spot Fish Vans Blue Spot Fish Vans Blue Spot Fish Vans Blue Spot Fish Vans Blue Spot Fish Vans Blue Spot Fish Vans Blue Spot Fish Vans Blue Spot Fish Vans Blue Spot Fish Vans Blue Spot Fish Vans Blue Spot Fish Vans Blue Spot Fish Vans Blue Spot Fish Vans Blue Spot Fish Vans Blue Spot Fish Vans Blue Spot Fish Vans Blue Spot Fish Vans Blue Spot Fish Vans Blue Spot Fish Vans Blue Spot Fish Vans Blue Spot Fish Vans Blue Spot Fish Vans Blue Spot Fish Vans Blue Spot Fish Vans Blue Spot Fish Vans Blue Spot Fish Vans Blue Spot Fish Vans Blue Spot Fish Vans Blue Spot Fish Vans Blue Spot Fish Vans Blue Spot Fish Vans Blue Spot Fish Vans Blue Spot Fish Vans Blue Spot Fish Vans Blue Spot Fish Vans Blue Spot Fish Vans Blue Spot Fish Vans Blue Spot Fish Vans Blue Spot Fish Vans Blue Spot Fish Vans Blue Spot Fish Vans Blue Spot Fish Vans Blue Spot Fish Vans Blue Spot Fish Vans Blue Spot Fish Vans Blue Spot Fish Vans Blue Spot Fish Vans Blue Spot Fish Vans Blue Spot Fish Vans Blue Spot Fish Vans Blue Spot Fish Vans Blue Spot Fish Vans Blue Spot Fish Vans Blue Spot Fish Vans Blue Spot Fish Vans Blue Spot Fish Vans Blue Spot Fish Vans Blue Spot Fish Vans Blue Spot Fish Vans Blue Spot Fish Vans Blue Spot Fish Vans Blue Spot Fish Vans Blue Spot Fish Vans Blue Spot Fish Vans Blue Spot Fish Vans Blue Spot Fish Vans Blue Spot Fish Vans Blue Spot Fish Vans Blue Spot Fish Vans Blue Spot Fish Vans Blue Spot Fish Vans Blue Spot Fish Vans Blue Spot Fish Vans Blue Spot Fish Vans Blue Spot Fish Vans Blue Spot Fish Vans Blue Spot Fish Vans Blue Spot Fish Vans Blue Spot Fish Vans Blue Spot Fish Vans Blue Spot Fish Vans Blue Spot Fish Vans Blue Spot Fish Vans Blue Spot Fish Vans Blue Spot Fish Vans Blue Spot Fish Vans Blue Spot Fish Vans Blue Spot Fish Vans Blue Spot Fish Vans Blue Spot Fish Vans Blue Spot Fish Vans Blue Spot Fish Vans Blue Spot Fish Vans Blue Spot Fish Vans Blue Spot Fish Vans Blue Spot Fish Vans Blue Spot Fish Vans Blue Spot Fish Vans Blue Spot Fish Vans Blue Spot Fish Vans Blue Spot Fish Vans Blue Spot Fish Vans Blue Spot Fish Vans Blue Spot Fish Vans Blue Spot Fish Vans Blue Spot Fish Vans Blue Spot Fish Vans Blue Spot Fish Vans Blue Spot Fish Vans Blue Spot Fish Vans Blue Spot Fish Vans Blue Spot Fish Vans Blue Spot Fish Vans Blue Spot Fish Vans Blue Spot Fish Vans Blue Spot Fish Vans Blue Spot Fish Vans Blue Spot Fish Vans Blue Spot Fish Vans Blue Spot Fish Vans Blue Spot Fish Vans Blue Spot Fish Vans Blue Spot Fish Vans Blue Spot Fish Vans Blue Spot Fish Vans Blue Spot Fish Vans Blue Spot Fish Vans Blue Spot Fish Vans Blue Spot Fish Vans Blue Spot Fish Vans Blue Spot Fish Vans Blue Spot Fish Vans Blue Spot Fish Vans Blue Spot Fish Vans Blue Spot Fish Vans Blue Spot Fish Vans Blue Spot Fish Vans Blue Spot Fish Vans Blue Spot Fish Vans Blue Spot Fish Vans Blue Spot Fish Vans Blue Spot Fish Vans Blue Spot Fish Vans Blue Spot Fish Vans Blue Spot Fish Vans Blue Spot Fish Vans Blue Spot Fish Vans Blue Spot Fish Vans Blue Spot Fish Vans Blue Spot Fish Vans Blue Spot Fish Vans Blue Spot Fish Vans Blue Spot Fish Vans Blue Spot Fish Vans Blue Spot Fish Vans Blue Spot Fish Vans Blue Spot Fish Vans Blue Spot Fish Vans Blue Spot Fish Vans Blue Spot Fish Vans Blue Spot Fish Vans Blue Spot Fish Vans Blue Spot Fish Vans Blue Spot Fish Vans Blue Spot Fish Vans Blue Spot Fish Vans Blue Spot Fish Vans Blue Spot Fish Vans Blue Spot Fish Vans Blue Spot Fish Vans Blue Spot Fish Vans Blue Spot Fish Vans Blue Spot Fish Vans Blue Spot Fish Vans Blue Spot Fish Vans Blue Spot Fish Vans B Blue Spot Fish Vans Blue Spot Fish Vans Blue Spot Fish Vans Blue Spot Fish Vans Blue Spot Fish Vans Blue Spot Fish Vans Blue Spot Fish Vans Blue Spot Fish Vans Blue Spot Fish Vans Blue Spot Fish Vans Blue Spot Fish Vans Blue Spot Fish Vans Blue Spot Fish Vans Blue Spot Fish Vans Blue Spot Fish Vans Blue Spot Fish Vans Blue Spot Fish Vans Blue Spot Fish Vans Blue Spot Fish Vans Blue Spot Fish Vans Blue Spot Fish Vans Blue Spot Fish Vans Blue Spot Fish Vans Blue Spot Fish Vans Blue Spot Fish Vans Blue Spot Fish Vans Blue Spot Fish Vans Blue Spot Fish Vans Blue Spot Fish Vans Blue Spot Fish Vans Blue Spot Fish Vans Blue Spot Fish Vans Blue Spot Fish Vans Blue Spot Fish Vans Blue Spot Fish Vans Blue Spot Fish Vans Blue Spot Fish Vans Blue Spot Fish Vans Blue Spot Fish Vans Blue Spot Fish Vans Blue Spot Fish Vans Blue Spot Fish Vans Blue Spot Fish Vans Blue Spot Fish Vans Blue Spot Fish Vans Blue Spot Fish Vans Blue Spot Fish Vans Blue Spot Fish Vans Blue Spot Fish Vans Blue Spot Fish Vans Blue Spot Fish Vans Blue Spot Fish Vans Blue Spot Fish Vans Blue Spot Fish Vans Blue Spot Fish Vans Blue Spot Fish Vans Blue Spot Fish Vans Blue Spot Fish Vans Blue Spot Fish Vans Blue Spot Fish Vans Blue Spot Fish Vans Blue Spot Fish Vans Blue Spot Fish Vans Blue Spot Fish Vans Blue Spot Fish Vans Blue Spot Fish Vans Blue Spot Fish Vans Blue Spot Fish Vans Blue Spot Fish Vans Blue Spot Fish Vans Blue Spot Fish Vans Blue Spot Fish Vans Blue Spot Fish Vans Blue Spot Fish Vans Blue Spot Fish Vans Blue Spot Fish Vans Blue Spot Fish Vans Blue Spot Fish Vans Blue Spot Fish Vans Blue Spot Fish Vans Blue Spot Fish Vans Blue Spot Fish Vans Blue Spot Fish Vans Blue Spot Fish Vans Blue Spot Fish Vans Blue Spot Fish Vans Blue Spot Fish Vans Blue Spot Fish Vans Blue Spot Fish Vans Blue Spot Fish Vans Blue Spot Fish Vans Blue Spot Fish Vans Blue Spot Fish Vans Blue Spot Fish Vans Blue Spot Fish Vans Blue Spot Fish Vans Blue Spot Fish Vans Blue Spot Fish Vans Blue Spot Fish Vans Blue Spot Fish Vans Blue Spot Fish Vans Blue Spot Fish Vans Blue Spot Fish Vans Blue Spot Fish Vans Blue Spot Fish Vans Blue Spot Fish Vans Blue Spot Fish Vans Blue Spot Fish Vans Blue Spot Fish Vans Blue Spot Fish Vans Blue Spot Fish Vans Blue Spot Fish Vans Blue Spot Fish Vans Blue Spot Fish Vans Blue Spot Fish Vans Blue Spot Fish Vans Blue Spot Fish Vans Blue Spot Fish Vans Blue Spot Fish Vans Blue Spot Fish Vans Blue Spot Fish Vans Blue Spot Fish Vans Blue Spot Fish Vans Blue Spot Fish Vans Blue Spot Fish Vans Blue Spot Fish Vans Blue Spot Fish Vans Blue Spot Fish Vans Blue Spot Fish Vans Blue Spot Fish Vans Blue Spot Fish Vans Blue Spot Fish Vans Blue Spot Fish Vans Blue Spot Fish Vans Blue Spot Fish Vans Blue Spot Fish Vans Blue Spot Fish Vans Blue Spot Fish Vans Blue Spot Fish Vans Blue Spot Fish Vans Blue Spot Fish Vans Blue Spot Fish Vans Blue Spot Fish Vans Blue Spot Fish Vans Blue Spot Fish Vans Blue Spot Fish Vans Blue Spot Fish Vans Blue Spot Fish Vans Blue Spot Fish Vans Blue Spot Fish Vans Blue Spot Fish Vans Blue Spot Fish Vans Blue Spot Fish Vans Blue Spot Fish Vans Blue Spot Fish Vans Blue Spot Fish Vans Blue Spot Fish Vans Blue Spot Fish Vans Blue Spot Fish Vans Blue Spot Fish Vans Blue Spot Fish Vans Blue Spot Fish Vans Blue Spot Fish Vans Blue Spot Fish Vans Blue Spot Fish Vans Blue Spot Fish Vans Blue Spot Fish Vans Blue Spot Fish Vans Blue Spot Fish Vans Blue Spot Fish Vans Blue Spot Fish Vans Blue Spot Fish Vans Blue Spot Fish Vans Blue Spot Fish Vans Blue Spot Fish Vans Blue Spot Fish Vans Blue Spot Fish Vans Blue Spot Fish Vans Blue Spot Fish Vans Blue Spot Fish Vans Blue Spot Fish Vans Blue Spot Fish Vans Blue Spot Fish Vans Blue Spot Fish Vans Blue Spot Fish Vans Blue Spot Fish Vans Blue Spot Fish Vans Blue Spot Fish Vans Blue Spot Fish Vans Blue Spot Fish Vans Blue Spot Fish Vans Blue Spot Fish Vans Blue Spot Fish Vans Blue Spot Fish Vans Blue Spot Fish Vans Blue Spot Fish Vans Blue Spot Fish Vans Blue Spot Fish Vans Blue Spot Fish Vans Blue Spot Fish Vans Blue Spot Fish Vans Blue Spot Fish Vans Blue Spot Fish Vans Blue Spot Fish Vans Blue Spot Fish Vans Blue Spot Fish Vans Blue Spot Fish Vans Blue Spot Fish Vans Blue Spot Fish Vans Blue Spot Fish Vans Blue Spot Fish Vans Blue Spot Fish Vans Blue Spot Fish Vans Blue Spot Fish Vans Blue Spot Fish Vans Blue Spot Fish Vans Blue Spot Fish Vans Blue Spot Fish Vans Blue Spot Fish Vans Blue Spot Fish Vans Blue Spot Fish Vans Blue Spot Fish Vans Blue Spot Fish Vans Blue Spot Fish Vans Blue Spot Fish Vans Blue Spot Fish Vans Blue Spot Fish Vans Blue Spot Fish Vans Blue Spot Fish Vans Blue Spot Fish Vans Blue Spot Fish Vans Blue Spot Fish Vans Blue Spot Fish Vans Blue Spot Fish Vans Blue Spot Fish Vans Blue Spot Fish Vans Blue Spot Fish Vans Blue Spot Fish Vans Blue Spot Fish Vans Blue Spot Fish Vans Blue Spot Fish Vans Blue Spot Fish Vans Blue Spot Fish Vans Blue Spot Fish Vans Blue Spot Fish Vans Blue Spot Fish Vans Blue Spot Fish Vans Blue Spot Fish Vans Blue Spot Fish Vans Blue Spot Fish Vans Blue Spot Fish Vans Blue Spot Fish Vans Blue Spot Fish Vans Blue Spot Fish Vans Blue Spot Fish Vans Blue Spot Fish Vans Blue Spot Fish Vans Blue Spot Fish Vans Blue Spot Fish Vans Blue Spot Fish Vans Blue Spot Fish Vans Blue Spot Fish Vans Blue Spot Fish Vans Blue Spot Fish Vans Blue Spot Fish Vans Blue Spot Fish Vans Blue Spot Fish Vans Blue Spot Fish Vans Blue Spot Fish Vans Blue Spot Fish Vans Blue Spot Fish Vans Blue Spot Fish Vans Blue Spot Fish Vans Blue Spot Fish Vans Blue Spot Fish Vans Blue Spot Fish Vans Blue Spot Fish Vans Blue Spot Fish Vans Blue Spot Fish Vans Blue Spot Fish Vans Blue Spot Fish Vans Blue Spot Fish Vans Blue Spot Fish Vans Blue Spot Fish Vans Blue Spot Fish Vans Blue Spot Fish Vans Blue Spot Fish Vans Blue Spot Fish Vans Blue Spot Fish Vans Blue Spot Fish Vans Blue Spot Fish Vans Blue Spot Fish Vans Blue Spot Fish Vans Blue Spot Fish Vans Blue Spot Fish Vans Blue Spot Fish Vans Blue Spot Fish Vans Blue Spot Fish Vans Blue Spot Fish Vans Blue Spot Fish Vans Blue Spot Fish Vans Blue Spot Fish Vans Blue Spot Fish Vans Blue Spot Fish Vans Blue Spot Fish Vans Blue Spot Fish Vans Blue Spot Fish Vans Blue Spot Fish Vans Blue Spot Fish Vans Blue Spot Fish Vans Blue Spot Fish Vans Blue Spot Fish Vans Blue Spot Fish Vans Blue Spot Fish Vans Blue Spot Fish Vans Blue Spot Fish Vans Blue Spot Fish Vans Blue Spot Fish Vans Blue Spot Fish Vans Blue Spot Fish Vans Blue Spot Fish Vans Blue Spot Fish Vans Blue Spot Fish Vans Blue Spot Fish Vans Blue Spot Fish Vans Blue Spot Fish Vans Blue Spot Fish Vans Blue Spot Fish Vans Blue Spot Fish Vans Blue Spot Fish Vans Blue Spot Fish Vans Blue Spot Fish Vans Blue Spot Fish Vans Blue Spot Fish Vans Blue Spot Fish Vans Blue Spot Fish Vans Blue Spot Fish Vans Blue Spot Fish Vans Blue Spot Fish Vans Blue Spot Fish Vans Blue Spot Fish Vans Blue Spot Fish Vans Blue Spot Fish Vans Blue Spot Fish Vans Blue Spot Fish Vans Blue Spot Fish Vans Blue Spot Fish Vans Blue Spot Fish Vans Blue Spot Fish Vans Blue Spot Fish Vans Blue Spot Fish Vans Blue Spot Fish Vans Blue Spot Fish Vans Blue Spot Fish Vans Blue Spot Fish Vans Blue Spot Fish Vans Blue Spot Fish Vans Blue Spot Fish Vans Blue Spot Fish Vans Blue Spot Fish Vans Blue Spot Fish Vans Blue Spot Fish Vans Blue Spot Fish Vans Blue Spot Fish Vans Blue Spot Fish Vans Blue Spot Fish Vans Blue Spot Fish Vans Blue Spot Fish Vans Blue Spot Fish Vans Blue Spot Fish Vans Blue Spot Fish Vans Blue Spot Fish Vans Blue Spot Fish Vans Blue Spot Fish Vans Blue Spot Fish Vans Blue Spot Fish Vans Blue Spot Fish Vans Blue Spot Fish Vans Blue Spot Fish Vans Blue Spot Fish Vans Blue Spot Fish Vans Blue Spot Fish Vans Blue Spot Fish Vans Blue Spot Fish Vans lue Spot Fish Vans Blue Spot Fish Vans Blue Spot Fish Vans Blue Spot Fish Vans Blue Spot Fish Vans Blue Spot Fish Vans Blue Spot Fish Vans Blue Spot Fish Vans Blue Spot Fish Vans Blue Spot Fish Vans Blue Spot Fish Vans Blue Spot Fish Vans Blue Spot Fish Vans Blue Spot Fish Vans Blue Spot Fish Vans Blue Spot Fish Vans Blue Spot Fish Vans Blue Spot Fish Vans Blue Spot Fish Vans Blue Spot Fish Vans Blue Spot Fish Vans Blue Spot Fish Vans Blue Spot Fish Vans Blue Spot Fish Vans Blue Spot Fish Vans Blue Spot Fish Vans Blue Spot Fish Vans Blue Spot Fish Vans Blue Spot Fish Vans Blue Spot Fish Vans Blue Spot Fish Vans Blue Spot Fish Vans Blue Spot Fish Vans Blue Spot Fish Vans Blue Spot Fish Vans Blue Spot Fish Vans Blue Spot Fish Vans Blue Spot Fish Vans Blue Spot Fish Vans Blue Spot Fish Vans Blue Spot Fish Vans Blue Spot Fish Vans Blue Spot Fish Vans Blue Spot Fish Vans Blue Spot Fish Vans Blue Spot Fish Vans Blue Spot Fish Vans